Rylie Whitten, the 15-year-old Michigan girl with one of the worst cases of toxic shock syndrome her doctors had ever seen, is now off life support and showing signs of recovery.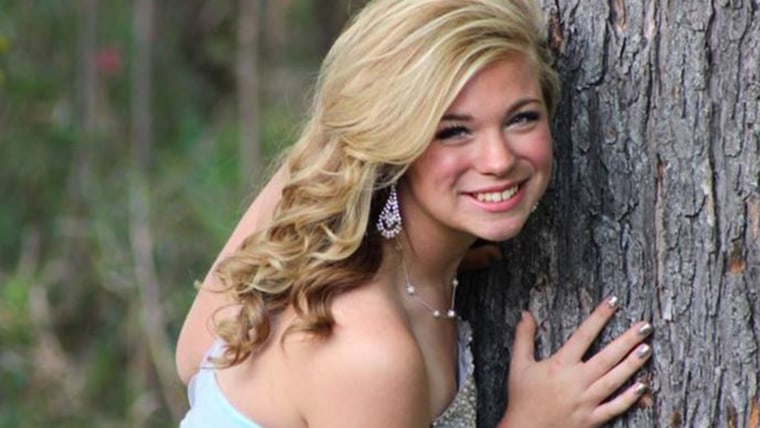 Rylie has been in the intensive care unit at Helen DeVos Children's Hospital in Grand Rapids since Jan. 5. Until now, she has been kept alive with a heart and lung bypass machine.
"She was as close to death as a human being can be," her pediatric critical care physician, Dr. Surender Rajasekaran, told TODAY. "But she has been very lucky."
Rylie, a healthy and athletic teen from Greenville, developed toxic shock syndrome from overgrowth of the staph A bacteria, perhaps from the tampons she was using at the time.
"What a relief to know we are going to walk out of here with our daughter," said Rylie's father, Nate Whitten, who runs a small landscaping business.
"We are just blessed and ecstatic," Whitten, 37, told TODAY. "We still have some rehab and minor issues, but Rylie is back, and we are so thankful."
Toxic shock syndrome is a life-threatening complication of a bacterial infection. In Rylie's case, it was caused by the toxins of the staph A bacteria, according to DeVos pediatric infectious disease specialist Dr. Daliya Khuon.
Related: 'I'm more beautiful': Model reflects after losing leg to toxic shock syndrome
First identified in 1978, the syndrome was linked to the use of super-absorbent tampons, which have since been removed from the market. The syndrome, which spreads quickly, affects both men and women and can also occur after a wound or surgery.
"The bacteria are always present, but they overgrow and release toxins into the blood stream and [that] and the immune response go on to cause damage in different organs of the body," Khuon told TODAY.
The syndrome is rare, affecting only about 1 in 100,000. "We are a regional center and maybe see one case a year," she said.
Rylie's ordeal began on Sunday, Jan. 3, when she told her parents she wasn't feeling well. By Monday morning, she had body aches and vomited, so her parents assumed she had the flu. But she worsened rapidly.
"By Tuesday morning, she was in severe pain and I could hear her moaning, and said she couldn't move," said her father. "That's when I picked her up and we went to the closest ER."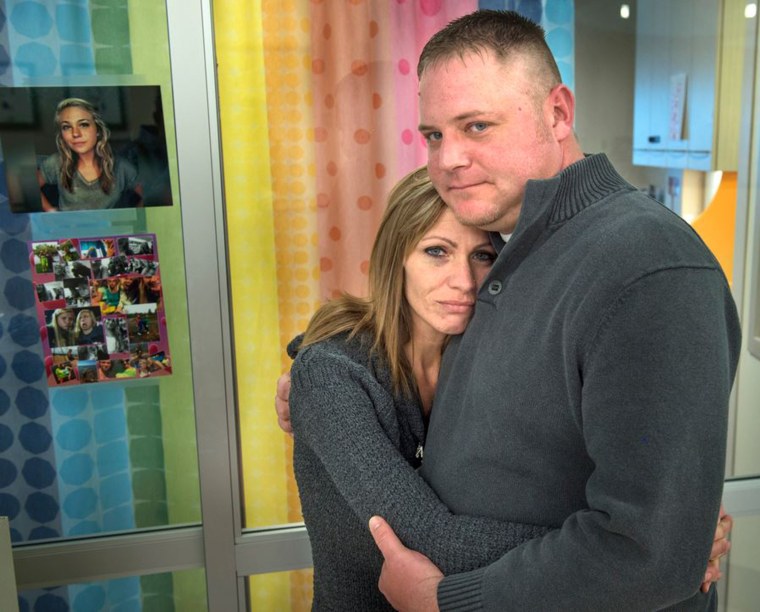 Rylie was rushed by helicopter to DeVos where they ruled out meningitis, and blood tests revealed kidney failure and eventually toxic shock syndrome.
"I didn't even know what that was," Whitten told TODAY.
"If we hadn't gotten her to the ER and on the helicopter, I think she would have passed in a few hours," he said. "That's how quick it was."
For nearly two weeks, Rylie was unconscious, but today she is beginning to talk with her parents, who have been by her side around the clock.
"She can talk, but not very coherently, because of being on the ventilator," said Whitten.
Rylie's muscles are weak and she has a "touch" of pneumonia, said her father, and she will need some rehabilitation and speech therapy.
Her doctor, Rajasekaran, said it's unclear if Rylie, a cheerleader, soccer player and talented violinist, will have any residual effects from her illness.
"She was so extreme," he said. "But we don't expect it, because she was so healthy before all this happened. Her chances are good for a full recovery."
The family said they have received support from a cousin, who set up a GoFundMe page to help offset medical expenses, and from the local community.
"Greenville is a small town of 10,000, and every local business — McDonald's, Wendy's — and the local churches have been praying for Rylie," said Whitten. "The small prayer chains have really helped."
Whitten said he shared his daughter's story, because he wanted to educate others about toxic shock syndrome.
"Now Rylie can be an advocate," he said. "She has a huge heart and is always trying to help others — that's who she is."
Prevention tips for toxic shock syndrome:
Use a low-absorbency tampon.
Use tampons for the shortest period of time and switch to a pad at night.
Practice good hygiene.
If you have a high fever, sunburn-like rash, body aches or diarrhea, seek immediate medical attention.