Payton Bushnell, 3, made headlines recently after she ate 37 magnets and had to have emergency surgery. Now, the Oregon toddler has recovered so completely that she wasn't afraid to try it again when she appeared with her parents, Kelli and Aaron Bushnell, on TODAY Friday morning. 
During the interview, Payton played with a plastic container holding the magnets, and then was able to twist the lid off, wrap the magnets around her finger and was raising them to her mouth when her dad, with his quick reflexes, shot his hand out to stop her.
"It can happen to anyone," Kelli warned other parents moments later.  "Never let your guard down."
Kelli first noticed that something was wrong with Payton several weeks ago when the normally bubbly child began complaining from a stomach ache. At first, she assumed suffering from a garden variety stomach ache. But lurking in Payton's stomach was something much scarier.
"I didn't really think much of it until later that morning when she started to vomit," Kelli told NBC's Craig Melvin. "We thought she had stomach flu."
But then Payton stopped eating and Kelli's concern ratcheted up a notch. "Mother's instinct set in and I knew something was wrong," Kelli remembers.
"When I was bribing her with any type of food to eat and she just couldn't stomach it, I knew," Kelli told TODAY's Carl Quintanilla. That scared the Bushnells enough to send them into their pediatrician's office.  
It didn't take long for Dr. Natasha Pereira to realize that something serious was going on. "She's lying around, not her usual spitfire that she always is," Pereira told Melvin. "She just looked different to me."
After ruling out the flu, Pereira ordered X-rays.
Holding the films up to the light, Pereira spotted something ominous – a row of round beads that looked like a bracelet. At first the pediatrician thought it might be a mistake. But then, "the second x-ray came out and there was still this ring-like thing in her abdomen and we all stood around and looked at it, and I said, 'I guess you're going to the ER,'" Pereira said.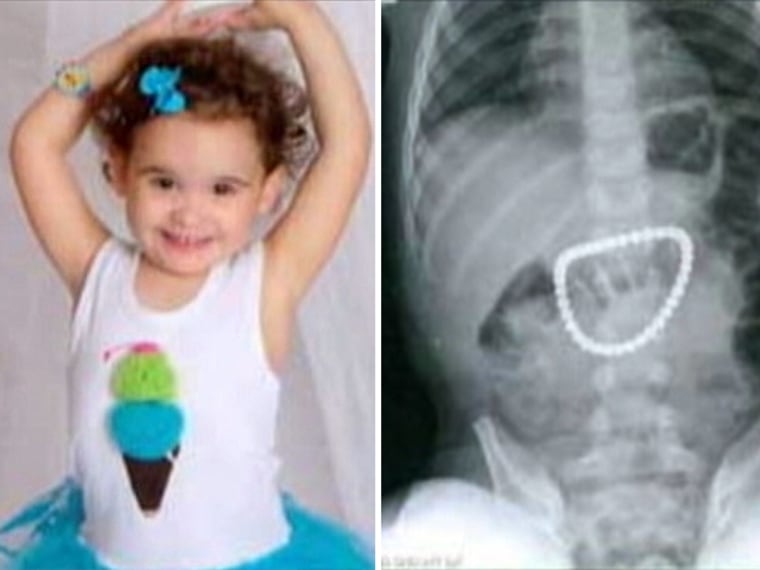 Payton was rushed to surgery. An hour and a half into the operation two weeks ago, Payton's surgeons realized that they were dealing with something far more dangerous than a bracelet: the toddler had swallowed 37 tiny magnets. And those magnets were beginning to wreak havoc as they rolled through Payton's body, pulling and wrenching the little girl's stomach and intestine, creating a potentially deadly blockage.
"Right then and there, I was like, 'It's the magnets I brought home from work,'" said Aaron Bushnell, Payton's dad.
The high powered magnets, called Buckyballs, had been on Aaron's desk at work. Payton had enjoyed playing with them when she visited her dad's office because they could be molded into all kinds of different shapes.
The magnetic balls have become a popular desk toy in offices around America.
"They're a stress reliever," Aaron told Carl Quintanilla. "They're something to hold your business card. Something quirky. When she'd come to the office she'd play with them."
TODAY Moms: Readers stop their kids just in the nick of time
Aaron had brought a bunch of the powerful little magnets home and stuck them to the family's refrigerator to hold cards and scraps of paper, thinking Payton might also enjoy playing with them.
And that's how Payton became one of the growing number of kids who swallow magnets. In 2009 there was just one case reported. By 2010 there were seven, and in 2011, there were 14 cases.
The surgery to remove the magnets was tricky.
"We had to cut her open and remove each magnet individually without tearing her stomach or intestines," Payton's surgeon Dr. Sanjay Krishnaswami, a pediatric surgeon who treated her at Randall Children's Hospital, remembers. "If they had stayed in there a few more days, she could have sustained serious damage."
Now, two weeks later Payton is back to her old playful self, laughing and giggling as if nothing had happened. But her parents will never forget the scare she gave them – and the lesson they learned.
"We're first-time parents and we're very protective parents," Kelli told Quintanilla. "I want to get the message out that it can happen to anyone."
Toddler swallows 37 magnets, survives
What have you stopped your child from doing at the LAST MOMENT? Tell us on Facebook.
Linda Carroll is a regular contributor to msnbc.com and TODAY.com. She is co-author of the new book "The Concussion Crisis: Anatomy of a Silent Epidemic."