Julie Creffield refuses to take fat-shaming sitting down.

The British writer behind the website The Fat Girls' Guide To Running told TODAY.com she'd grown tired of the negativity she encountered whenever she prepared for or participated in races. Ever since 2010, the 36-year-old East London resident has been using her blog — at TooFatToRun.co.uk — to motivate herself and her readers to live healthier lifestyles through running.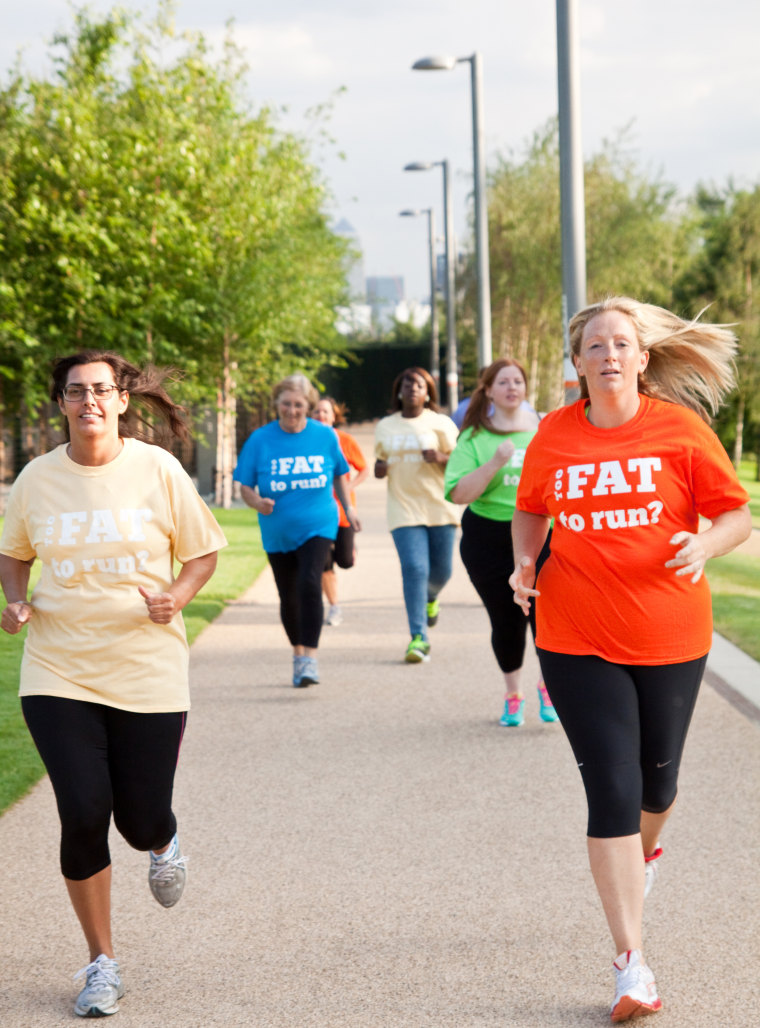 "(Fat-shaming) is a huge problem," she said. "I think it's actually the biggest barrier, particularly to women, going out there, exercising and going out there to improve their health. I think it's the No. 1 thing that stops women from joining a gym, going to a class or going out for a run."
Creffield, a size 18, said that when she signed up for her first race in 2003, "I couldn't run for 30 seconds without stopping, and that came as an almighty shock. I guess that's when I decided I was going to do something about my weight, and challenge myself to do different races."
She got better and more confident with time and experience, completing multiple marathons and other running events in the years that followed. Part of her success, she said, came when she realized there's no shame in finishing a race in last place.
"When you look at the Olympics, you remember the guy who comes (in) first, but do you remember the guy who comes (in) last?" she said. "Do you ever think, 'Shame on you; you came (in) last'? No! You think, 'Good on you, mate! You were in the final.' We should celebrate everybody who ever comes (in) last, in anything, because at least you're participating."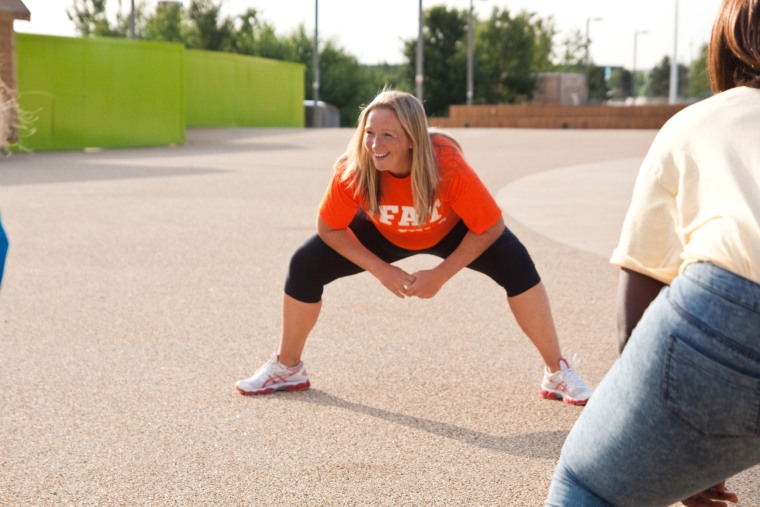 According to Creffield, her fat-shamers range from a doctor, who'd told her she was unfit to run a marathon she later completed, to a 7-year-old boy who shouted "Run, fatty, run!" at her during a 3K.
"When you see how other people see you, then your confidence does start to be knocked a little bit," she said. "And maybe you think, 'Maybe I'm not as hot as I think I look.'"
Rebecca Puhl, the director of research and weight bias initiatives at Yale University's Rudd Center for Food Policy & Obesity, praised Creffield and her "empowering" initiatives.
"She's someone who is successfully changing negative weight-based stereotypes that are so widespread in our society," Puhl told TODAY.com. "Her message is important, because it shows us that a person's body shape is not an automatic indication of how athletic they are, and that physical appearance should not be used to determine what someone is capable of accomplishing."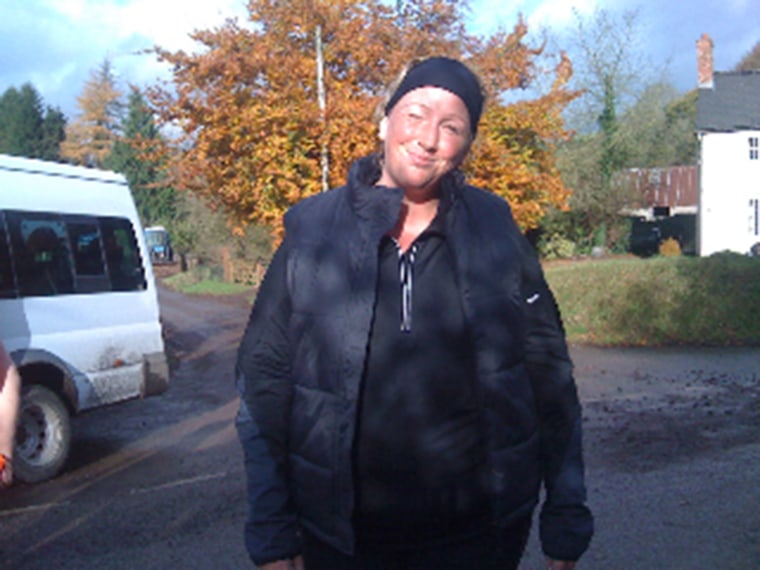 Puhl said reports of weight discrimination have jumped 66 percent in the last decade, and are on par with rates of racial discrimination among women. She also cited research that indicates women are more vulnerable to weight bias and discrimination than men, even when men are not as overweight by comparison.
"We live in a society where this kind of bias and prejudice is largely socially acceptable," she added. "What's underreported is how damaging it is. The reality — and this is what we know from research — is that being shamed about one's weight leads to a range of negative emotional and physical health consequences: not just depression, anxiety and low self-esteem, but it also often leads people to engage in unhealthy behaviors that can actually reinforce weight gain and obesity. For example, they'll turn to unhealthy eating behaviors or avoid exercise."
Creffield can relate. "Slim, healthier-looking people get on their high horse and have all these really negative views about all these overweight people," she said. "I think it's really difficult, as a larger person, to be upbeat and want to take part in exercise, because you're afraid of ridicule and all those things that come with it."
She tries to use that negative energy as motivation, and as fodder for her blog. "A few weeks after having my daughter, it was early in the morning, there were these lads coming back from a nightclub, and one of them smacked me on my bum," she said. "I was furious; I was screaming and shouting, and they thought it was hilarious. I called the police and I drove around in a police car looking for them. About an hour later, I could laugh about it. At the time, I was so angry, but it gave me great material for my blog. It's a great place to start these conversations."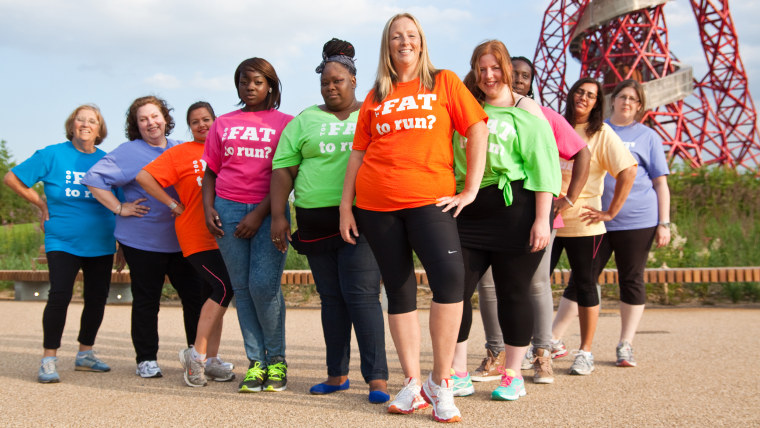 The Fat Girls' Guide To Running not only includes Creffield's blog, but also offers advice for beginners, tips for fellow moms, and links to events, including the monthly installment of One Big Fat Run, a "virtual" 5K for which she hopes 1 million women will strap on their sneakers in solidarity.
"I didn't start a blog to become famous, or to get a message out there," Creffield said. "I never started this off as a mission to change the world or to bring down obesity levels or anything like that. When people started to relate with my story, then I felt like, 'Oh my gosh. Maybe I could change things, and maybe I have this voice that people listen to, and maybe I could do something good with it.'"
Follow TODAY.com writer Chris Serico on Twitter.