Looking to get a killer core and strong, toned arms? Forget wasting hours at the gym — this double duty move is the only workout you need to tone both your upper body and your abs at once, and you can do it anywhere.
That's right, it's just one move: The slow mountain climber.
Holding the plank position is one of the best things you can do to strengthen all your core muscles, and stabilizing your upper body as you do this move engages all the muscles from your triceps to shoulders. 
Here's how it works: Start with your hands on a medicine ball and your body in a plank position. If you don't have a ball, use a towel, or create a triangle with your forearms to support yourself.
Bring your left knee to your left elbow, then your right knee to your right elbow — that's one rep.
Start by doing 10 reps (right + left = 1 rep), then pause for 5 seconds. Then do 9 reps, pause. 8 reps, pause. And count yourself all the way down to 1.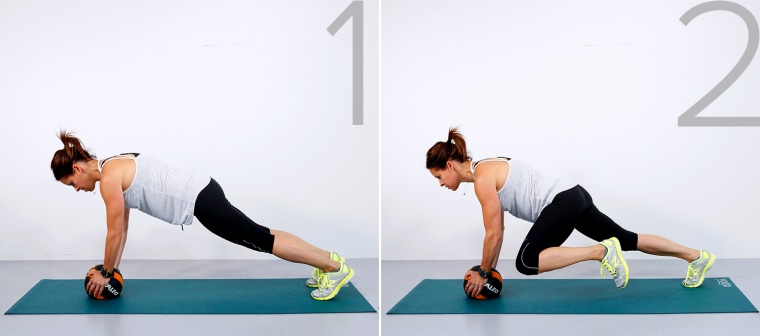 Be sure to give yourself a day in between workouts.
Want more of Jenna's Fit Tips? Sign up for my weekly newsletter!