/ Source: TODAY Contributor
It's almost trick-or-treating time! Along with spooky themes and fun costumes, Halloween is synonymous with candy and sweet treats. If you want to stay on top of your fitness goals while still enjoying the holiday, you're going to love this week's edition of Tone Up Tuesdays!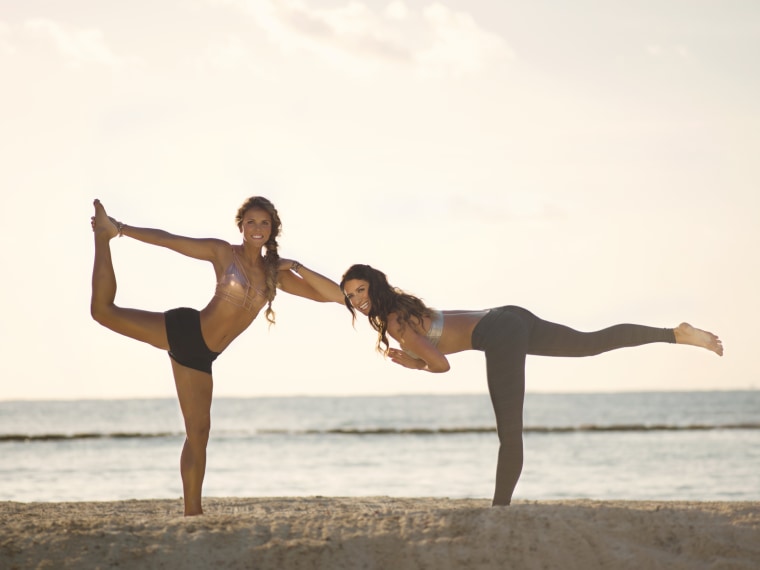 Here are 3 surefire ways to have the healthiest Halloween ever:
1. Take it easy
Approaching get-togethers and parties with rigid guidelines can backfire. Practices like having only one piece of candy or skipping meals are stressful and can lead to overindulging, so don't change anything about your diet just for this spooktacular holiday!
Instead, take it easy. Go to the party with a relaxed mindset and know that it's okay to treat yourself!
If you're worried about overindulging, enjoy a healthy snack like apple slices with almond butter beforehand to keep cravings at bay.
RELATED: Al Roker's sweet spiced apple crisp is the perfect fall dessert
2. Focus on feeling good
Before you dig into that bowl of candy, ask yourself a question: How do you want to feel afterwards? Make it your goal to have a great time and to feel good the next day!
If you often get anxious about parties filled with tempting goodies, you can always bring a Tone It Up approved treat like our Chocolate Chip Cookie Bars (recipe below!)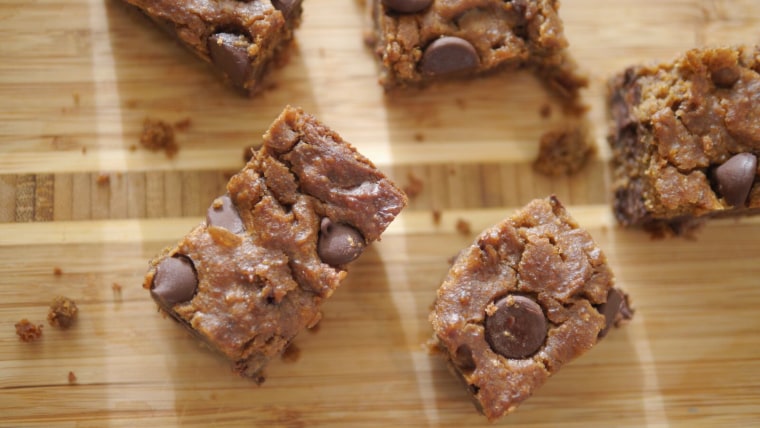 3. The pre-game and after-party matter
The amazing thing about staying consistent with your workouts and healthy meals is that you have a wiggle room for fun!
If you have a Halloween bash coming up,get in a morning workout (like this one), follow a healthy eating plan throughout the day (you can check out our website for info on our recommended nutrition plan), enjoy the party and get back on track the next morning.
Most importantly, never feel guilty about treating yourself! Life is all about balance.
RELATED: 5 ways to make waking up a breeze
Flourless Chocolate Chip Cookie Bars
1 can of chickpeas, drained (16 oz)
3/4 cup almond butter
2 tsp vanilla extract
1/2 cup coconut sugar
1/2 teaspoon sea salt
1/2 tsp baking soda
1 tsp baking powder
1/2 cup of chocolate chips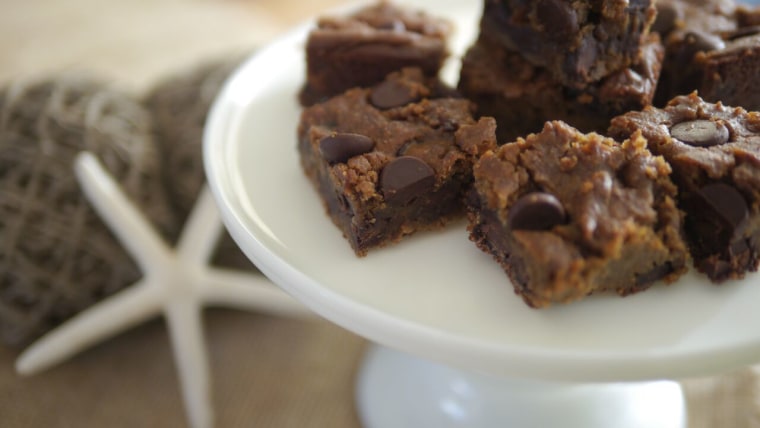 Directions:
Preheat oven to 350 degrees. Spray a 9×9 pan with coconut oil spray.
Place all ingredients except chocolate chips in a food processor and pulse until smooth. Add chocolate chips to the batter and mix with a wooden spatula, being careful of the blade.
Pour into baking pan and sprinkle with a few more chocolate chips on top. Bake for 45-55 minutes. You'll know they're done when top is slightly browned.
Remove from the oven and allow bars to cool for 10-15 minutes before cutting.
Karena Dawn and Katrina Scott are the founders of Tone It Up — a fitness and lifestyle brand. They are certified personal trainers, nutritional coaches, and best friends. Karena and Katrina have taken the world by storm with their fun, quirky and energetic approach to fitness and have built a vibrant community based around friendship, accountability, motivation, and inspiration.