An employee of the 3rd hour of TODAY tested positive for the coronavirus, NBC News learned overnight.
Craig Melvin and Al Roker took the morning off from TODAY on Monday out of an abundance of caution.
"Both are fine right now, they feel good, but caution is the order of the day,'' Savannah Guthrie said on TODAY Monday about her co-hosts.
Craig checked in with fans on Twitter Monday morning, saying he was "feeling great" and sending positive thoughts to his colleague.
"Thinking about our friend and colleague. Thinking about everyone grappling with this right now. I'll be fine. So will we," he wrote.
Al also posted to Twitter to let people know he was "feeling fine."
"Don't worry about us. Thinking about our colleagues and all those who are really suffering. And God Bless the health care providers and #FirstResponders helping," Al said.
Al later shared an update on Instagram.
"You may have heard, one of our @3rdhourtoday producers tested positive for #covid_19 so we're #selfisolating for #15days since last contact with family. No symptoms," he captioned a photo of himself, wife Deborah Roberts and son Nick out for "a quick breath of fresh air."
NBC News president Noah Oppenheim said in a statement that the staff member was experiencing "mild symptoms" and receiving treatment.
"We are fully supporting our colleague, who is experiencing mild symptoms and receiving medical care, and I know you join me in sending our very best for a quick recovery,'' Oppenheim said.
NBC is identifying employees who were in close proximity to the affected staffer and is in the process of asking them to self-isolate.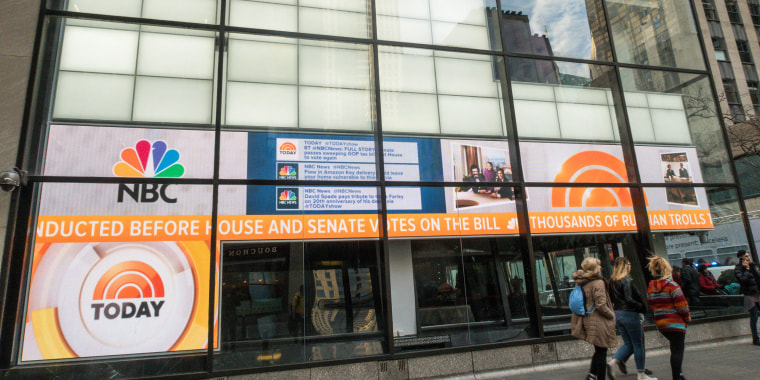 The company is "taking all necessary steps to ensure the health and safety of our teams, which includes multiple deep cleanings of our offices, control room and Studio 1A,'' Oppenheim said, referring to the studio where TODAY is produced.
All members of the 3rd hour of TODAY editorial team were asked to work from home on Monday while NBC completed the social mapping exercise.