A few minutes and a dollop of sunscreen can be enough to save your life, a point demonstrated by a huge crowd of people who gathered on the TODAY plaza to help raise awareness about Melanoma Monday.
As part of skin cancer awareness month, TODAY anchors called out for people to help them shatter a Guinness World Record for "most people applying sunscreen simultaneously."
The record to beat was 1,822 people — and that record still stands. The TODAY plaza didn't quite beat it, according to Guinness adjudicator Alex Angert.
"But we had a packed plaza of people that have learned in a fun the importance of putting on sunscreen," he pointed out, while also presenting a plaque acknowledging the record for "Largest Today Show crowd to support a good cause."
TODAY partnered with Defeat Melanoma, a non-profit organization dedicated to increasing awareness about prevention, early detection and treatment of melanoma.
The organization was founded by Claudia Dulude, who lost her husband, Jeff, to melanoma in 1993 when he was only 37 and the father of two young children.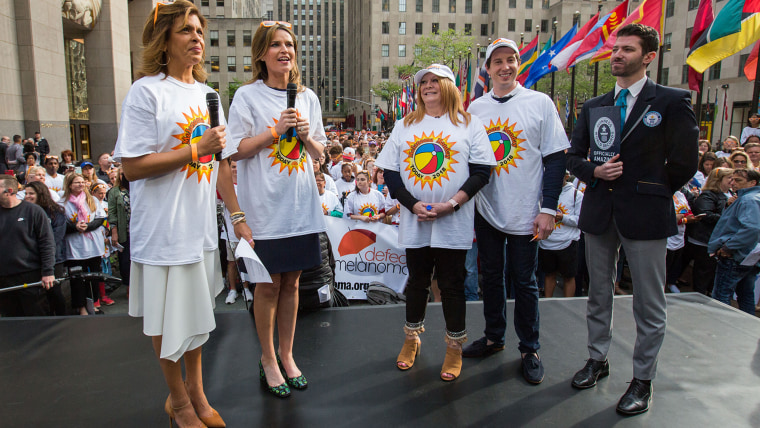 Although the current world record stands, Dulude remains hopeful the effort will increase people's awareness about melanoma.
"Today the takeaway is, you can prevent it 90 percent of the time, so there's no reason to die from it," she said.
One of Dulude's sons, Richard, now 30, added: "For all the people that you love, the only thing that you have to do is put on sunscreen" and get your skin checked.
Skin cancer is by far the most common of all cancer, according to the American Cancer Society. Melanoma accounts for only about 1 percent of skin cancers but causes a majority of its deaths. More than 91,000 new cases of melanoma are expected to be diagnosed in 2018, with 9,320 people predicted to die from it.
But melanoma is preventable. Some tips to help reduce your risk of getting it include: