It's the holiday season! And we all know what that means.
A bunch of us just got dumped.
That's right. The most wonderful time of the year — the time couples enjoy snuggling and hot cocoa together — is also the time of year many break up, according to experts.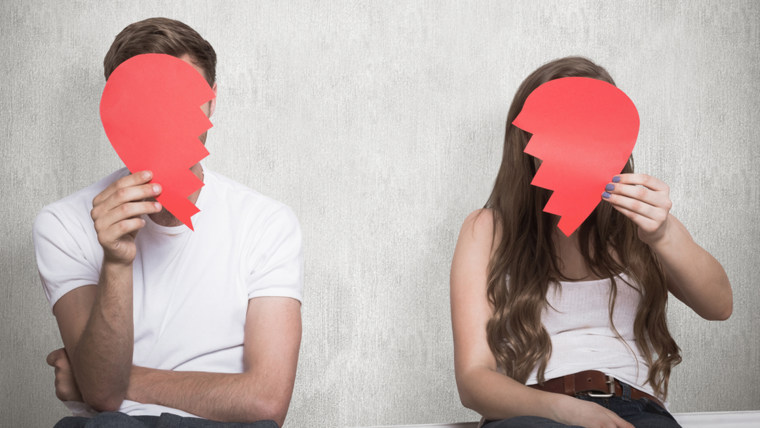 Why all the holiday breakups?
Chalk it all up to stress. The holidays are a pressure cooker of family expectations and financial stresses, says relationship expert and author Dr. Jane Greer.
"People start to pit themselves against who's more important," says Greer, creator of "Shrink Wrap with Dr. Jane Greer." "'You're going to go to dinner with your brother? What about my family?'"
Before you even realize it, you've come into all the issues of who comes first, which creates a lot of conflict.
RELATED: Kermit and Miss Piggy call it quits after 40 years of Muppet love
This time of year is also a marker for many couples, when individuals take stock of the relationship.
"If you're not on the same page, that can lead to the difficulties and the differences that cause a breakup."
While holiday breakups can be extra painful, they also come with a few advantages, including opportunities to gather socially.
TODAY talked to experts who shared tips on how to get through the holidays blues. This is what they had to say.
1. Don't feel ashamed
The first thing you have to do is release yourself from any stigma. Falling in love and breaking up is part of the human experience, says David Kessler, grief specialist and co-author of "You Can Heal Your Heart: Finding Peace After A Break-Up, Divorce of Death."
"Don't feel ashamed. Don't feel you've done anything wrong. Your friends are going to understand because they've either been through a breakup or they're going to some day."
RELATED: Who takes breakups harder, men or women?
2. Don't isolate yourself
A person who feels shame after a breakup may withdraw and refuse to attend events, but you can't let yourself hide away, says Mary Lamia, a clinical psychologist and psychoanalyst and a professor at Wright College in Berkeley, Calif.
"Connecting with others is essential when you suddenly feel disengaged from the security of a relationship."
Yes, coping with your feelings and processing your grief is important, but so is countering your alone time with social activities.
3. Don't simmer in anger
Breakups offer opportunities for learning and a chance to look at the relationship and yourself, says Lamia.
"Rather than justify the breakup by attacking the character of a former partner or yourself, consider the bigger picture of what you want in your life as well as what you need."
4. Pay attention to the love around you
Just because that lover isn't in your life right now, it doesn't mean love isn't all around you, says Kessler.
"So many times when we go to a party after we've lost our special one, we spend the whole time looking for the next special one. We end up missing out all the love in the room that's there for us," he says.
Now is the perfect time to reconnect with friends and loved ones.
RELATED: Relationship expert: How to get 'love sober' after a breakup
5. Focus on the new
Breakups mean you're saying goodbye to some of your old routines, so it's important to replace them with new ones, says Greer.
"You really have to make a new start. Literally. And the holidays are a great time to do that because there are a lot of new opportunities to meet people at parties,and to make friends at those parties," says Greer.
"You don't have to start dating someone new, but if you go to a party and meet a new friend, you have an opportunity to go out and do things or keep busy."
At this time of year, there's a lot more going on. If you push yourself, you can take advantage of that.
6. Volunteer
How about taking the focus off of you for a while?
The holidays offer countless opportunities for you to help people whose struggles are far greater than a breakup, says Lamia.
Focusing on other people will give you a needed break from rehashing your relationship and thinking about your own loss.
"Volunteering your time helping others can help you find yourself," says Lamia.