Tim Tebow sure stepped up to the plate recently when a teenage fan asked him for a favor — to give a personal message to the high school student's grandmother, who recently suffered a stroke.
The shout-out, caught on video, made 88-year-old Margaret McClung beam with the "biggest smile she's had since her stroke."
Her grandson, Danny Terp, managed to catch Tebow signing autographs at a recent St. Lucie Mets game in Florida and asked him to record a greeting for "Ms. Margaret," a longtime fan of the University of Florida Gators and its former star quarterback.
"I figured I could just buy an autograph but a video for her would be priceless," Terp told NBC News. "... My granny is a huge college football fan and she and I have loved Tebow from day one. She even bought me a Fathead of him when I was in elementary school.
"I knew she'd just be happy that I was able to meet him, regardless of whether he said hello to her or not. Not many players would take the time to do what he did, so I was very thankful for that."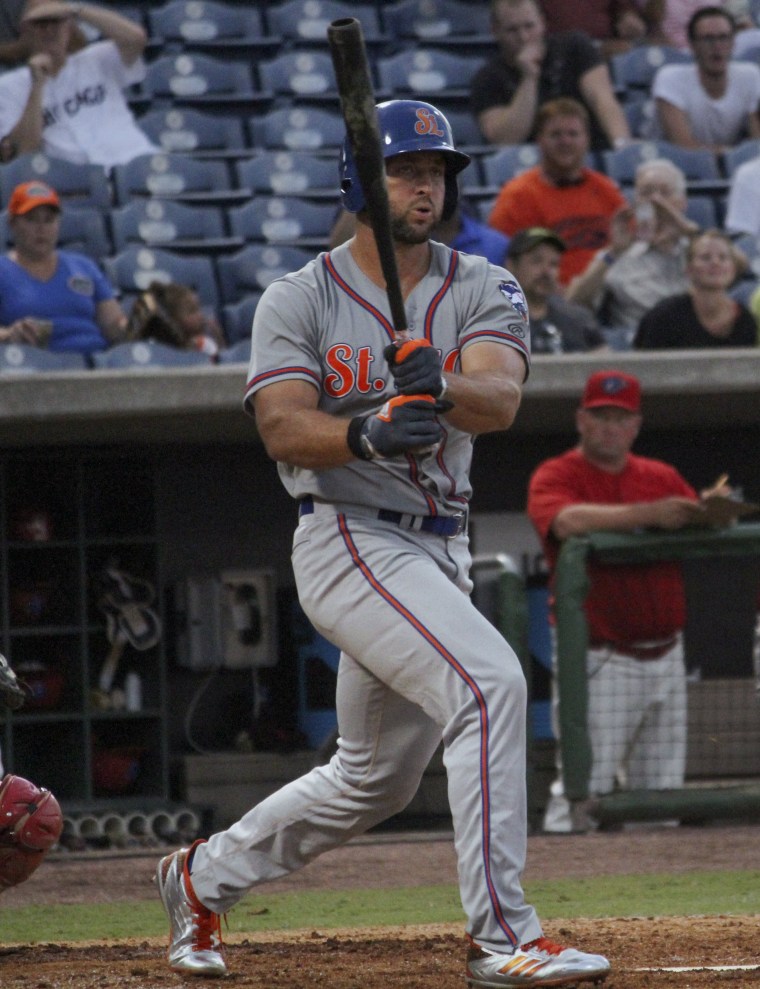 Tebow is a hero to many off the field because of his public displays of faith and charity. Last week, he stepped out of the on-deck circle during a game to greet an autistic boy in the stands — before bashing a three-run homer.
Terp's Twitter video, which has gone viral on social media, shows his grandmother's elation over Tebow's greeting. "It's something to hear him say your name," says McClung in the clip.
Terp told NBC News that it has been a tough year and a half for his grandmother, who before her stroke was hit by a car while crossing the street. She currently lives in a nursing/rehab center.
"Before her stroke, she was extremely independent and healthy. Now she has to rely on others for almost everything, and it's hard on her," said Terp. He added that he knew she'd appreciate the gesture because sports had been an escape for her.
"I was excited about showing her the video because I know how much she admires Tebow on and off the field," said Terp.
"... Tim has no idea what a bright spot this is for our family to see her smile after all she's been through. She has been a great mom and grandma so it felt awesome to be able to make her happy with a few words from Tim."
Terp said McClung was a "little shocked" after watching the video — and she questioned why on Earth Tebow would need to introduce himself in the clip.
"I already knew who he was," she said, drawing laughs from family members, according to Terp.
In a statement provided to TODAY by the New York Mets, the parent club of the St. Lucie Mets, Tebow said, "It takes so little time to make memories. It makes me so happy to make other people happy."