Growing up with Tourette syndrome, the last thing Tim Howard could have imagined was that one day millions would listen to him serve as a commentator on a live television broadcast.

The hero of the run by the U.S. men's national team during the World Cup this summer has played in the most pressure-packed soccer atmospheres on earth as a goalie, but admits that his role as a Premier League soccer analyst for NBC brings challenges that would have seemed much more daunting when he was younger.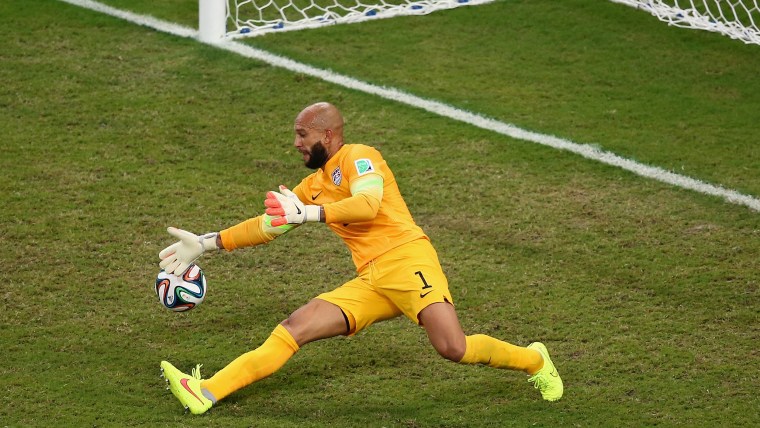 "I get nervous and anxious when I'm on TV for a big game,'' Howard told TODAY.com. "When I play I can let loose because I don't have to worry when a tic or twitch happens, but obviously on TV, I'm much more conscious of it."

Tourette syndrome is a neurological disorder that causes frequent involuntary movements in the face, arms, limbs or trunk, according to the National Tourette Syndrome Association. It can also cause vocal tics like uncontrollable cursing, but Howard's only vocal tic has been a strong cough.
"It's a challenge to control it until we're not live on air, so I just try to keep my composure until then,'' Howard said.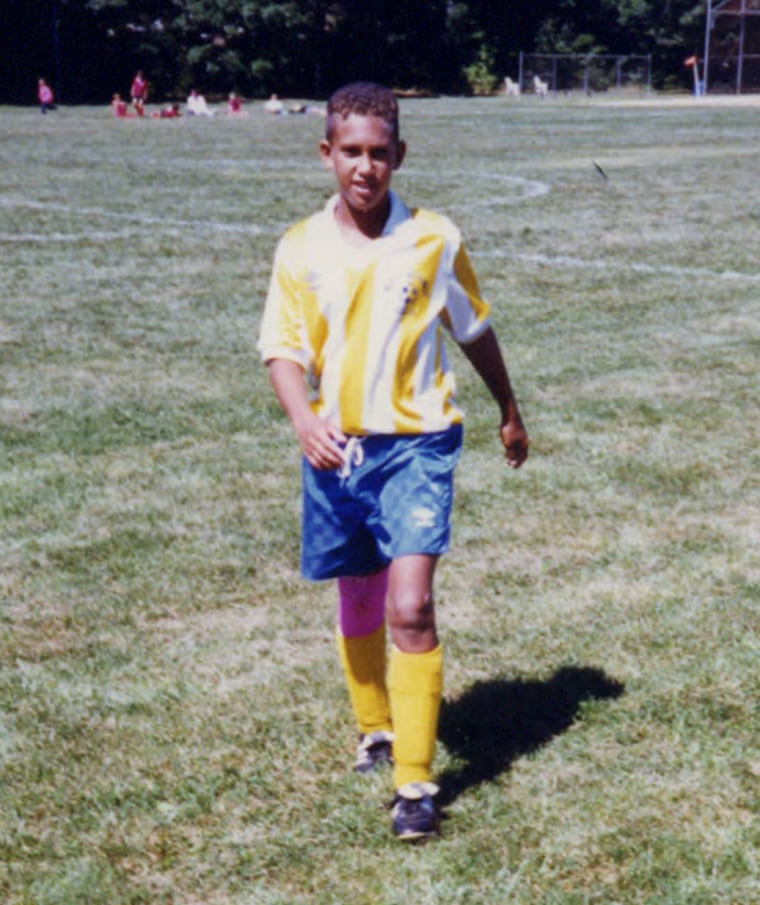 While Howard, 35, has long been a role model for kids with Tourette syndrome through his stardom on the soccer field, his work in the broadcast booth also has shown them not to put limitations on what they can achieve. His latest broadcast for NBC Sports Network is coming up on Sunday when Liverpool takes on Arsenal at 11 a.m. ET in the Premier League.

"It's true that (serving as a commentator) is part of the awareness and the advocacy and helping to motivate the next generate of kids with TS,'' Howard said. "I've always said when it comes to Tourette's syndrome advocacy and awareness, I have the easiest job in the world. All I have to do is be me."
Howard has also helped educate others about the disorder, particularly when he was first signed by the famous British Premier League team Manchester United in 2003. Headlines in the British tabloids labeled him "disabled" and called him the "cursing goalkeeper."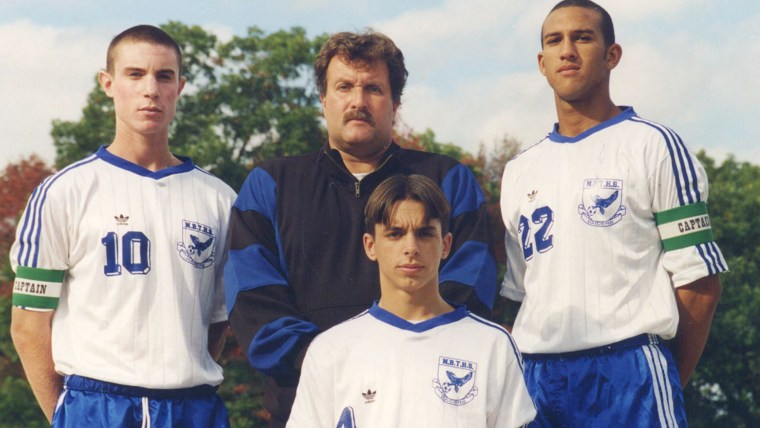 "It was just a ton of ignorance in those headlines, so as long as I kept being myself, people were going to get an understanding of what TS was or is,'' he said.

His presence alone helps educate those curious about Tourette syndrome.
"If I have a tic or twitch in front of a global, international audience, people see it, and it raises awareness,'' he said. "The higher profile I get, the more awareness there is."
Howard's profile couldn't have gotten much higher this past summer after he saved a World Cup-record 16 shots in a 2-1 loss to Belgium in the Round of 16, keeping the Americans in the game with one brilliant save after another before their run came to an end. It was the latest high point for a player who grew starring in soccer in North Brunswick, N.J., before becoming a member of the U.S. men's national team in 2002 and playing on one of soccer's biggest stages in the Premier League since 2002. During his rise to stardom, Howard endured the taunts about his condition while growing up but used them as opportunities to educate others.
Tim Howard: US World Cup journey ended 'just a little too soon'
"That's the hardest part about TS is that it's a very visual thing,'' he said. "It's not a rash or a scratch, it's there for everyone to see. As a kid, kids are cruel and make fun of everything, so part of growing up was dispelling the myths around TS. I also was surrounded and insulated by a great family and group of friends."

While his work with NBC is not only an inspiration to those with Tourette syndrome, it's also unique because unlike most analysts who are retired as players, Howard is still an active player in the Premier League as the goalie for Everton F.C. That means the players he may be criticizing or analyzing are ones he could face on the field in a game.
"One of the things we talked about was that being the first active (Premier League) player to do announcing was part of my concern,'' Howard said. "We need to find a middle ground, and we just felt that honesty was the best policy. I just say what I see, and I think part of that is not being overly critical of players. I don't have an agenda. If it's a bad play, I have an ability to help explain to a broader audience why these things happen."
Considering his ability to still play at a high level at the age of 35, it's not out of the question that Howard could be around for another run with the U.S. men's national team when the next World Cup rolls around in Russia in 2018.
"My plan is obviously to finish playing out my current contract (with Everton), which takes me to 39 (years old), right around World Cup time,'' Howard said. "That's the plan, and I don't know what I'm going to do after that (contract ends). Television has become a good and viable option, and it has taken me by surprise how much I enjoy it. It's good to have the opportunity to make a decision down the road."