Have you heard the one about the pair of 8-year-olds who raised $30,000 for childhood cancer research? Just by being funny, one joke at a time?
Well, here's how that one goes.
It started during indoor recess in Chappaqua, New York. Third-grade buddies Max Chwatko and Alex Travin came up with a plan to help sick kids like Max's sister, Scarlett, who was battling a brain tumor.
The boys decided to do what they loved the most: tell jokes. They would charge their classmates a nickel for each one and planned to donate the money to research.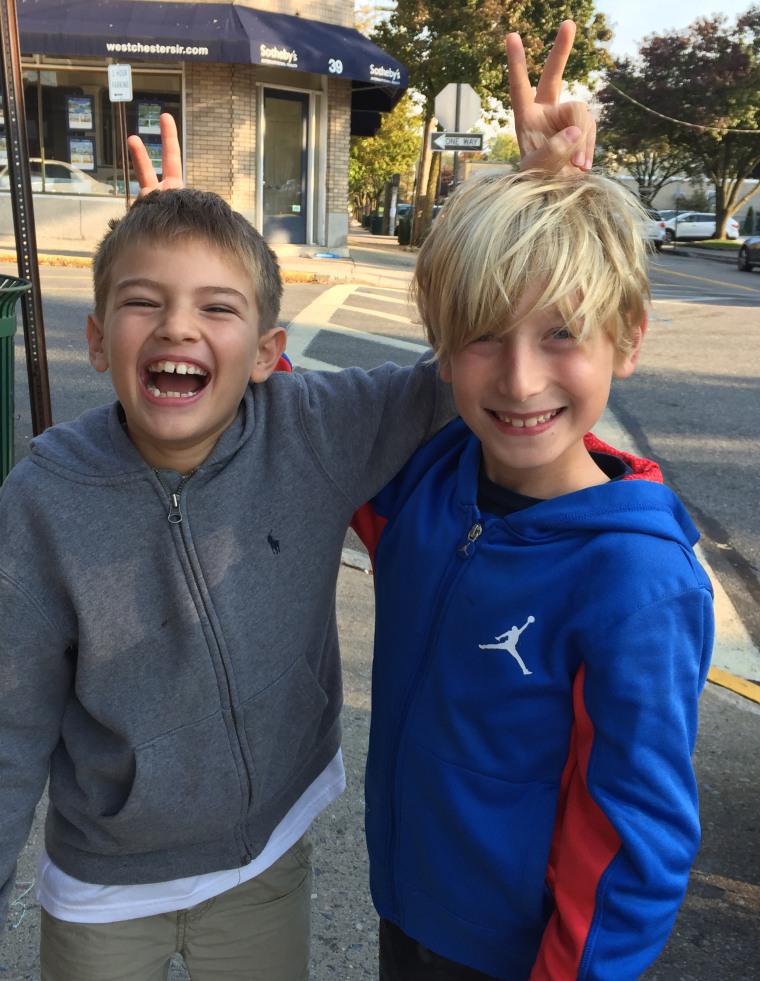 "We wanted to make people laugh, and you can bring a joke anywhere. With a bake sale, you have to set it up," Alex explained. "So we started charging everyone five cents for one joke."
Shortly afterward, the boys decided to take their act on the road — to the Chappaqua farmer's market. But first, their parents caught wind of their efforts.
Alex's mom learned about it as she unloaded her son's backpack one day after school and found a bag of change.
"He was like, 'Oh yeah, we're telling jokes to raise money for pediatric cancer. Everyone's giving us nickels to tell them jokes,'" said Alonna Travin, who was caught off guard but not completely surprised by the effort.
"I don't want to say it wasn't a big deal, but it wasn't necessarily anything out of the ordinary for Alex and Max to put their heads together, come up with a creative idea and just roll with it," she said. "To him, it was just, 'Yeah, yeah, we're raising money.' They're always coming up with business plans and invention ideas, so this was part of another brainstorm for them."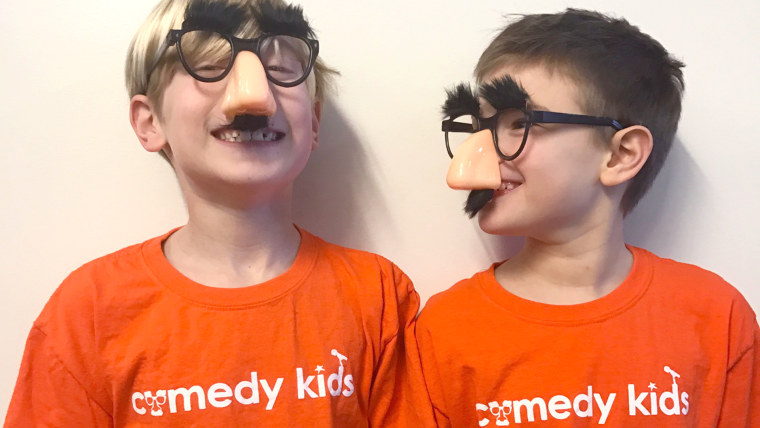 Robin Chwatko learned about her son's fundraiser after the mother of Max's classmate sent her a text.
"She said, 'Sophia would like to know where she should send her allowance.' And I had no idea what she was talking about," Chwatko recalled.
But once she got caught up, she and Travin sat the boys down and helped them plan some logistics. They also had the boys give themselves a name other than "Jokes for Scarlett," their moniker at school.
The boys agreed upon "Comedy Kids" and arranged to set up a stand one Saturday at the farmer's market last November where they told jokes for donations. From that single day, along with weeks of online contributions that followed, the boys raised about $20,000. All the money went to the organization, A Kids' Brain Tumor Cure.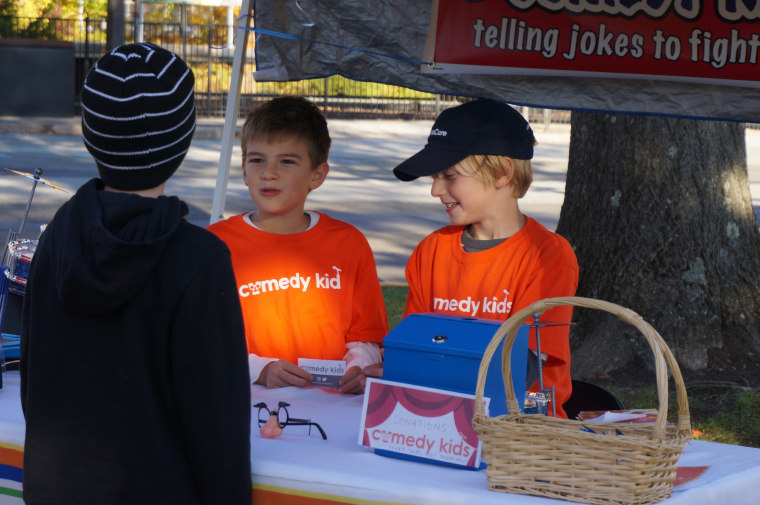 "What was amazing and unexpected was that this fundraiser was a way for people to truly engage," Chwatko said. "When you tell someone a joke, you have that moment of connection that you can't get if you're having a bake sale or a car wash."
Jokes were an integral part of coping for her family while dealing with her daughter's cancer treatment. During some of her hospital stays that involved isolation, nurses left a joke box outside the girl's door where any passerby could contribute.
That's why it made sense to everyone that Max and Alex wanted to raise money by making people laugh.
"You share a laugh with the person, and even though we were going through such an incredibly tough time, we were just smiling and laughing for several hours with our entire community," Chwatko said.
A local newspaper article about the boys soon caught the attention of the New York Yankees.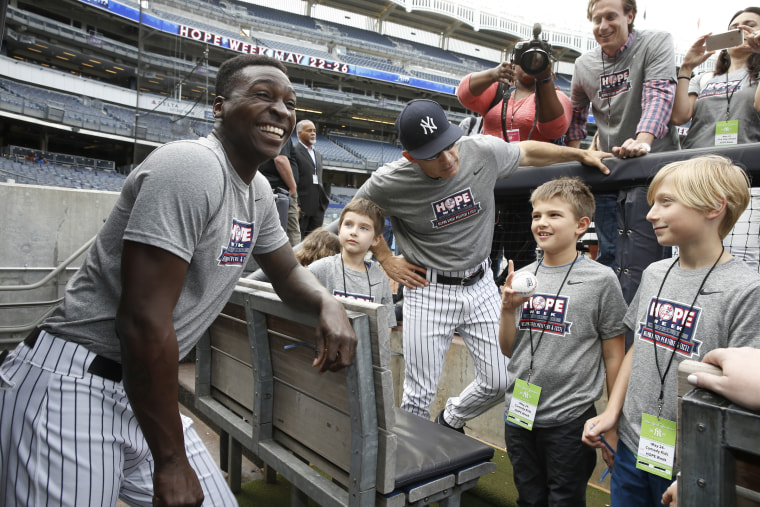 "The ages of the boys and the fact that they came up with something original and unique to turn what is an obvious obstacle into something that can really inspire others caught our attention," said Jason Zillo, the organization's vice president of communications.
Comedy Kids ultimately rose above hundreds of other worthy charities to be one of those featured in the Yankee's annual Hope Week initiative and receive a $10,000 donation.
"The premise of Hope Week is to shine light on inspiring people. Certainly, that's what these two kids were doing," Zillo said.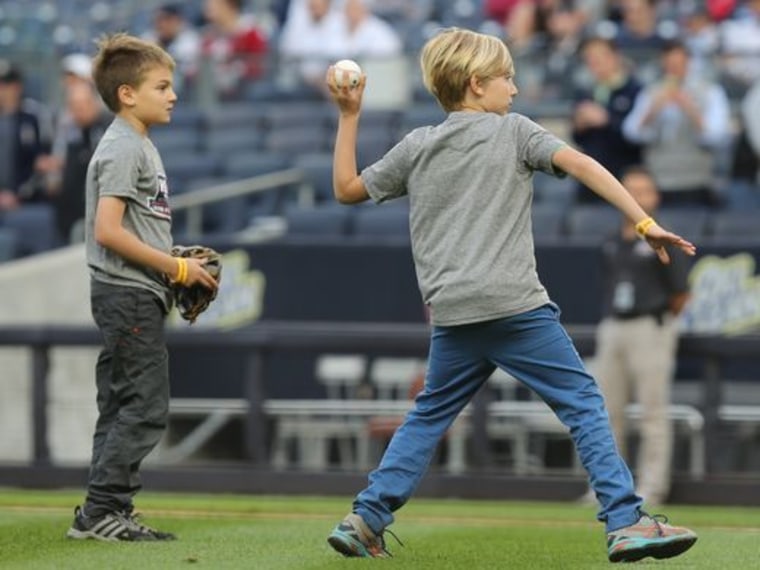 During Hope Week last month, Chwatko and Travin families spent a whirlwind day in New York City, where they got to meet the Yankees and throw out the first pitches at a game. The families also visited 30 Rockefeller Plaza, where they toured NBC's "Saturday Night Live" studio and got to clown around with master jokester Jimmy Fallon on his "Tonight Show" set.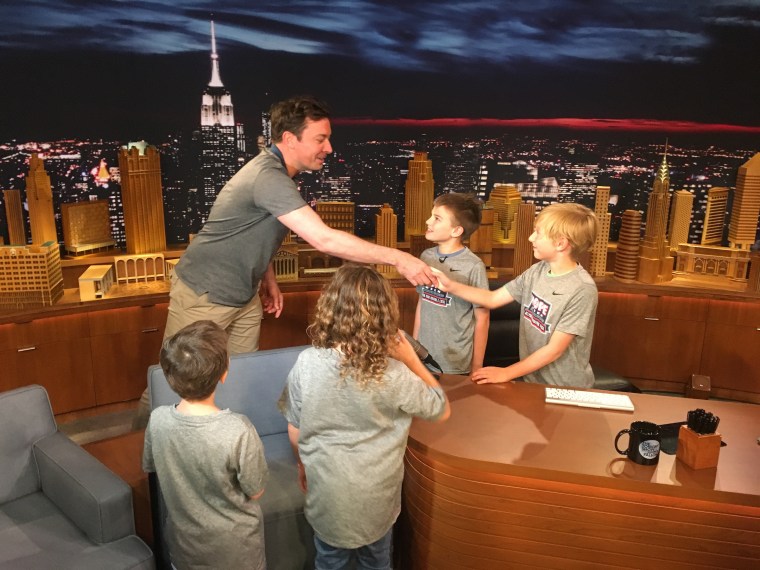 Comedy Kids is now helping other children hold fundraisers for non-profit charities. The organization so far has helped groups in Texas and California become Comedy Kids and is currently assisting with upcoming fundraisers in Hawaii, New Jersey and additional ones in Texas.
The original Comedy Kids, Alex and Max, along with their parents, are working with the Dana-Farber Cancer Institute's Jimmy Fund Clinic on an event this fall.
"We weren't even looking for attention," Alex said of all the activity, although he added: "I'm glad we can help make the world a funnier place."
Max agreed, saying he hopes their efforts can help raise awareness among kids about the different ways they make a change in the lives of people in need.
"When my sister got sick, me and Alex and a lot of other people really, really wanted to help her because it was the right thing to do and it (raising money) could save a lot of people," he said.
"Just imagine. Making people laugh can help raise a dollar for research so that doctors and scientists can do experiments to find a cure for cancer or something else."