Running a marathon in perfect health is a challenging task, but imagine how difficult it would be without the ability to see.
That is the reality for Columbia-native Ivonne Mosquera-Schmidt, 37, who lost her eyesight as a child due to retinal cancer. But she didn't let the difficulties blindness presented inhibit her potential, and she can now proudly call herself a marathoner and triathlete.
"When I run, there's a sense of peace," she said. "It's a sense of freedom."
Learn how you can become a guide for disabled runners — or find a guide .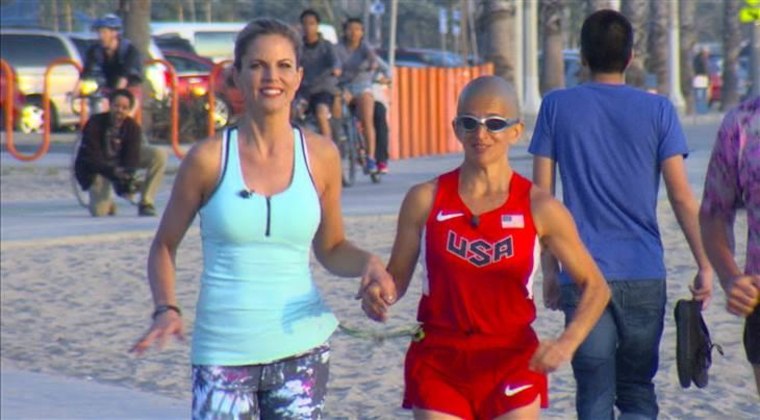 The Stanford University graduate, who climbed Mount Kilimanjaro and was the subject of the 1989 documentary "Into the Mainstream," decided to begin running in 2001. With the help of volunteer guides, Mosquera-Schmidt has now completed 14 marathons and is a member of the USA Paratriathlon National Team.
Mosquera-Schmidt's closest running guide is her husband, John, who says that running together has brought them closer.
"It's an activity we can do together all the time," he said.
But Mosquera's health challenges have not completely disappeared. Last year, she was treated for a rare form of bladder cancer.
"Even through the cancer last year, it was the one thing that kept my spirit alive," she said. "Running really has a powerful, powerful place in my heart."
Ivonne is in recovery now — and back to training with the hope of one day running a 100-mile race.
"I'd like to share with any child — boy or girl — that there is nothing you cannot try," she said. "There is nothing you cannot do. You may have to find a different way to try it, a different way to make it happen. But it can be done."