Does that bottle of sunscreen with a high SPF really protect you?
Maybe not, according to a class action lawsuit filed earlier this week. A Brooklyn man is alleging that Banana Boat Kids sunscreen is incorrectly labeled, with nowhere near the SPF protection it shows. The man, Paul Lambrakis, bought the Banana Boat Kids SPF 50 for his daughter in May. But after Consumer Reports reported that 28 of 60 sunscreens tested had lower SPF protection than they claimed on the labels, Lambrakis sent it for testing to a lab in North Carolina.
The lab determined the sunscreen had an SPF of 12.69, according to court documents filed in the United States District Court Eastern District of New York. Lambrakis claims this mislabeling meant that he and others had to "overpay for the sunscreen based on false, inflated SPF."
Edgewood Personal Care, which owns Playtex, the parent company of Banana Boat sunscreen told TODAY the company does not comment on ongoing litigation but provided a statement:
"We stand behind the accurate labeling of our products. All Banana Boat products undergo rigorous internal and independent testing to ensure they meet all relevant FDA regulations, including for their stated levels of SPF protection. People can feel confident using our products for safe and effective sun protection, when applied as directed."
RELATED: How accurate is the SPF label on your sunscreen?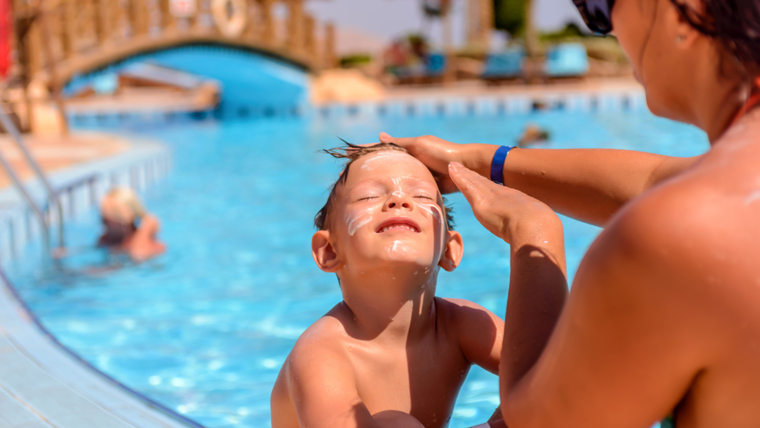 Some experts wondered about the lab's testing protocols.
"We know what the FDA testing is. We don't know what this lab's testing is," said Dr. Adam Friedman, associate professor of dermatology at George Washington School of Medicine and Health Sciences. "I don't think this company was trying to mislead anyone."
The FDA requires sunscreens to pass certain tests before they can claim to be a certain SPF or water resistant, for example.
What to look for
The American Academy of Dermatology recommends that people use a sunscreen of SPF 30 when spending extended time outside. People can wear SPF 15 if they are rarely outside outside, such as walking to and from their cars.
"An SPF of 12 doesn't have enough protection," said Dr. Apple Bodemer, assistant professor of dermatology at the University of Wisconsin School of Medicine and Public Health. "SPF is sun protection factor and it is the measure of how long you can be in the sun before you get a burn.
A SPF of 30, for example, protects users from 97 percent of UV radiation while an SPF of 50 protects them from 98 percent — for up to two hours, she said. Higher than 50 SPF — such as 70 or 100 SPF — doesn't mean more protection.
"Actually having those higher SPF levels makes people feel safer than they are," said Bodemer. "You don't get a huge benefit and it gives them a false sense of security."
A broad spectrum sunscreen includes protection from both UVA and UVB rays. Zinc oxide and titanium dioxide block the sun's rays while avobenzone and benzophenone absorb the rays.
Use it correctly
While buying the proper sunscreen helps, knowing correctly using it reduces the chance of sunburn.
"User error is a huge problem with sunscreen. People don't apply it prior to going outside. People don't apply enough," said Dr. Debra Wattenberg, a New York City dermatologist at NY Skin Rx.
Bodemer recommends that people fill their palm with sunscreen, enough lotion to cover an entire body.
Wattenberg gives a different measure — a shot glass dollop of sunscreen allows for total coverage. Both agree that people must apply sunscreen every two hours regardless of the SPF. And, they need to re-apply sunscreen after going in the water or sweating: even if the sunscreen is water resistant.
"It is waterproof until you wipe it off and it goes on your towel," said Bodemer.
There is no safe tan
People should also wear hats with wide brims, sunglasses, and sun-protective clothing when in the sun. Sitting in shade can reduce the chance of burning, but people must still wear sunscreen because sand, water, and cement can all reflect UV rays, causing indirect sunburn.
"The take home message is that is sunscreen is vital," said Wattenberg. "There is no safe tan or base tan."
Those searching for effective sunscreens can check out the Consumer Reports survey. The top-rated five are:
La Roche-Posay Anthelios 60 Melt-In Sunscreen Milk ($36)
Pure Sun Defense SPF 50 ($6.30)
Coppertone Water Babies SPF 50 ($10.50)
Equate Sport Continuous Spray SPF 50 ($7.85)
No-Ad Sport SPF 50 ($10)