Robin Kimp felt elated when she noticed a certain box at her doorstep last week. Her son, Emanuel Duncan, had waited and waited — since 2007 — to hear from LeBron James. Finally, James contacted her son. Duncan, who lives with a terminal illness, hoped to see James as his Make-a-Wish, but it never panned out.
When Duncan saw the box, he could barely contain his excitement.
"It was amazing," Duncan told TODAY.com. "My mama had called me and told me and she said she was [coming over] and she had a big box and I saw the LeBron autographed jersey. It was totally for me."
James sent Duncan a letter, a signed jersey, shoes, headphones and promise bands. Indianapolis Star reporter Gregg Doyel wrote a story about Duncan, who served as a coach for the Lawrence Central football team and in it, Duncan said his dream was to meet James. Soon after, the package arrived at Kimp's house.
"I've heard some pretty amazing things about you, and from what I heard, I can tell you are an unbelievable coach. I know you said that I am your role model and I inspire you, but I know that you give so many people inspiration, including me. You are living out what it means to be a role model, to be a good person, to put others first and live life to the fullest, doing what makes you happy," James wrote in his note.
High school football team adds teen with Duchenne muscular dystrophy to roster
Duncan lives with Duchenne muscular dystrophy, a progressive muscular disease. Most people with Duchenne live only into their mid 20s. Duncan is 19.
People with Duchenne muscular dystrophy lack dystrophin, a protein that keeps muscle cells together. This causes them to stumble and eventually lose mobility. Duncan has relied on a wheelchair since about 2008.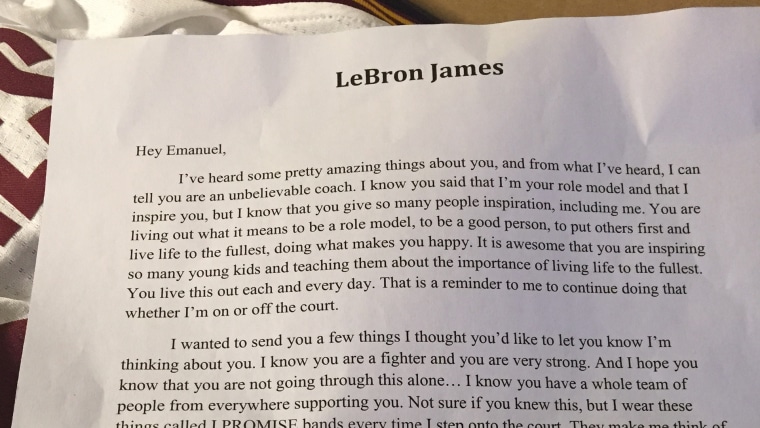 "If you hurt those muscles, wherever [you] hurt it, they will not regenerate," says Kimp. "This disease turns your muscles into fat."
Duncan recently learned that his heart rate is lower than normal — most people's hearts thud out 60 beats a minute; Duncan's thumps about 30 a minute. He's taking medication (when he remembers, Kimp says) and the doctors have said not to worry, yet.
Mom's heartache: Two sons have deadly disease, but only one can get 'miracle drug'
Still, Duncan does not let this prognosis and life in a wheelchair get him down too much. He feels lucky that he hasn't spent a lot of time in the hospital, meaning he often hangs out with friends and family.
"I just wake up happy," he says. "A lot of people [are] hurting. I told myself I have to cheer them up and be happy."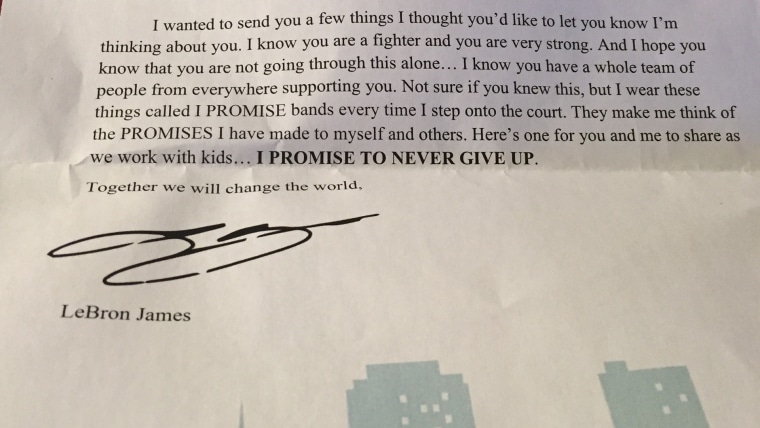 At the request of his friends, he joined the football team to serve as a coach, bolstering morale.
"I was an assistant manager type coach," Duncan says. "I was just there for them just like [they were] there for me."
His classmates wanted Duncan to be a part of the team because of his incredible attitude.
"This kid is unbelievable," says head football coach Jed Richman. "He is just the kind of guy that smiles regardless. He would have a comment to say to you and something funny on a whim in the hallway and that is his character."
Duncan even helped the coaching staff when they needed it.
"It was good for me. He was my personal coach," says Richman. "He's one of the strongest people I ever met."
RELATED: Wheels up! Dad makes stunning wheelchair costumes for son with muscular dystrophy
While some of Duncan's strength comes from Kimp, she tearfully admits she does not feel strong. She tells her son that he can't feel bad for himself for too long because he needs to make the most of his time. And he does. He plans on going to college to be a sports journalist.
"I believe that God made me their mother for the reason to take care of them on this journey and I am going to do the best that I can," said Kimp.
Duncan lives with his 21-year-old brother, Marquis, who is vision impaired. Marquis thought it would be cool for his brother to live independently before the disease progresses too much. His family helps him experience as much of life as possible.
"My son has a fatal disease that will some [day] take his life," says Kimp. "I have my moments and I get myself together and we go on with life. That's all we can do. You just go to. You can't give up on living."