A 16-year-old girl's powerful post about being period-shamed is resonating with women across the world who say they refuse to feel ashamed or embarrassed about a natural part of being female.
Anushka Dasgupta, who lives in Kolkata, India, told the story on social media of her trip home one recent night, when she noticed that men and women were staring at her. She didn't understand until a woman approached and, in a whisper, offered her a sanitary napkin: "I had stained my pants," she wrote.
Dasgupta realized then she had a "massive red stain across my butt and a rather artistic red dot under the zipper of my pants." She was struck by how bothered everyone seemed to be — and the presumption that she should be embarrassed by what had happened.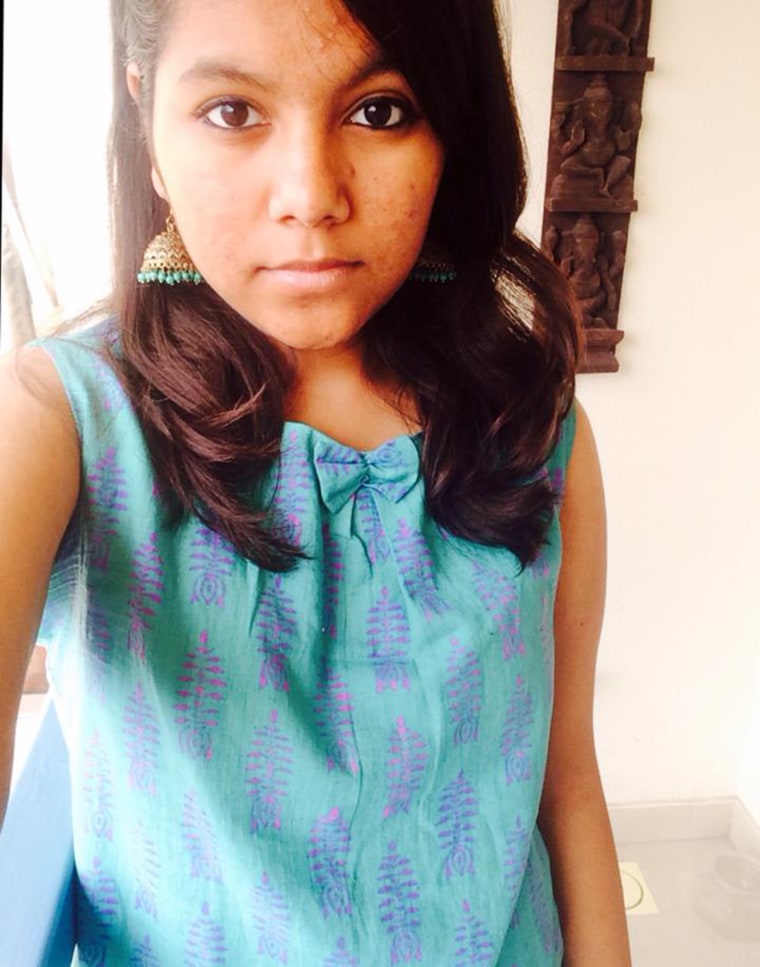 The teen dedicated her post, published on Instagram and Facebook, to "all the women who offered to help me hide my womanhood" and "the men who ogled me today," writing, "I AM NOT ASHAMED."
RELATED: Fashion doll comes with a new accessory — menstrual pads
"Do not whisper when you utter the word 'PERIODS,' do not subtly offer a woman a sanitary napkin, or a fresh change of clothes. ASK her if she needs one, TELL her she has stained her clothes, DO NOT HELP HER HIDE IT," she wrote.
Dasgupta told TODAY her point is that there's stigma attached to menstruation.
RELATED: Girl fakes period, mom gets revenge with fake 'first moon party' in new ad
"We need to do something about it in order to make women less uncomfortable about and embarrassed of what is otherwise a very natural bodily process," she said.
She admits that many of the people she encountered that day probably had no idea why their reaction might be offensive.
RELATED: Why this tampon-themed video game is what the world needs now
"They were participating in the process of period-shaming by being ashamed of the fact that a fellow commuter had stained, showing me sympathy, whispering while offering me a sanitary napkin," Dasgupta said.
Thousands of people have liked the Facebook post, and many women, in India and beyond, are thanking Dasgupta for her courage to speak up.
"I didn't expect the post to go viral, but once it did, I've been receiving an immense amount of support from my family and my friends and a whole lot of strangers who have written to me in support of the sentiment," she said. "However, there's also a lot of hate."
RELATED: Toxic shock syndrome linked to tampon use nearly kills Michigan teen girl
Many people don't understand the point behind the teen's message, she said, or why she posted a photo of the blood-stained pants on social media. Dasgupta also worries that many people don't understand the "basic biology" behind menstruation.
Yet most of the comments are positive, like this one on the teen's Facebook page: "People like you make every girl proud of being one."