Why do you love football? Share your story for a chance to win a trip to Super Bowl XLIX. 
For 40 years, the Ronald McDonald House has helped young people battling serious illness like Colin Delaney, a 15-year-old battling leukemia who recently received a surprise one-game contract offer from his favorite NFL team, the Philadelphia Eagles. 
On TODAY Friday, Delaney, a former middle-school fullback, was invited to sit behind the Eagles' bench for Sunday night's NFC East showdown with the New York Giants on NBC. Eagles general manager Howie Roseman then signed Delaney to a one-game contract, and presented him with a No. 1 jersey with his name on the back, as a part of TODAY's "Together We Make Football" series with the NFL, hosted by NBC's Josh Elliott. 
The Eagles' support for young children and teens who are, like Delaney, fighting cancer is nothing new for the NFL franchise. In 1974, Philadelphia Eagles tight end Fred Hill helped spearhead the creation of the first Ronald McDonald House in Philadelphia. Along with Eagles general manager Jimmy Murray and Dr. Audrey Evans of Children's Hospital in Philadelphia, Hill was inspired to create a home for families with children battling illness after seeing the plight of other families while Hill's daughter, Kim, battled leukemia. Instead of families sleeping in waiting rooms or running up hotel bills while there to support a child being treated for cancer, the Ronald McDonald House was created as a place for them to stay. 
This past summer, Delaney had his spirits boosted by the Eagles during the annual Ronald McDonald House camp in upstate Pennsylvania. Diagnosed with a rare form of leukemia known as Burkitt's lymphoma in February, Delaney had been in and out of The Children's Hospital in Philadelphia for treatments in the months before the camp. 

"I was not feeling well at the time,'' Delaney said on TODAY. "I realized I wouldn't be able to feel normal for a long time." 
The former middle school fullback was able to play football at the camp to give himself a sense of normalcy while battling leukemia.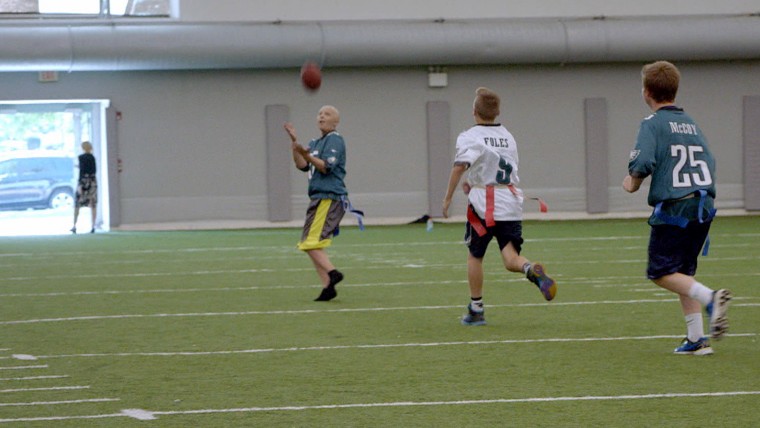 "Playing football again would allow him to kind of have confidence in his body,'' camp counselor Andre Sabelette told TODAY. 
"I'll just be able to think, 'Wow, I'm playing football. My life is normal again,''' Delaney said. 
Delaney took the field at the Ronald McDonald camp with his friends while wearing the jersey of his favorite player, Philadelphia Eagles running back LeSean "Shady" McCoy. The team was greeted with a huge surprise, when two big roster additions, McCoy and Eagles quarterback Nick Foles, showed up to join them.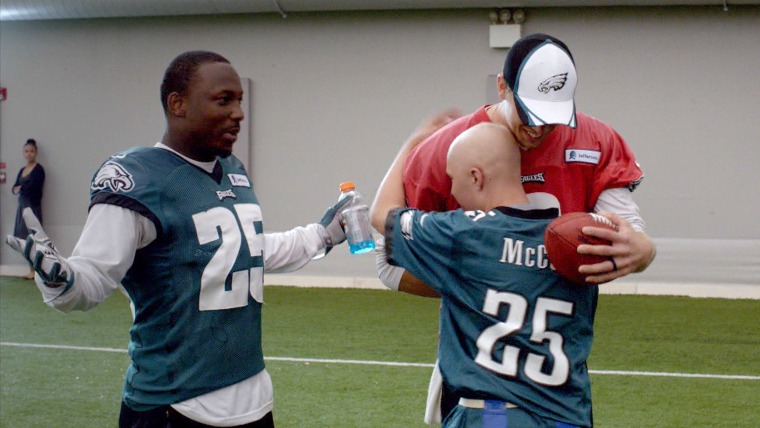 "Best day ever — unexpected and awesome,'' Delaney said. "I'm definitely gonna remember this for the rest of my life." 
"It was great to see Colin out there,'' Sabelette said. "He went all out." 
Sabelette is a cancer survivor himself who was diagnosed with retinoblastoma when he was only 1 year old, and his family stayed at the Ronald McDonald House while Sabelette was being treated. He later attended Ronald McDonald Camp and now volunteers as a counselor, where he sees the effect a simple football game can have on kids fighting cancer.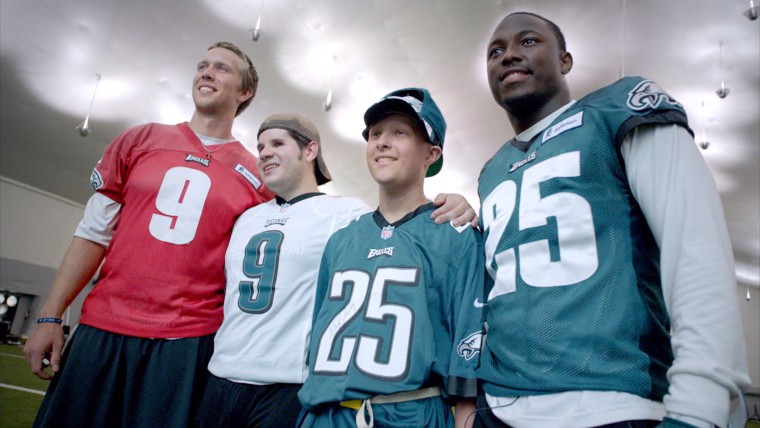 "There's something about putting on those flags, and you're on the field - all that matters at that moment is football,'' he said. "Cancer is the last thing on their minds. Doesn't matter whether you have leukemia - all of the sudden, they realize that they don't have any limits."
Delaney also participated in the video for the "Truly Brave" collaboration with Cyndi Lauper and Sara Bareilles and spearheaded by Hoda Kotb as part of her Shine a Light campaign to raise money for pediatric cancer research. 
"It was a lot of fun, especially the part with the paint,'' Delaney told Elliott on TODAY Friday. "I really enjoyed that."