Lauren Hill, the Indiana college freshman who played basketball last season while battling an inoperable brain tumor, continues to inspire people worldwide with her determination and courage. Over the past several months, Hill has helped raise an astounding $1.4 million to help fund research to fight cancers like hers.
"For Lauren, it's not about her — it's about the 'homerun' cure," said Jen Gault, public relations and marketing coordinator for The Cure Starts Now Foundation. "As she has mentioned in countless interviews, she is aware that her efforts will not save her life, but will help the next child diagnosed with this deadly cancer."
Hill had dropped out of sight for the last week or so to recharge, according to posts by her family on the Facebook page dedicated to Lauren's fundraising efforts, "Lauren's Fight for Cure."
"We have been laying low as Lauren has been more tired the last couple days," her mom wrote, adding that even Lauren was surprised that she has survived so much longer than doctors originally predicted. "Lauren says 'I can't believe I made it through the whole season. Life is unpredictable.'"
On February 6, Mount St. Joseph honored Lauren's accomplishments with the Doctor of Humane Letters degree.
And the women's basketball team held its annual banquet at Cincinnati Children's Hospital to share the celebration with her.
One of the sustaining factors has been Lauren's bond with her team.
"She loves her teammates," Lisa Hill wrote. "They are family. She is so thankful they have been a part of this journey to spread awareness about DIPG. Thanks to everyone for the continued prayers."
When they learned Lauren wasn't well enough to travel to the annual team banquet, her teammates found the perfect solution: On Tuesday night, they brought the celebration to her at the Cincinnati Children's Hospital.
The same night, Ohio Governor John Kasich gave Hill a Courage Award during the annual State of the State address. A member of The Cure Starts Now collected the award for Lauren.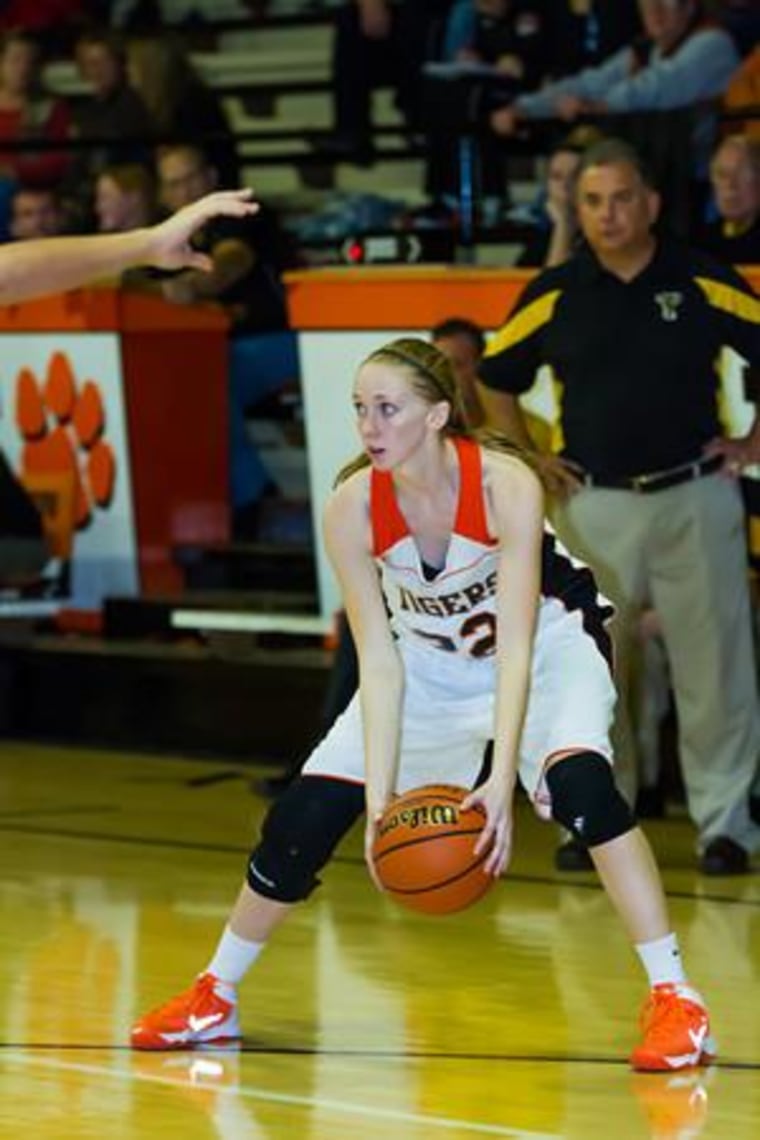 Over a year ago, Hill was diagnosed with DIPG (diffuse intrinsic pontine glioma), a cancer of the brainstem that primarily affects children. The diagnosis stunned the young athlete, but her first question wasn't about her illness — it was about her future as a college athlete. "Can I still play basketball?" she asked.
The tumor continued to grow and by fall of 2014, doctors were telling the Hill family that Lauren might only have weeks left.
Hoping to help make her dream of playing college basketball come true, Hill's coach went to the NCAA to ask for an exemption from the rule stipulating that games not start until mid-November. The NCAA agreed to move the game up to Nov. 2 and to allow it to be played at home.
"Nobody ever knows how much time you have left," Lauren told WLWT. "I could be gone tomorrow or I could be here for another year. Why stop? Why give up on your life?"
Hill not only got to play in the game, but she scored two layups, which helped her team win the game.
With the season over, Hill is focused on the drive to raise more dollars for DIPG research, which she hopes will lead to a much broader cancer solution.
"She believes, just as researchers around the world agree, that by focusing on those cancers, such as DIPG, that force us to innovate we'll discover new strategies to help cure all cancer," Gault said. "She continues to inspire people all around the world."