As part of TODAY's Shine a Light series , a campaign to support worthy causes throughout the year, Tamron Hall has committed to help end domestic abuse.
Her goal is to create a PSA to air in schools and camps that addresses emotionally and physically abusive relationships among teenagers. If you would like to help Tamron with this effort, visit her fundraising page at Crowdrise.com/Tamron.
Approximately 15.5 million children are exposed to domestic violence every year and three women are killed by a current or former intimate partner each day.

Among these women was my sister, Renate, who was a victim of domestic violence. She was murdered in Texas in 2004 in a domestic violence case that, officially, is still unsolved. 
The death of my sister and the many women, most of them younger than 20, who have been hurt and, in some cases, destroyed by domestic violence deserves the light of love and support to shine on them.
In the beginning of this journey, I have to admit that I was worried that by discussing my sister and asking victims to come forward, I would be seen as exploiting the problem. After I announced that my Shine a Light initiative was to save a life from domestic violence, something inside of me said, "Who do you think you are? Save a life? Who are you to make such an assertion?" As the voice haunted me, I got a tweet from someone who said that I should be ashamed of myself for discussing my sister's death. That night, I got mad, I cried and I was afraid to go forward with this idea of shining a light.

I have felt guilty for so long that I didn't do more to help my sister. My father, who died soon after my sister of what my mother believes was a broken heart, said of his children that I was the child who "was always for right." Yet I have felt so "wrong" since her death.
VIDEO: Tamron helps women open up about domestic abuse
My guilt centers around one night at my home in Chicago. My sister was visiting when I heard a commotion downstairs. I rushed to see what had happened, only to find my home torn apart and my sister with a huge, red knot on her face. She was angry, embarrassed and afraid. The other person there told me she "fell," but I ordered that person to leave immediately as I comforted my sister. The next morning when I went to check on her, I found she had let the person back into my home. I was furious and demanded they both leave. While we eventually reconciled, it wasn't until we had gone without speaking for months.
Soon after declaring my Shine a Light project earlier this year, I opened up about this experience and the life and death of my sister at an event. After sharing, a "reporter" shrugged off Renate's story, dismissing me as just another person with a painful story. As this reporter's reaction and the tweet I had received simmered in my mind, a lighter voice drowned it all out. The voice was my father saying that I was doing the right thing. Since that day, I have teamed up with my phenomenal producers and a group of women like no other as we move closer and closer to the light. These survivors are now the faces of my Shine a Light. Their stories are hard to hear but where they are no in their lives is an inspiration with great power — power to even save a life.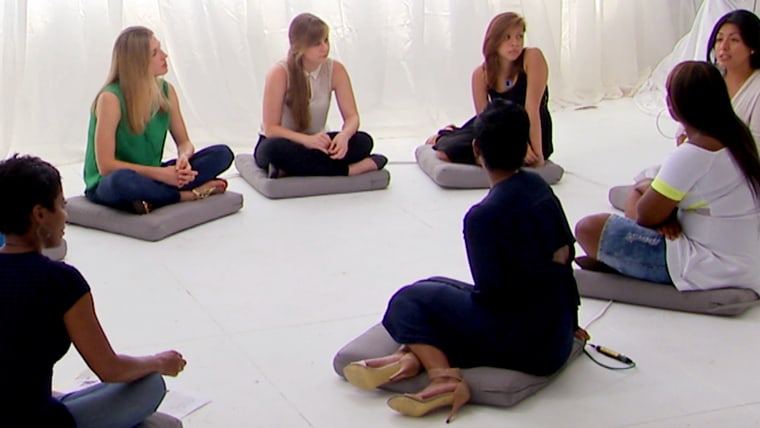 Our goal is to produce a PSA that can be shown to girls and boys in school, at camp, at church and after-school events. The focus is to show them that love doesn't have to hurt and what is the right and wrong way to love.
At TODAY, we often discuss how social media has become a tool for abusers as young as middle school to target and destroy in the name of "love". I've heard firsthand how victims had to hand over passwords or required to reply to a text within a minute because the abusers demand to know their each and every step of the day. That control too often leads to physical abuse. The same berating words used in social media are also present in cases of verbal abuse. Both verbal and physical abuse is on the rise and my group of young women you will meet all say it started with words. Almost all of them felt the first blow or hateful word in their teens.  
The words "today, not tomorrow" are now a part of my morning meditation. Knowing my brave survivors are ready today to save a life is more than I could have planned or envisioned when this project came to life. 
Because of them, I'm ready today, not tomorrow.