What many parents have long suspected is true — taking your children to the pediatrician's office for a well-child visit increases their chances of getting sick. In fact, all family members were at increased risk of contracting a flu-like infection in the two weeks following a well-child visit, according to a new study.
After Heather Day took her daughter Ashley for her 18-month well baby visit, Ashley contracted an ear infection. After Ashley's next check up, she got another ear infection.

"It always seemed that at those annual well visits, nine times out of 10 … she got another ear infection," says Day , who lives in the Philadelphia-area town of Macungie, Pa.
When she'd return to the doctor's office to treat Ashley's infections, Day would say: "I was just here and she was fine and now she is sick."
The doctors and nurses replied: "Kids get sick."
Researchers from the University of Iowa Carver College of Medicine looked at data from the Agency for Healthcare Research and Quality's Medical Expenditure Panel Survey, which includes data from 84,595 families collected from 1996 to 2008. The survey provided the researchers with information about office visits, emergency room trips, and other outpatient healthcare encounters.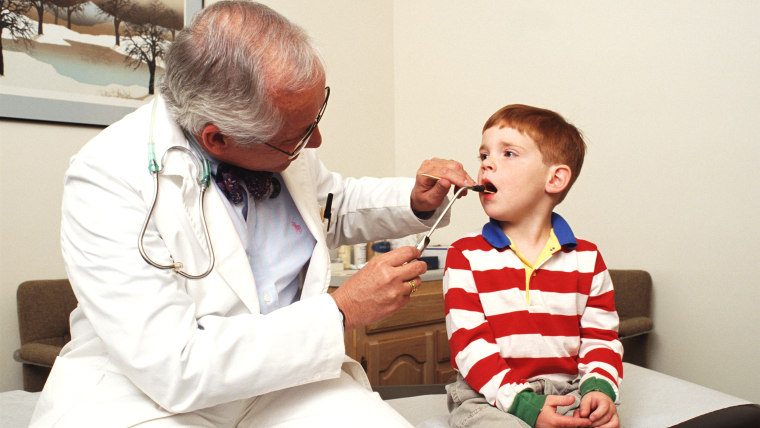 Children and their families had a 3.2 percent increase in flu-like infections after a child 6 or under went to a well-child visit, according to the survey data. While that increase seems small, experts estimate it amounts to about 700,000 cases of preventable flu-like infections each year.
Dr. Charles Foster, a pediatric infection disease physician at the Cleveland Clinic, says: "The risk to any individual patients is small but when you factor in how many well-child visit there are each year then they come up with a very large number."

The study's co-author Dr. Philip Polgreen says the risk is actually "quite modest" and parents shouldn't avoid a scheduled doctor visit. 
"These [well] visits are critically important," says Polgreen, an associate professor of internal medicine at University of Iowa Carver College of Medicine. The study is being published in the March issue of Infection Control and Hospital Epidemiology.
Both Foster and Polgreen say that better implementation of recommended hygiene practices in waiting rooms and by parents could reduce the spread of these illnesses. 
Doctor's offices should offer face masks for sick children, have segregated waiting rooms — one for ill kids and one for healthy children — supply tissues and hand sanitizer, take sick children to an exam room immediately, and clean shared surfaces and toys. 

Parents should teach their kids to sneeze into a tissue or their elbow and properly wash and sanitize their hands. Also, they might want to keep their kids away from those shared toys.

"There are basic infection control principals that all pediatric offices should practice," Foster says.
Dr. Richard So, a pediatrician at the Cleveland Clinic, says that his practice does not provide shared toys or books to reduce the spread of illness. Instead, they offer each child an individual box of crayons.

"Having individual crayons — and that has been a trend in restaurants— yeah, it costs more, but we're doing what we can do to reduce the spread of illness in our office," So says.
Pediatricians have preventive tricks for their own families. When Dr. Dennis Cunningham, a pediatric infectious disease specialist at Nationwide Children's Hospital in Columbus, and his wife took their children to the well child visits they provided their own toys, which they cleaned every time they returned to the house.
Pediatrician So recommends that parents:

Schedule appointments for younger babies first thing in the morning, when offices have less exposure to germs.
Ask physicians, nurse, and staff to wash their hands before touching their children.
Request your pediatrician to schedule well child visits at different time than sick visits to avoid transmission of illnesses.
"Anyone has a cold or a runny nose shouldn't handle [a] baby. I think parents should stand up and say [something]," So says.  
As for Ashley, she stopped getting sick following her well-child visits when she turned 4 and Day started taking her to a family medicine practice. The now 15-year-old high school sophomore is as healthy as any of her friends.