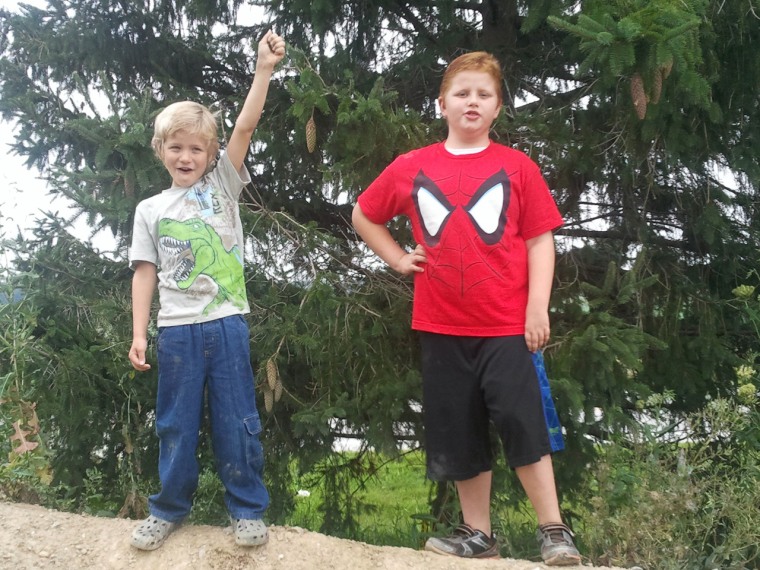 When doctors told Pete and Michelle Gallagher that they wanted to remove half of their 3-year-old son's brain, the Attica, Ohio, parents were horrified. But a new study shows the extreme procedure may offer some kids their best shot at a normal life.
"We panicked," said Pete Gallagher, recalling their reaction seven years ago.
The couple also knew that the dramatic surgery known as a hemispherectomy might be the only workable option to stop the severe seizures, more than a dozen a day, that were robbing Aiden of his ability to function – and to learn.
"He had forgotten his alphabet. He had forgotten how to count. It was all slipping," the father said.
Today, Aiden is a healthy, red-haired fifth-grader who goes to regular school and loves to play baseball and basketball. He hasn't had a seizure since the rare operation, making the boy a poster child for new research that finds the procedure offers real-world success for children suffering from devastating epilepsy.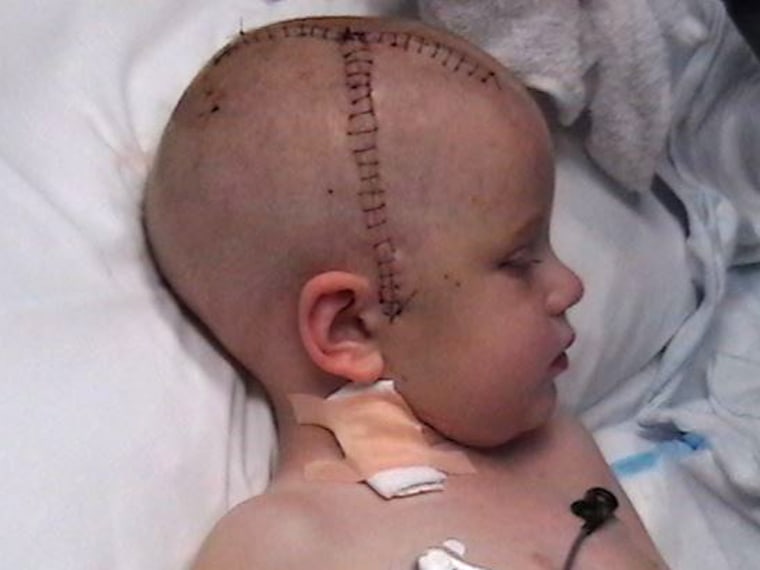 "The brain has an amazing capacity to work around the function that it has lost," said Dr. Ajay Gupta, head of pediatric epilepsy at the Cleveland Clinic.
In the first large-scale study to look at the everyday capabilities of kids who undergo hemispherectomy, Gupta and his colleagues reviewed 186 operations performed at their center between 1997 and 2009 and took a close look at 115 patients.
They confirmed what doctors knew, but had little practical data to support: That removing the diseased hemisphere of a seizure-prone brain allows sufferers to learn and grow and, in some cases, lead normal lives.
"It answers the questions that parents have: Would he be able to talk, would he be able to see, would he be able to read?" Gupta told NBC News.
Only a tiny fraction of the 3 million Americans who have epilepsy are eligible for hemispherectomy, which involves either total removal of half of the brain, or removing part and disconnecting the links between the two halves. Though no one keeps track of how many times this surgery is performed, Gupta figures his high-volume center does 15 or 16 procedures a year. They're typically used when anti-seizure medications no longer quiet the electrical storms that ravage the brain.
Aiden suffered his first seizure at 10 months. Doctors controlled them with drugs until he was 3, when the medications stopped working and he was seizing virtually around the clock. Surgery quickly became the only option.
"They removed almost all of the right side of his brain," Pete Gallagher said.
The new study, published Friday in the journal Epilepsia, reviewed records of Aiden and other Cleveland Clinic patients ages 2 to 28, mostly children who developed epilepsy before the age of 3. Three-quarters of the patients had daily seizures and another 18 percent had seizures every week, the study found.
After the surgery, more than half of patients – 56 percent – were seizure-free. Another 36 percent still had seizures, but about 15 percent of them saw a more than 90 percent reduction in their frequency.
Researchers found that 83 percent of patients were able to walk independently, and 70 percent had satisfactory speaking skills. Nearly 60 percent of kids were able to participate in mainstream schools with assistance, and 42 percent of children older than 6 had satisfactory reading skills. Five of the 24 adults who had surgery were holding down jobs. 
Those might sound like mixed results to some, but not to Dr. Gary Mathern, a professor of neurosurgery at the David Geffen School of Medicine at the University of California, Los Angeles.
"Given that if you had not done the intervention most of these kids would be so severely disabled, the results are actually pretty positive," said Mathern, a surgeon whose nationally renowned hemispherectomy program competes with the Cleveland Clinic's. He was a reviewer on the paper and is now a co-editor of the journal. 
Without surgery, a child with severe epileptic seizures might have an IQ of 50. With surgery, that might jump to 70, Mathern said.
The findings in the new study are not surprising, but they do serve a valuable purpose, especially for parents weighing the risks and benefits of the surgery.
"It gives them a range of expectations," Mathern said.
Still, few parents reject the surgery that can stop seizures – and the dependence on anti-seizure drugs, which have their own debilitating effects.
In Aiden's case, his improvement began the minute he woke from the operation and reached for his dad with his formerly useless left hand, his dad said. A week later, he was running at a local playground.
"I didn't think the recovery would be anywhere near the point that it is," Pete Gallagher said.
The success of Aiden's surgery and the return of calm to family life led the parents to have another child, Evann, now 5. They say they're grateful that both boys can work and play together.
"Aiden's kind of our hero because of all the crap he's been through," Gallagher said. "I think there are absolutely no limitations for him. Just when we think there might be something he can't do, he does it."

JoNel Aleccia is a senior health reporter with NBC News. Reach her on Twitter at @JoNel_Aleccia or send her an email.