Men hoping for healthy hearts might want to simmer in a sauna.
Guys who regularly sweat, schvitz, or otherwise soak up the dry heat of saunas are less likely to experience fatal heart attacks, Finnish researchers report in JAMA Internal Medicine.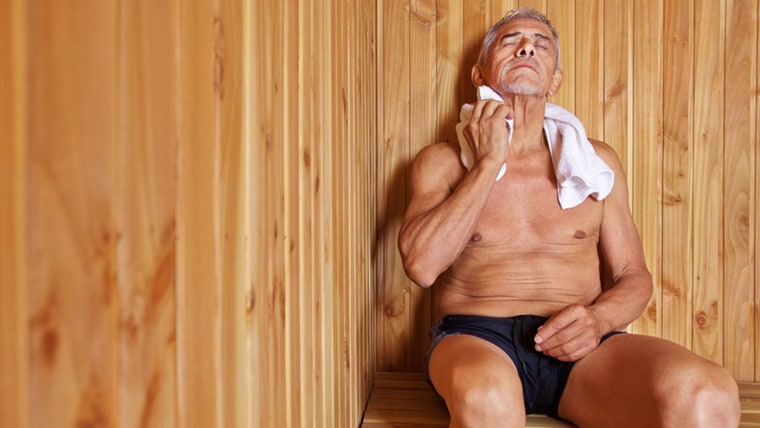 "We found that saunas improve cardiovascular health," lead author Dr. Jari Laukkanen said via email. He works at University of Eastern Finland.
And where better to conduct this study? In Finland, saunas are so popular among the health conscious, locals refer to them as the "poor man's pharmacy."
So, Laukkanen wondered if that clammy custom possessed any health benefits. He dissected data involving more than 2,300 men aged 42-60. Participants answered series of questions in the 1980s, then again 18 to 22 years later. They revealed their sauna-bathing habits and other behaviors, such as whether they smoked or not.
The participants all use traditional Finnish saunas, which operate at a dry heat of about 80-100 degrees Celsius (or 176-212 degrees Fahrenheit). They pour water over hot coals, creating steam. During the follow up assessments, Laukkanen examined the number of deaths among the men from sudden cardiac death (SCD), coronary heart disease (CHD), and cardiovascular disease (CVD).
The more those men sweated in a sauna, the less likely they were to die of heart problems, Laukkanen found.
Overall, men who bathed in a sauna two to three times a week were 24 percent less prone to die of cardiac issues when compared to men who hit the sauna just once a week. And sitting in a sauna four to seven times a week carried a 40 percent lowered risk of heart ailments, the study found.
"It is an interesting finding; people who sauna regularly have better health," says Dr. Patrick McBride, a professor of medicine and associate director of preventative cardiology at the University of Wisconsin School of Medicine and Public Health. He was not involved in the study."
Women weren't originally included in the data so the researchers couldn't examine how or if sauna use may impact female hearts. But "we would expect" the benefits likely would extend to women, McBride said.
The paper didn't examine or offer explanations why stewing in a sauna decreased cardiac deaths. It found an association between sweating in the dry heat, not a direct cause. But Laukkanen believes it's because a sauna session affects the body just like exercise.
Previous research bolsters that point, showing that saunas increase heart rate, improve blood pressure, and boost blood flow, McBride said.
But McBride suspects another benefit is that saunas promote a sense of serenity — albeit a sweaty one.
"I think a big part of it is people taking time to sit and relax," he said. "[Relaxation] lowers blood pressure and heart rate and lowers the risk of rhythm problems."