TODAY's Joy Bauer and Jenna Wolfe shared their quick-and-easy fitness and food tips Monday to kick off our "60 Seconds to Surviving the Holiday Creep" series. Over the next few days, they'll offer more tips to help you stay on the right diet and fitness track through holiday parties and temptations — and in only 60 seconds!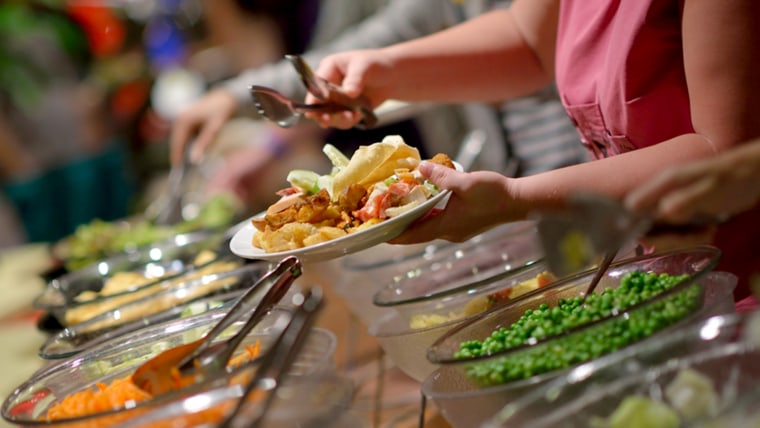 Joy Bauer's 4 quick-and-easy tips to not overindulge:
1. Chug some bubbly
Drink two cups of bubbled seltzer or club soda before you enjoy any edibles. It will leave you feeling full.

2. BYOD
Bring your own homemade dish, something light and delicious, to give the host/hostess. It's a win-win: You look like a gracious guest and you'll also have a low-calorie meal to enjoy. I encourage you to try some of my personal go-tos, like Spinach Lasagna, Skinny Lasagna Rolls, Dark Chocolate Fondue with Fresh Fruit and Triple Veggie Quinoa.

3. Master the buffet with a 2-step strategy
Step 1: Fill "plate one"with pure produce: crudité, roasted red peppers, salad, even fruit off the cheese platter. You frontload the fiber and take the edge off your hunger.
Step 2: Fill plate two" with an appropriate portion of whatever looks yummy to you. 

4. Splurge seasonally
Skip the stuff that's available all year-round and instead, indulge in the true festive standouts, like your family's traditional holiday side dishes, Christmas cookies and grandma's special holiday fudge.

Host your own fitness party! Jenna Wolfe's fun workout tips:

You don't just have to eat at holiday parties — you can exercise too! Start by hosting your own fitness party. Not only are these exercises great for families, kids and coworkers, but they get you moving and burning calories. An extra bonus: You can challenge yourself to a workout competition using only a deck of cards.
6. 52-card fitness pick up
Hearts = Jumping jacks
Diamonds = Squats
Clubs = Mountain climbers
Spades = Burpees
Each of the four suits in a deck of cards represents a different exercise and the card value equals the number of reps.

Jacks = 11 reps
Queens = 12 reps
Kings = 13 reps
Aces = 14 reps

Each contestant draws cards at random from the deck. Your job? To make sure they are staying in proper form.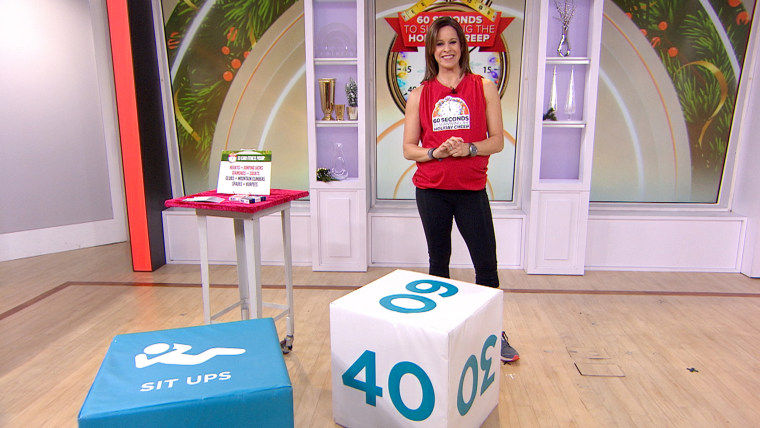 7. Fitness dice
Fitness dice have screen-printed numbers on one die (2, 4, 6, 8, 10, 12) and various exercise directions on the other (push-ups, sit-ups, arm circles, hop on one foot, toe touch, jumping jack, etc.). Players roll the dice and then do the combination. For example:

One fitness combination may say do eight push-ups and the next combination could be touch your toes four times.
Teams can compete to see which group can do five fitness routines the fastest! 

If you want to keep it really simple, make your own using cardboard boxes. 
Want more slimming holiday tips? Follow Joy on Twitter, Facebook, Instagram, and Pinterest.