A happy workweek starts with a clear desk — or so Lorie Marrero of The Clutter Diet says.
Mondays are already dreadful enough, but nothing says "welcome back" to another week of work like piles of clutter in a space that should generally stay clean! TODAY chatted with three declutter experts for simple tweaks to make your workspace a more welcoming place to start the week.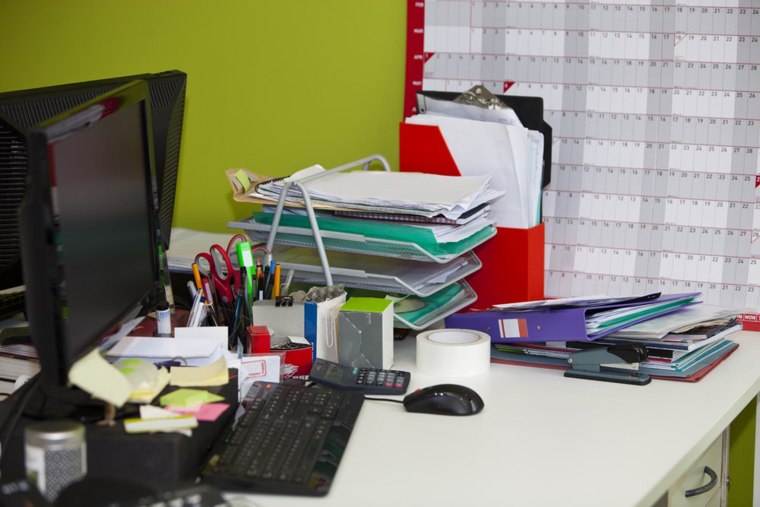 Clear clutter off your desk! Make room for work— Lisa Zaslow, founder of Gotham Organizers
This helps you be more productive — you'll be able to focus on the work you actually need to do, and will make your workspace more attractive too, which is motivating.
Grab an empty tray and neatly stack all the papers you don't need to address today. You can organize them later.
If you've got a lot of stuff piling up, get a box. Containing the clutter will make it more manageable.
Add something that inspires you — a photo, a quote, flower, or a knick knack. This can serve as a conversation piece when people visit your workspace.
Maintain cleanliness during the week— Barbara Reich, founder of Resourceful Consultants, LLC
At the end of each day, spend 15 minutes clearing out the clutter. This means filing or discarding the papers that have piled up on the desk and putting away any items that may have gotten out of place. It's also a good idea to update your to-do list while what needs to be done is fresh in your mind.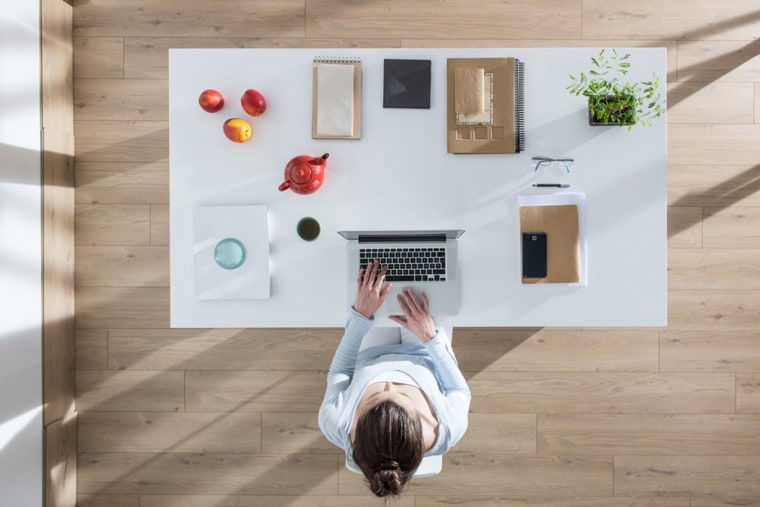 Avoid common problems that lead to clutter— Lorie Marrero
Anything you have procrastinated causes either physical or mental clutter. Cure procrastination with accountability! Get an accountability partner to report your progress to.
3 creative solutions for a tiny, cramped workspace— Barbara Reich
Install shelves. Then, have fun selecting bins you can place on the shelves to house the work supplies. Matching bins will eliminate visual noise and provide a neat way to store necessary items.
Make the supplies part of the décor. You can buy inexpensive glass cylindrical vases and fill these with binder clips, highlighters, post-it notes, etc. Line these up on your desk, or corral them with a colorful tray.
Consider a magnetic modular storage system for the wall.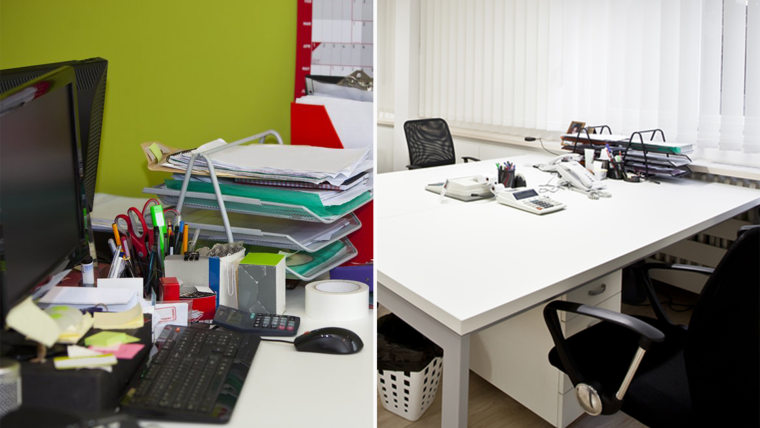 Making these small changes to your workspace will reduce feelings of overwhelm and stress, Zaslow says. Massive amounts of clutter quickly jeopardize a person's functionality. So start the week off on a high note, clear everything off your desk and watch productivity levels soar!