For the first 10 months of their lives, Knatalye and Adeline Mata were as close as sisters can be.
The conjoined twins, one baby "a wild child," the other more calm, gained their independence last week after a successful separation surgery at Texas Children's Hospital in Houston, described as one of the riskiest in history.
"These girls were now going to have that potential of having an independent life," Dr. Darrell Cass, the lead surgeon, told TODAY correspondent Janet Shamlian.
The girls, who were joined at the chest when they were born early in April, required a series of incredibly complex and grueling surgeries in order to grow up as individuals.
The marathon separation surgery began on Tuesday and stretched more than 24 hours, involving the work of more than 50 medical professionals.
The hours passed by, until finally, Dr. Oluyinka Olutoye, an attending surgeon at Texas Children's Hospital, emerged to announce:
"The babies are separated."
The girls' parents, Eric and Elysse Mata, responded with cheers and applause.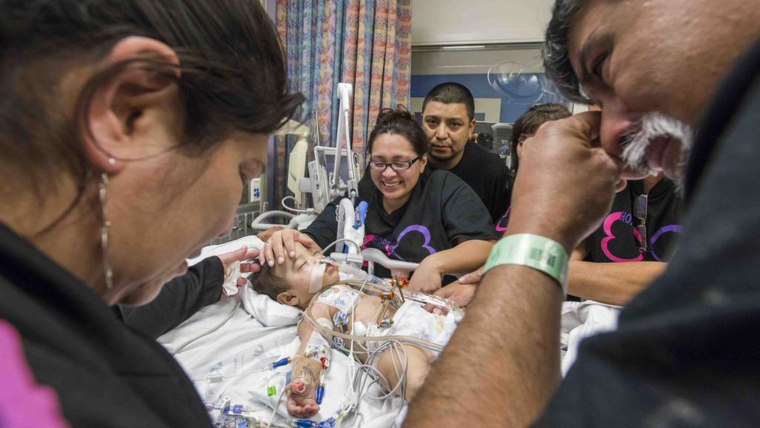 Doctors used cutting-edge technology, including an exact 3-D printed model of the twins' anatomy, and they conducted simulations of the surgery.
"There was lots and lots of planning," Cass said.
Just before surgery, Elysse Mata described the family as excited, anxious and nervous, and the couple prayed and cried as doctors reassured them they would take good care of the babies.
The surgery wasn't always smooth sailing, as Cass noted: "We had some challenges there that we had to work through."
But afterward, the girls were stable, breathing well and their blood pressure was great.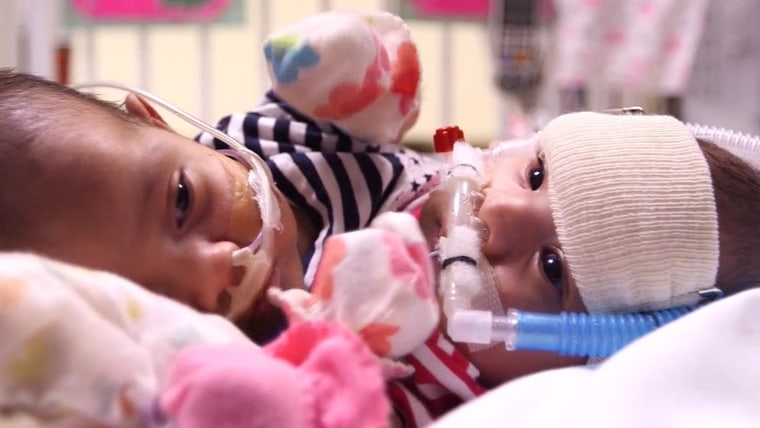 It was a far cry from even before the girls were born, when doctors discovered through an ultrasound that the twins were joined at the chest with a partially shared diaphragm and liver, according to a Facebook page. Their middle names, Hope and Faith, were inspired by the grim news their parents received early on: They had a 20 percent chance of survival.
More surgeries will follow, but for the first time in the girls' young lives, Knatalye Hope and Adeline Faith are living apart, and and doing well.
Their mom, Elysse Mata, describes Knatalye as the "playful, talkative" girl. "I call her the wild child," she said, "and then Adeline's our more calm and quiet" baby.
"Hi Baby," their mom said to one after surgery. "I'm so proud of you."
NBC News and TODAY national correspondent Janet Shamlian and TODAY.com contributor Lisa Flam contributed to this report