In November, Stephanie started experiencing random, crippling headaches and thought she might have developed migraines. When her head started hurting every day, she couldn't hold out any longer: in January she went to the doctor.
"I would lay there and cry," Stephanie, 27, who lives in northern Florida, told TODAY. She asked that her last name not be used for privacy reasons. "I called the doctor and they had no idea what was going on."
Stephanie visited a neurologist, who ordered a MRI of her brain and spotted something concerning. There was a mass nestled against her brain stem. The doctor referred to it as a lesion, so Stephanie didn't grasp what was going on until she saw a piece of paper from the doctor and read the words "brain tumor."
"It felt so surreal. When you have a headache, you don't think you are going to go to the doctor and find out you have a brain tumor. I cried a lot," she said.
RELATED: Watch this 6-year-old boy dance and ring a bell to celebrate end of chemo treatments
She underwent a biopsy to determine the seriousness of the tumor.
"We were still holding on to hope that it was maybe less severe," Stephanie said.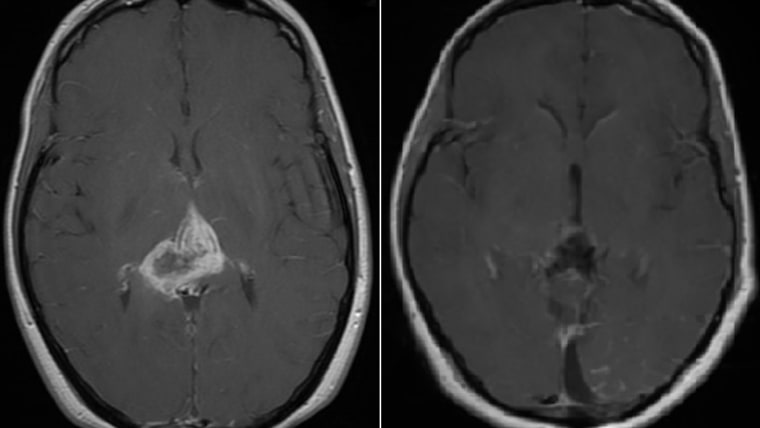 The results crushed those hopes.
"They said 'You have the most aggressive type of brain cancer and we can't remove it, period,'" she recalled. "It was very scary."
Stephanie had a grade 4 glioblastoma, a cancer of the supportive tissues of the brain. Often, these tumors involve many types of cells, including blood vessels, and include many different types of cancer cells. Doctors often eschew surgery because the cancer cells infiltrate the brain and it's difficult to remove them all. Even with treatments, most people with glioblastoma have a median survival rate of 15 months, according to the American Brain Tumor Association.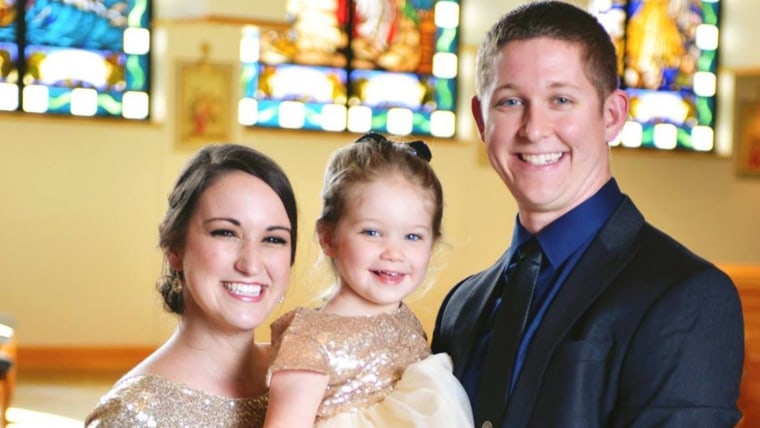 Faced with such bleak news, Stephanie and her husband, Michael, turned to their faith.
She had to be strong for her 2-year-old daughter Sarah. A friend who survived cancer suggested Stephanie start a blog to make it easier for her to update people and help her process her feelings. She started writing about her inoperable brain tumor and the frustration she felt.
Then, Stephanie received an unbelievable message. A neurosurgeon in Oklahoma, Dr. Michael Sughrue, posted that he would like to see her MRI scan. He noted in his message to her that sometimes "inoperable is not inoperable."
Stephanie emailed her MRI scans within five minutes. When Sughrue saw the images, he knew why others balked at performing surgery: the tumor rested against the brain stem and damaging the brain stem could be fatal. But Sughrue's philosophy is that he wants to give patients the best chance.
"It is not easy," he told TODAY. "It is not terrible. It is doable."
"I always look at it and say, 'Is there a realistic way I can do something positive?,'" he said.
Without surgery, Stephanie might only live about six months. The cancer is so aggressive and complex that chemotherapy and radiation wouldn't work without removing some of the tumor.
"Surgery can't get all of the cancer, but it can at least get it to a level where a drug might work," he said.
He told Stephanie if she came to Oklahoma that week, he could perform the surgery and remove much of the tumor that Friday.
"Honestly, I thought it was going to be much worse," she remembers him replying.
While Stephanie felt thrilled, she also worried.
"Initially, I was a little skeptical because we had three neurosurgeons who said no one would touch this. So why would this surgeon in Oklahoma say, 'It is not as bad as I thought it would be,'" she said.
But she went and felt relieved after meeting him.
"This man is amazing," she said.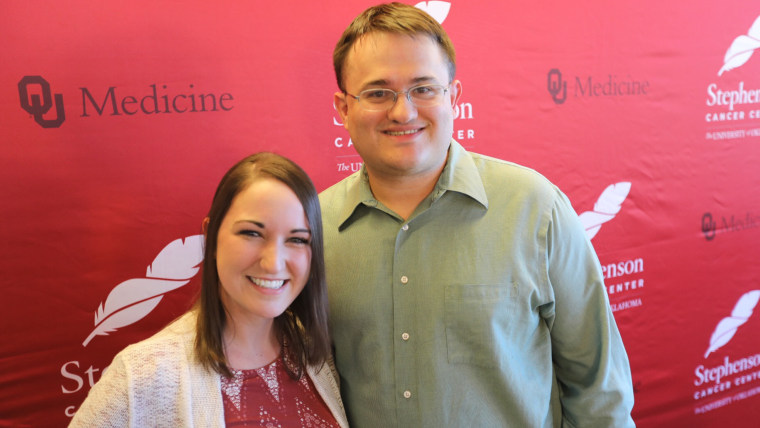 RELATED: Woman mistakes brain tumor for migraine after unknowingly experiencing seizure
She underwent surgery and Sughrue removed most of the mass on February 24.
"It is really a remarkable story. She has a really bad tumor and we did take it out," he said.
Doctors normally recommend waiting four to six weeks after surgery to start chemotherapy or radiation, but because her cancer was so aggressive, Stephanie started radiation right away. After a month of treatment, she's home and taking a chemotherapy drug while looking for local doctors for treatment. She needs more scans to determine the status of her health, so this is not a happy ending yet.
Still, she feels grateful for Sughrue.
"If nothing else, it buys more time," she said. "We tried to not focus on all the negative around us and focus on living."