It's been almost eight years now, but it's still fresh. Not just for me, but my entire extended family. I'm just the one who has the public platform. I'm the one who appears on TODAY and fights back tears.
My husband's father John was a wonderful person. He was the embodiment of a kind-hearted Chicago dad — a happy, big teddy bear of a guy. His phone calls to my husband often started with, "Hey Chris, didya see the Bears game? How 'bout that play in the first quarter?"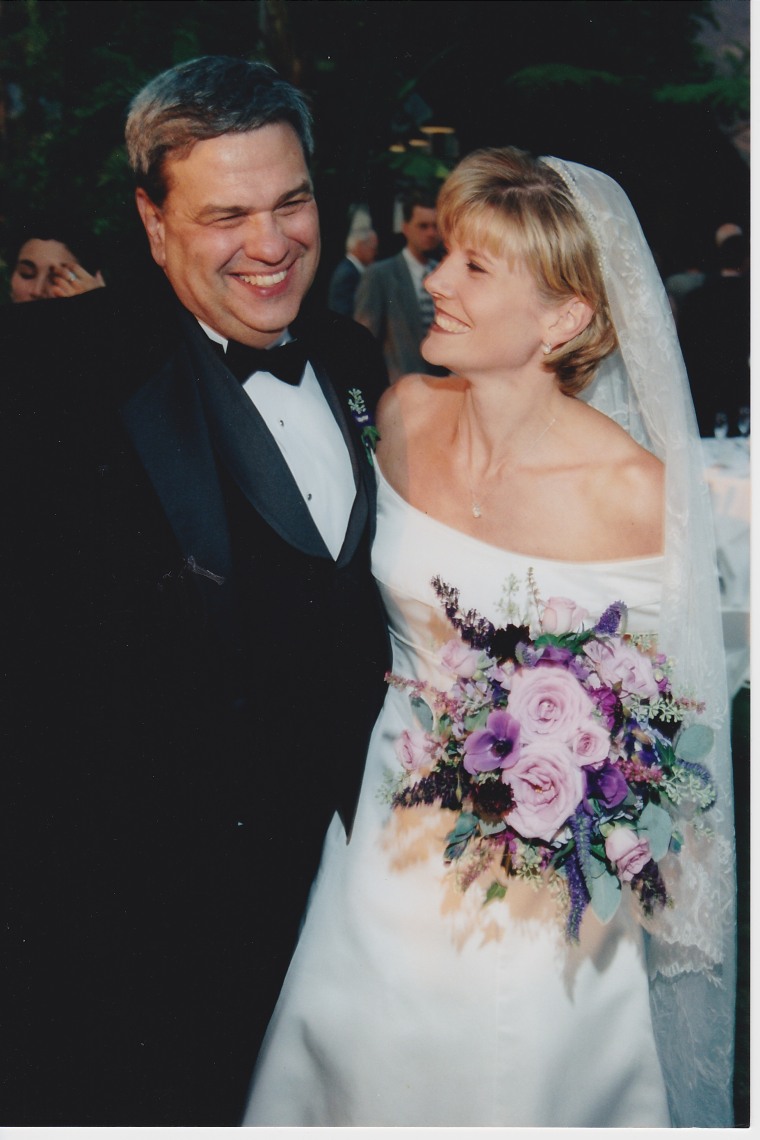 John was a high school guidance counselor. He loved helping people. He was also the family's fix-it guy. He's the one who would show up and fix your door, hang a mirror or paint your garage red without even asking. He was always smiling and always friendly. The folks down at Ace Hardware in his town all knew his name. Same thing at the Jewel Osco grocery around the corner. His neighbors saw him riding around on a bicycle built for two with my sister-in-law — his youngest child, Kiera.
So it was pretty surprising to me when John's personality seemed to change eight years ago. As a daughter-in-law, I hadn't known he'd had bouts of depression in the past — usually at times of big transition in his life. After he retired in his 60s, we discovered he was battling depression again. It was something we knew and talked openly about. We supported him and encouraged him to get help.
Our phone call came just before 7 p.m. on a Sunday, six days before Christmas. I know the exact time because we were about to host our annual Christmas party. When my husband answered the phone, there was literally Christmas music playing and the caterers were in the kitchen laying out food. Our kids were at the door waiting for a babysitter.
I've never heard my husband Chris scream like that. He threw the phone and ran out of the house. I picked up the phone and could barely get the words out — "Who is this? What's happened?"
John, I was told, had died by suicide.
There aren't many days that go by that we don't think of him. But this past week has been particularly difficult. First, we learned about Kate Spade. Then Friday, the devastating news about Anthony Bourdain. I was a fan of both of them and like so many fans, I was shocked and deeply saddened.
When there are high-profile deaths, mental health specialists worry about others who may be struggling. Now is a really good time to reach out for help. The National Suicide Prevention Lifeline available to all of us at 800-273-8255 (TALK). There's also a crisis text line available. Just text a message to 741 741.
With the passage of time, our family has come to a place where we can talk about it. We want to reinforce how important it is to have conversations about mental health. We want people to know the impact that a death by suicide can have on the family.
I think sometimes people suffering from debilitating depression or other mental health issues might think it's going to be less of a burden on their family if they go away. In fact, the opposite is true. The people who love and care about you (and there are so many) will be left with a gaping hole in their hearts.
After I teared up saying those words on TODAY Monday morning, I received many notes.
One viewer wrote to me: "As someone who's been dealing with depression/anxiety lately despite a fortunate and blessed life, I thank you for your last statement regarding burden left on family. I just wanted to say thank you for putting that in my head. Thank you."
A few years ago, I interviewed Zelda Williams after the very public tragedy of her father Robin's death. She told me there's no point in survivors wondering "Why?" or "What if?"
We can't blame ourselves for missing signs or not saying enough. What we can do is talk about it — out loud, in public — and hope we can somehow help other families and help someone else avoid that horrible phone call.
It's also worth mentioning there is progress being made through new research, educational programs and advocacy aimed at preventing suicide. There's a group I support, the American Foundation for Suicide Prevention, that is doing amazing work and there are many ways to support it.
There's also "Seize the Awkward," an interesting new public service campaign that uses humor to encourage difficult conversations.
At my father-in-law's wake, the line stretched out the door and around the building. Hundreds of people came to pay their respects and grieve. His friends and family were all there, of course, but so were the baggers from the Jewel Osco, the Ace Hardware guys and his former students.
The one thing we can all do today, right now is to reach out to our friends and family. Ask people how they're doing. Tell them you care.
My husband Chris, John's son, hosts a radio program and every week since his father passed away, he has ended with the same phrase: "If you love someone, hug them right now."
Here are a few more resources: #BeThe1To is a campaign with specific tips on how to prevent suicide. Seize The Awkward is a public service campaign that uses humor to talk about difficult things.