MRI images that provide life-saving glimpses inside our bodies can capture pure love, too.
The scan of neuroscientist Rebecca Saxe cradling and tenderly kissing her 2-month-old son Percy in 2015 offers a modern, unforgettable twist on the classic mother-child portrait.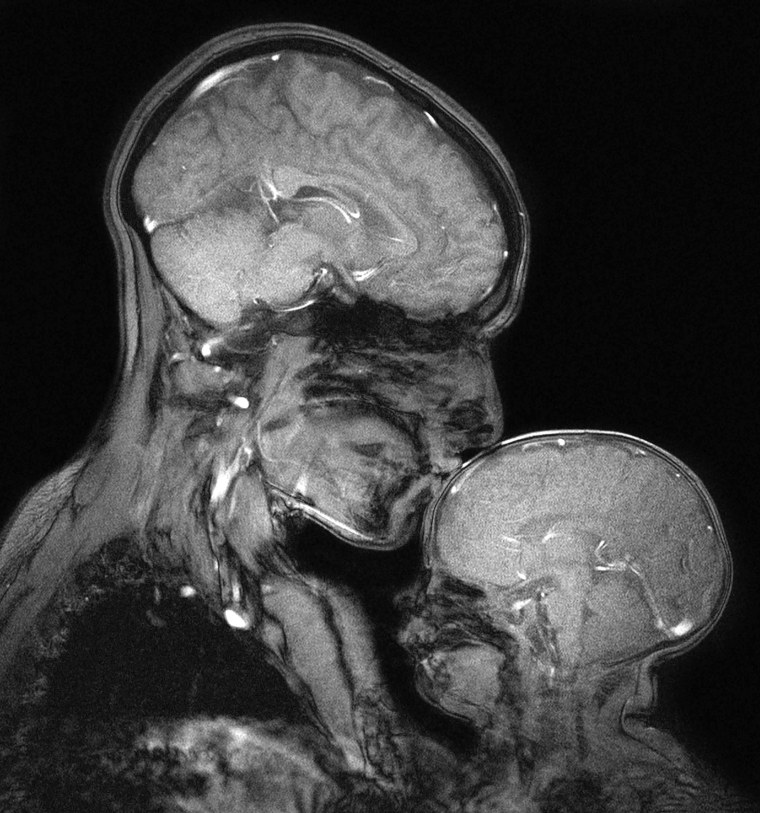 "What's captivating about that image is the relationship that it depicts," Saxe told TODAY. The picture wasn't taken to diagnose any problems, but just because Saxe and her colleagues wanted to see it.
Many viewers focus on the image's fascinating comparison between an adult's and a baby's brain.
"Some people look at it and see mostly the differences: How thin his skull is, how little space there is between the outside world and his brain. It's just this very fragile, very thin little shell," Saxe said.
"On the other hand, you can look at it and see how similar it is to his mother's brain. How close in size — so much closer in size than his hand is."
One big difference is that a baby's brain has almost no myelin, "the insulation on the wires that communicate messages inside your brain," Saxe said.
It may be the first MRI image ever taken of a mother and child, she wrote in an essay for Smithsonian.com.
Saxe, a professor of cognitive neuroscience at MIT, studies how our brains construct thoughts and language. She's particularly interested how they acquire and develop those capacities during childhood.
That means peeking inside kids' heads with the help of magnetic resonance imaging, which provides detailed pictures of the brain. She uses her lab's MRI machine "all day, every day."
After Saxe gave birth to her first child, she spent many hours lying inside the scanner with the little boy, watching his brain develop.
"Like any mother, I fell madly in love with my baby. But I also got to watch his brain grow right in front of me," she said.
"It felt like my experience of being his mother and my experience of being a neuroscientist got suddenly and deeply intertwined."
That's how she began thinking about taking an MRI image of herself with her baby. Since her scanner wasn't configured to take pictures of two people, it took lots of modifications and months of talks with technicians to figure out how to do it.
Saxe finally tried the plan in April of 2015, after she gave birth to her second son. Over two days, she and Percy spent a couple of hours being scanned to produce just the right image. (MRI does not use radiation and has no known harmful effects.)
"It's very, very hard to make," she said. "You have to hold still for a few minutes to get the picture. Try to convince a little baby to lie [still]."
The machine is very noisy, so Saxe wore ear plugs, while Percy had pads over his ears. They worked well: He's sleeping in the picture you see.
It took 25 attempts each day to produce that scan — chosen as the best of all the images taken.
"I thought they were beautiful. I couldn't take my eyes off them," Saxe said.
RELATED: How different are men's and women's brains? Not as much as we may think
RELATED: Boot camp for the brain! How this program might help stave off dementia
Follow A. Pawlowski on Facebook, Instagram and Twitter.
This article was originally published in December 2015.