Sticking to regular bedtimes can be a struggle for parents of school-aged children, but a new report says it can be worth it, resulting in nearly 20 additional minutes of sleep every night as well as a boost in report card grades.
The journal Sleep Medicine reported findings from a six-week sleep education study conducted on two groups of elementary school students in Montreal. Kids who adopted "healthier sleep habits" through the program received an additional 18.2 minutes of sleep per night.
Their math and English grades also improved by more than 2 percentage points compared to grades on their previous report card. Their physical education grades also improved, but only marginally. Students in the control sleep group reported slightly lower math grades, but other grades remained the same.
RELATED: How to get your kids to sleep: 8 answers from a sleep expert
"Sleep for success!" urged Reut Gruber, one of the report's authors and the director of Attention Behavior and Sleep Lab at the Douglas Mental Health University Institute, in an email to TODAY. "Sleep is a free resource that could and should be used to optimize performance, mood and health."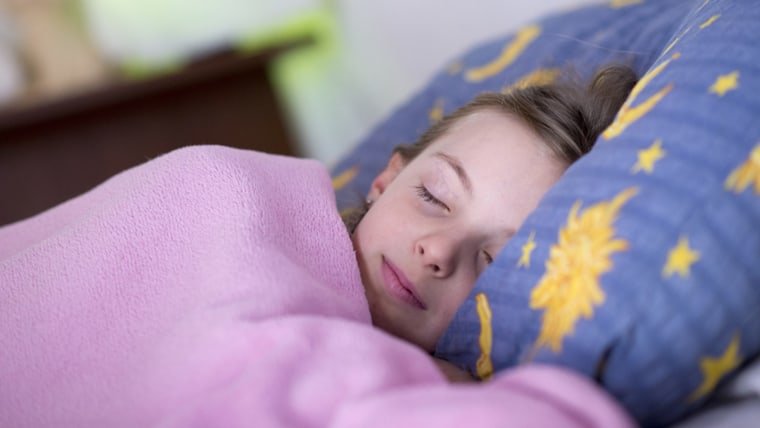 Students in the study attended six interactive classes over a six-week period. In each two-hour class, they learned about everything from good bedtime routines, proper sleep hygiene, the consequences of poor rest and barriers to getting enough sleep.
RELATED: Women are more likely to have sleep problems than men
Parents also were engaged in the program through letters sent home with children after each class and information sessions for them at the schools.
Researchers focused on young children because sleep deprivation in prepubescent children "is likely to be caused by lifestyle habits and culturally normative bedtimes," the report said.
Gruber said that parents must make sleep a priority for their children.
RELATED: Catching up on lost sleep really may reverse a few restless nights
"Make sure they go to bed at a time that allows them sufficient sleep duration even in the presence of competing activities and priorities such as extracurricular activities, social and family events or even school work — make sure it is done in a way that does not interfere with sleep," she said.
"Make sure that the above is consistent. Sleep should not be negotiated every night but there should be a consistent bedtime that should be applied every night," she said. "Weekend should not be more than about one hour later than week nights and ideally should be just the same if possible."