When Cimone Stills was 8 years old, she experienced her first seizure. At first, she wasn't sure what was happening, but she soon learned she had epilepsy. Medications regulated her seizures until puberty hit and she started having grand mal, petit mal and myoclonic seizures dozens of times a week.
Her life changed dramatically.
"A lot of things stopped for Cimone. Sports stopped for Cimone. Socializing stopped for Cimone," her mother Tonishia Stills, 43, of Pickerington, Ohio, told TODAY. "She became really depressed."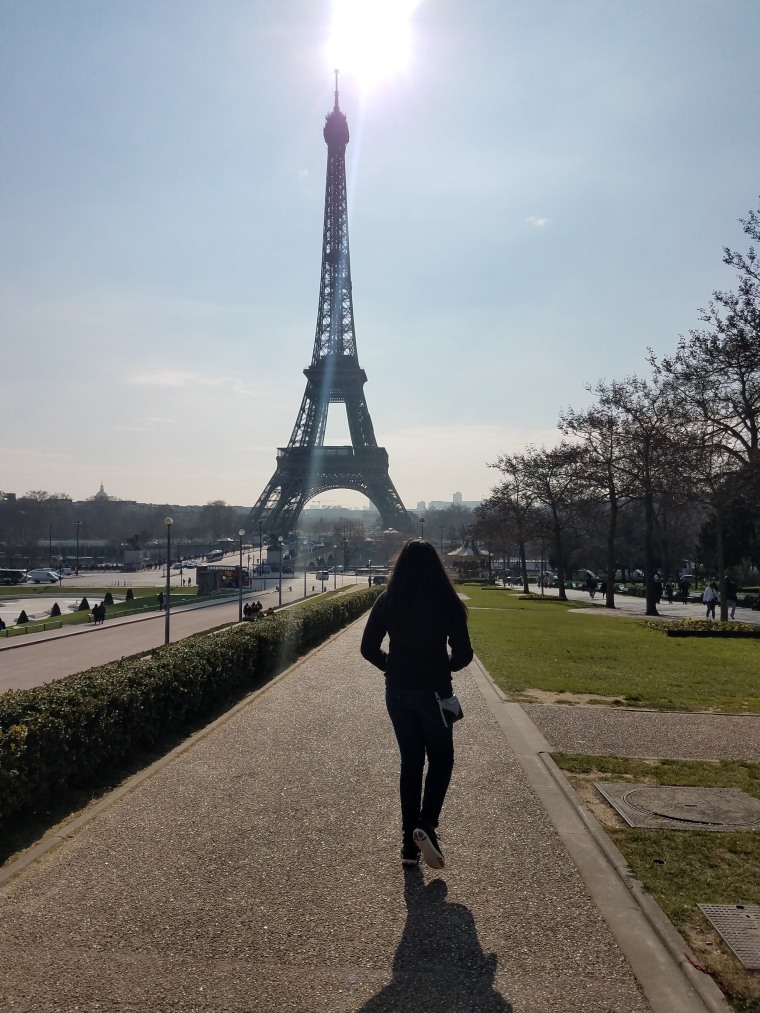 Life felt bleak and Cimone attempted suicide. At the urging of her neurologist, Dr. Anup Patel, she applied for a wish from the Make-A-Wish Foundation. In the spring she went to Paris for a week. Since her trip she's only had a few seizures. Her family is amazed by the transformation.
"It's a miracle," Stills said. "It has meant everything to us as parents to have our daughter back."
Cimone's experience mirrors the findings of a study published in the journal Pediatric Research looking at the impact of Make-A-Wish wishes on children's health. Patients who receive wishes are less likely to have unplanned hospital visits or trips to the emergency room than peers who do not receive a wish.
"If you were in the wish group you were twice as likely to have decreased healthcare utilization," Patel, section chief of Neurology at Nationwide Children's Hospital, and author of the paper, told TODAY. "You were two and a half times more likely to have decreased hospitalizations and 1.9 times less likely to have emergency department visits."
Patel and his colleagues looked at 496 children who received a wish and 496 children who did not as a control group. They examined their records 12 months prior to the wish and 12 months after receiving the wish. Those who received the wish experienced improved health. What's more, it led to a decline in cost of care of $10,130 two years after the wish. These savings exceed the average cost of a wish.
"It is a very, very promising study. We can use measures and outcomes and get our hands around the real positive power of the wish experience," Dr. Jim Fahner, division chief for pediatric oncology at Helen DeVos Children's Hospital in Grand Rapids, Michigan, who wasn't involved in the study, told TODAY. "Our sense was that Make-A-Wish had a very extraordinary positive impact on children."
While the study shows that wishes have bolster children's health, why remains unknown. Patel hopes that more studies will be conducted to better understand it. He theorizes that children who receive wishes feel more in tune with their health and more connected to their parents and healthcare providers, which makes them more likely to comply with their treatments.
"These kids seem more empowered. They seem more hopeful. They seem more energized," Patel said.
He suspects that any sort of similar gift from another organization would make an equally positive impact. To qualify for Make A Wish, children need to be between ages 2 and 18 and living with a "critical illness." Doctors, family members, friends or the child can request a wish, which can be anything from getting a puppy to meeting a celebrity or going on a special trip.
As for Cimone, now 15, life with fewer seizures changed her outlook. She's attending school full time again and dreams of being a neurologist.
"She is definitely thinking about her future and what life is going to look like for her as an adult," Stills said. "Make-A-Wish made a difference in my child's life and it is incredible."