Just as plenty of teachers and parents suspected, many kids are losing their appetites with nutritious school lunches and heading straight for the trash bin, a new analysis confirms.
Children taking part in the healthier federal lunch program are putting more fruits and vegetables on their trays, as required since 2012, but eating slightly fewer of them and throwing away 56 percent more than before the changes were implemented, according to the results, published on Tuesday.
It's one of the first studies to compare how many apples, bananas, carrots and salad greens kids ate before and after the controversial National School Lunch Program compelled them to choose a fruit or veggie with their meal.
"That was discouraging to see," Sarah Amin, a researcher at the University of Vermont and lead author of the study, told TODAY.
"We can't give up hope yet. This change is going to take time."
As lawmakers get ready to decide next month whether to renew the current program, Amin says it should continue even with mounting evidence of food waste and students leaving many nutritious options untouched.
The program, championed by First Lady Michelle Obama, has had plenty of critics, with some people tweeting photos of Spartan or unappetizing school meals with the sarcastic hashtag #ThanksMichelleObama.
The program provides "nutritionally balanced" low‐cost or free lunches to more than 31 million children, the government says.
For the study, researchers repeatedly visited two elementary schools before and after the new federal guidelines requiring students to choose a fruit or vegetable with their lunch were put into place.
To find out which items on a child's tray were eaten or tossed, digital imaging was used. Researchers took photos of trays as kids (wearing lanyards to help identify their particular tray during the process) were checking out at end of the lunch line, and then again as kids were approaching the trash bins after eating.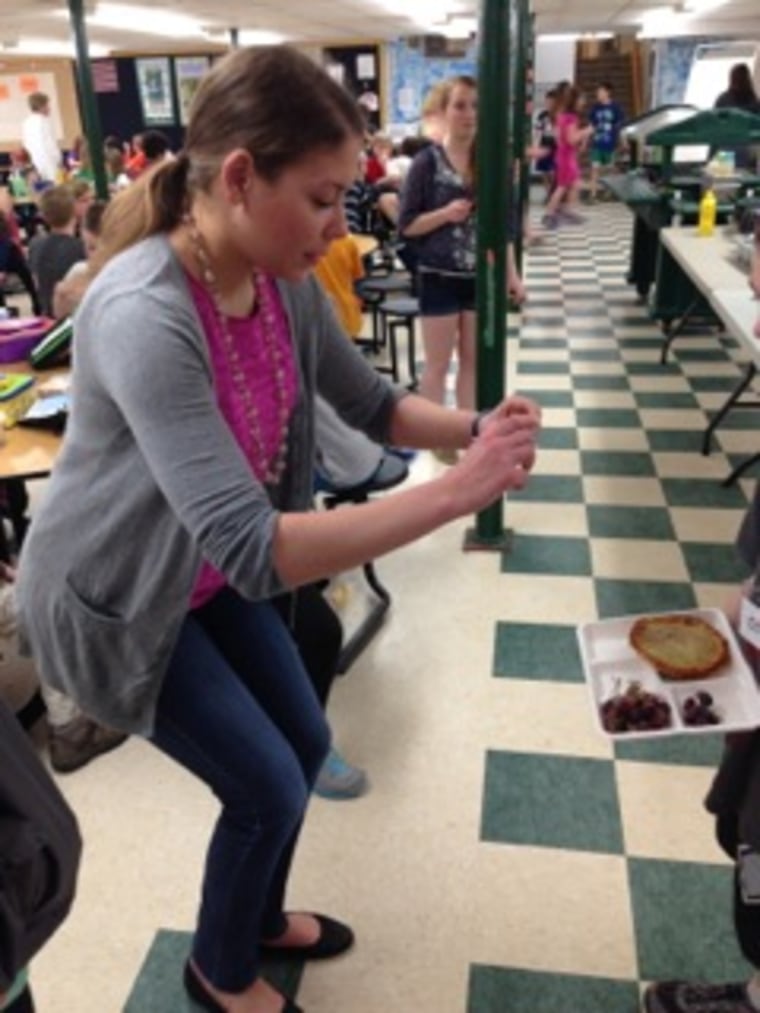 A composite image of both photos allowed them to see what ended up in the garbage. This method is very accurate, Amin said.
When required to add a fruit or veggie, kids selected about 29 percent more produce than when the choice was optional, the study found.
But when the new lunch program guidelines were put into place, kids actually ate about 13 percent fewer fruits and vegetables. At the same time, they threw away 56 percent more, from a quarter of a cup per tray before the changes were implemented to more than a third of a cup after.
Amin recalled visiting one cafeteria where the school placed a basket of apples and asked kids to take one to comply with the requirements.
"We saw countless children just going to the disposal area and just immediately throwing it out without even proceeding to sit down and try to eat the apple," she said.
Amin called such scenes "heartbreaking," but she believes younger children who are starting school under the new guidelines might respond better to the fruit-or-vegetable requirement because they don't know any other options.
She also believes it might be time for other strategies in the cafeteria, like offering options such as carrot sticks with a ranch dip, or cutting apples up into slices that are easier for a child to consume.
Allowing students to be involved in taste testing to see what fruits and vegetables they prefer might be another solution, Amin added.
"The guidelines are up for reauthorization next month and our take-home message is to not give up hope yet," she said. "The home environment also needs to reinforce fruit and vegetable consumption. It should not just only be placed on the school."