/ Source: TODAY contributor
The kids at West Philadelphia High School's Academy of Automotive and Mechanical Engineering are a driven bunch, and that's good news for everyone. What's driving them is their effort to design a 100-mpg passenger sedan that could go a long way — on very little fuel — toward helping to fight America's oil habit.
On Tuesday, the school's 15-member EVX team unveiled on Rockefeller Plaza its entry in a $10-million competition sponsored by Progressive Insurance. With TODAY's Matt Lauer, Ann Curry, Al Roker and Jenna Bush Hager looking on, the car, a hyper-modified Ford Focus, successfully completed its first test run.
One day earlier, the team had learned that its concept was among the 43 finalists from 97 entries that will compete for the big money next spring and summer — against Fortune 500 companies with multimillion-dollar budgets.
"We're gonna win," declared team member Khaleda Sharif.
"We beat them before, and we're going to prove to the world we can do it again," added one of her male teammates.
Confident competitors
The West Philly school is located in one of the worst parts of the inner city, the sort of neighborhood that is not known for international success stories. The students know how they're perceived, and that's part of what drives them.
When Bush Hager went to Philadelphia to do a story on the team, she asked one member, identified as Justin, what he faces in his neighborhood.
"A lot of drugs and violence," he replied. "I've been in a lot of bad situations. Had I thought a little differently, we're talking jail time."
Added team member Jacques Wells, "If you lived here, you would understand [there's] a lot of positive things in Philadelphia. But the news and media, it makes it seem as though Philadelphia is the worst place to live."
For the kids on the team, there couldn't be a better place, because West Philly is where the team's adviser, Simon Hauger, decided 11 years ago to get into building alternative-energy cars. He started with an electric go-cart and has moved up since then, entering and winning major competitions, getting corporate sponsorships, and building a team that isn't afraid of any challenge.
If the students exhibit a lot of confidence, it's with good reason. Among the prizes West Philly has won are the 2002, 2005 and 2006 Tour de Sol and the 2007 21st Century Automotive Challenge.
And in the X Prize challenge, they've already survived a cut to 43 finalists that include teams representing major universities and companies. The next phase of the competition, technical qualifying, takes place next spring, with the winners being crowned in August.
No mean featIt is actually no big trick to build a vehicle that gets 100 mpg. But, according to the contest Web site, it is a considerable challenge to build a four-passenger car that can get that mileage while meeting all U.S. safety standards and providing such amenities as air conditioning and a sound system, while still being able to perform at highway speeds. In addition, teams must show that it is possible to manufacture at least 10,000 of the vehicles per year and sell them at a competitive price.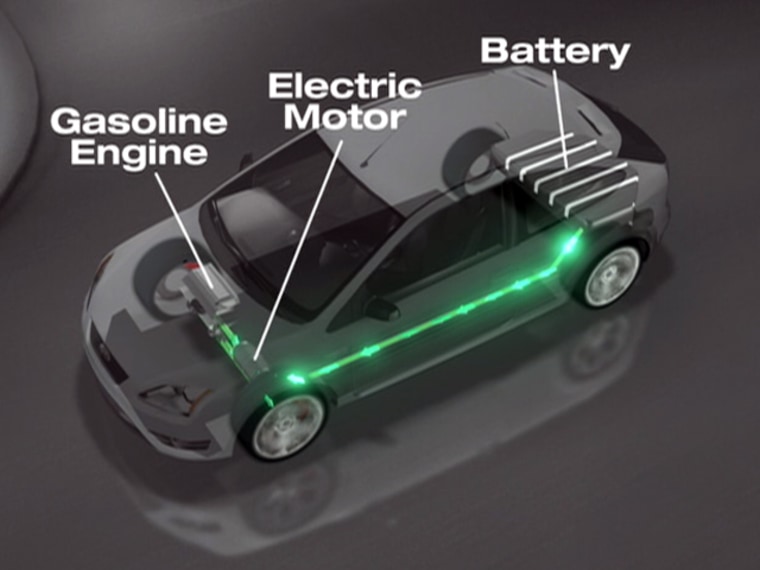 But the 15 members of the West Philly EVX team are undaunted by either the challenge or the competition. In addition to the Focus-based sedan, they're also building a two-seater sports car in the school's garage. If they were to win first prize for both entries, they'd bring home $7.5 million to the school that would go into a scholarship fund.
Bush Hager asked one team member, Azim, what keeps the team working long hours when none of the money would go to them.
"We're showing that young people from the inner city can achieve, especially when you give them the right resources," he said.
"If you could tell your competition anything, what would it be?" Bush Hager asked the team.
"You're going to lose!" said Stefon Gonzalez.
"Eat my dust," added Simon Hauger.
He laughed when he said it. But it sounded like he meant it.