The ancient practice of yoga is still going strong, and fitness classes today are taking the discipline to the next level as people want more from their workouts.
As part of the Summer of Secrets fitness trend series, TODAY's lifestyle and fitness correspondent Jenna Wolfe examined the changing look of yoga.
On the show Tuesday, Wolfe said the practice that began thousands of years ago is now hotter than ever, still offering all the same benefits.
"It stretches, it strengthens, it tones, it helps you connect to your heart, mind, body and breath," instructor Narisara Vanichanan said on TODAY.
In the last few years, though, yoga has undergone something of a makeover. Classes are stepping it up a notch, keeping the foundation of breathing and flowing movement, but adding things like strength training, cardio and core work.
RELATED: How to avoid pilling in yoga pants: 6 athletic wear questions answered
"People are absolutely getting bored with their workout routines," Dr. T. Sean Lynch, assistant professor of orthopedic surgery at New York-Presbyterian Hospital and Columbia University Medical Center, said on TODAY.
"We're seeing a transition from what they were doing in the past whether it was running in the park or doing yoga with their friends and they're transitioning to higher intensity workout routines," he said.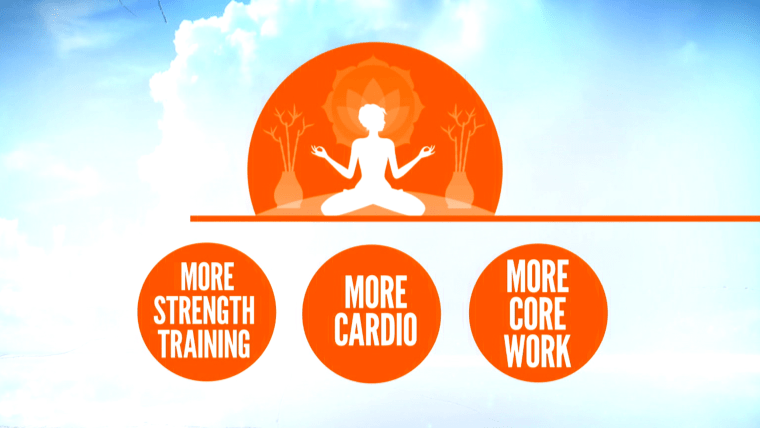 One way is through a routine inspired by the ballet barre. Barre classes have soared in popularity over the past decade, promising a yoga-like, mind-body connection, Wolfe said.
"You do have a meditation-like effect when you take a Pure Barre class similar to the experience in a yoga class," said Tiffany Currid, who owns a Pure Barre franchise.
Pilates is also inspired by yoga, Wolfe noted. It's vaguely similar in foundation, but more structured, focusing on concentrated, controlled flowing movements.
While the centered calm the yoga offers is not going away, the practice is evolving. "It's anyone's guess where the ancient practice will take us next," Wolfe said.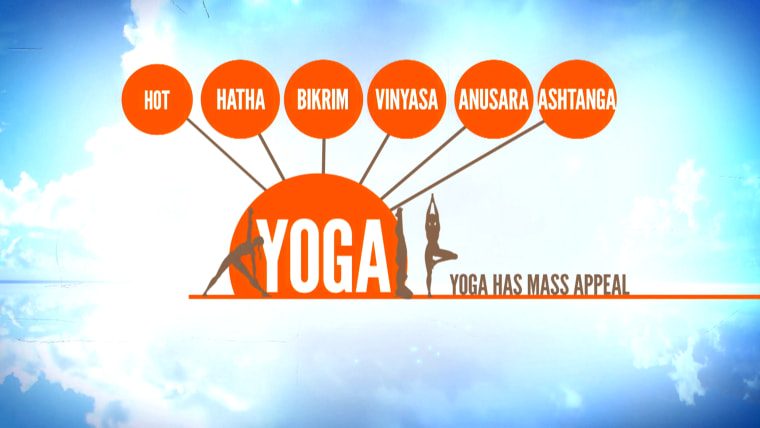 Wolfe offered tips on how to make yoga work for you.
If you're a beginner, Hatha is "a great introductory yoga," she said. Or try restorative yoga, which is a little less pressured. "People do this on a Friday night to relax themselves for the weekend," she said.
MORE: 6 yoga moves you can do at any age
Cardio lovers who want to sweat can bake through Bikram, the 90-minute class held in 104-degree heat, or do power yoga, which isn't hot, but will get you moving.
Advanced yogis may like Ashtanga yoga, six poses that are physically demanding.
If you can't get to a class or are looking for a free option, Wolfe suggests practicing at home. Find a clean, quiet, comfortable place, and look on YouTube or for free apps.
For experienced yogis looking for a challenge, Wolfe recommended trying a new teacher who may vary the poses a bit; close your eyes, which forces you to balance more and engage your core, or hold your poses a little bit longer.
"Any way that you can challenge yourself in a small way," Wolfe said, "will go a long way toward improving your practice."
TODAY.com contributor Lisa A. Flam is a news and lifestyles reporter in New York. Follow her on Twitter.