Alyssa Kamm thought she had more than two years to plan her wedding. But she found her prep time cut to three weeks after learning her father had cancer.
"I'm very much a daddy's girl. I always have been," she told TODAY. "To think the one person I look up to as my hero may not be able to walk down the aisle was devastating."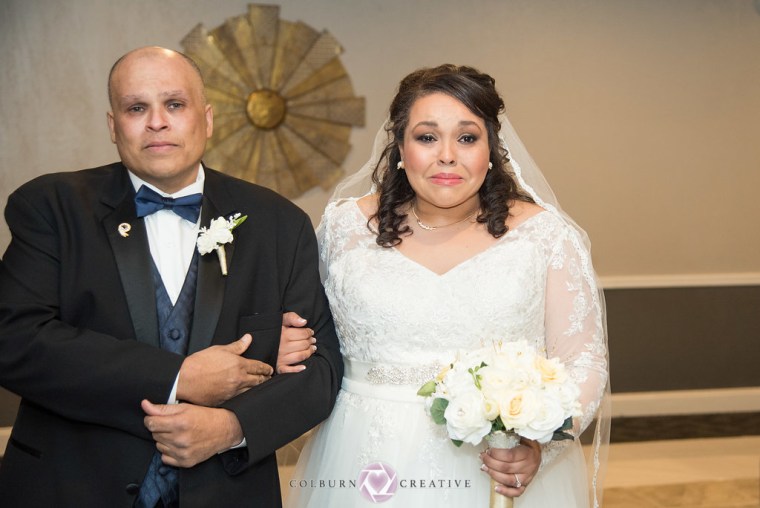 The abbreviated schedule came courtesy of more than a dozen strangers, business owners and managers throughout Rochester, New York, who donated flowers, a venue, photography, music and numerous other services to help give the bride and her groom their dream wedding on Feb. 4.
Just three weeks earlier, on Jan. 13, Alyssa learned her dad had been diagnosed with advanced multiple myeloma, which affects the bone marrow and quickly weakens the bones. Her dad began chemotherapy treatment immediately.
RELATED: Woman celebrates 65th anniversary by wearing her wedding dress — from 1952
Alyssa said the sisters of her then-fiancé, Mike Kamm, immediately sprung into action. They encouraged the couple to get married as soon as possible.
"They were like, 'While he's still healthy enough to enjoy it, we should try to push this.' They really wanted to make it happen," she said.
The sisters also offered to foot the bill, given that their brother had just bought a house with Alyssa, a full-time special education teacher working on her graduate degree.
"Mike's sisters wanted to do whatever they could to avoid having a backyard wedding, but something nice enough that we could enjoy and that my family would be able to attend, too," she said.
RELATED: Couple throws impromptu hospital wedding to include father on life support
One of the women shared her family's story and sought advice about nice but inexpensive venues and services on a Facebook page for Rochester-area wedding vendors.
Photographer Bethany Colburn spotted the post and immediately decided to help.
"It touched my heart and I knew I wanted to be a part of this," she told TODAY. She immediately began messaging with a good friend of hers who is a DJ and the two "started chatting about who we needed to 'tag' in the post and how we could really make this happen for Alyssa and her family."
Colburn, who donated a full wedding photography package, said she was excited to see the event come together so effortlessly.
"We are surrounded by negativity and sad stories and sometimes it's easy to forget that there are still good people in the world," said Colburn, who hopes vendors in other cities "continue to spread the love" by helping others in need.
Alyssa's dad, Karl Jones, 55, said he was amazed at how so many people he didn't know coalesced to help his family.
"All the vendors — we call them our fairy god dream team. They didn't know us, and they just started offering their services and the ball kept on rolling. It shocked me," he said.
RELATED: After hospital wedding, couple carries ill son back to his room in sweet scene
Jones, who now uses a walker, had two rounds of chemotherapy by the time the Feb. 4 wedding day arrived. Because no one was sure what kind of condition he would be in for the ceremony, the original plan called for his younger son to walk his sister down the aisle before handing her off to their father about halfway to the altar.
"But when Alyssa came out, I was like, 'I'm going to walk her down,'" Jones said. "I said, 'Let's just suck it up and go for it.' Luckily, I had enough strength to make it all the way down. And that made her day, too."
They also shared a father-daughter dance later in the evening "as best as I could do," Jones said. "That turned out better than I thought."
RELATED: Emotional wedding haka brings New Zealand bride to tears
Alyssa, who has been engaged to Mike for two of the six years they've been together, said one of the biggest joys from her wedding has been the delight the story behind it has brought to her dad.
"This is something that makes him happy, to let people know that there are good people in the world we live in," she said. "This story, even though it's rooted in something that's really sad, and it stings for us, it has such a happy ending, and that gives him something to live for."
Jones said the quick turnaround of events within the last two months has been dizzying.
"It all came about so fast," he said. "It was like one minute, I'm diagnosed with this, and oh my God, I'm thinking life's over, and the next thing you know, they're getting married.
"And that's like, wow, there's hope."
Follow Eun Kyung Kim on Twitter or Facebook.