Menu calorie counts may not get people to eat less, but a red stop sign might just work.
A simple three-color coding scheme on restaurant menus —green for healthy, red for fattening and yellow for everything in between — led to a 60-calorie drop in what people ordered, according to the research published in the Journal of Policy & Marketing.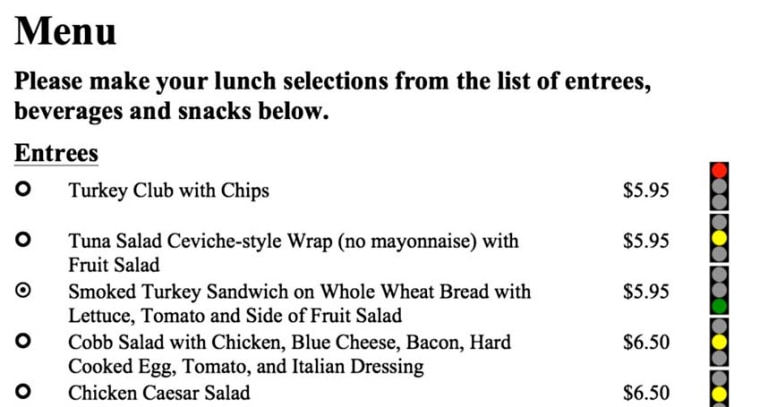 Put that in perspective: Cutting just 50 calories per day works out to a loss of 5 pounds by the end of the year.
The results were even more dramatic when researchers divided their findings by people's weights.
Obese diners cut their lunch choices back by nearly 150 calories when they received color-coded menus.
That is very important "from a public health perspective," said the study's lead author, Eric VanEpps, a post-doctoral fellow at both the University of Pennsylvania and the Veterans Administration Center for Health Equity Research and Promotion. "It's making a bigger impact on those who have more health benefits to gain from reducing calories."
RELATED: 3 daily servings of this food may protect your heart, prolong your life
For the experiment, researchers from Carnegie Mellon University recruited volunteers who were employees of a large corporation. The volunteers would get one of four types of listings when they ordered food online: a menu with calories listed; one with traffic light codes and no numbers; a menu with both calorie counts and color codes; or one with no annotation at all.
Over a six-week period, 249 volunteers ordered 803 lunches. The researchers found a 10 percent drop in calories for all orders made from an annotated menu, compared to those made from one with no calorie information. The color-coded menus were more effective among volunteers who weren't as comfortable with math.
The "traffic light" approach is a user-friendly way to get people to cut calories, said Madelyn Fernstrom, NBC News health and nutrition editor. "The evidence has been accumulating for decades that the 'traffic light' approach helps to moderate caloric intake," said Fernstrom. "When it comes to calorie information, the bar is set much too high for consumers. There is so much confusion about what's on the label, and how to read it, many people simply give up."
Studies have shown that calorie counts next to fast-food menu items aren't really working. Just 9 percent of consumers claimed to use the menu counts to order fewer calories, according to research from NYU Langone Medical Center.
Simplified messages, like the traffic-signal code, can sometimes resonate more with people than numbers do, said Dr. Zhaoping Li, a professor of medicine and director of the Center for Human Nutrition at the University of California, Los Angeles.
Still, she said, "there is no way that this is the complete solution."
RELATED: "The Biggest Loser" trainer Bob Harper's 4 secrets to weight loss
For example, some people who cut back on a single meal might have the urge to calorie splurge with other items or later.
"They end up saying I ate healthy, therefore I can have a beer or a soda with it," said Li.