Caitlin and Brandon Robbins knew their baby would not be born alive, but all they wanted was just a little more time with their son.
They're now making sure other loss parents get to say goodbye without being rushed by donating a special device that helps families stay with a stillborn infant for a little longer. Many hospitals already use the bedside cooling device known as a CuddleCot; others are being equipped with it thanks to private efforts by families who wished they had one available, like the Robbins.
The pregnancy with baby Carter was "textbook" — until the couple, who lives in Salt Lake City, Utah, went in for Caitlin's routine appointment at 39 weeks. When the doctor tried to find a heartbeat, there was only silence. The couple later found out a blockage in the umbilical cord caused the baby's death.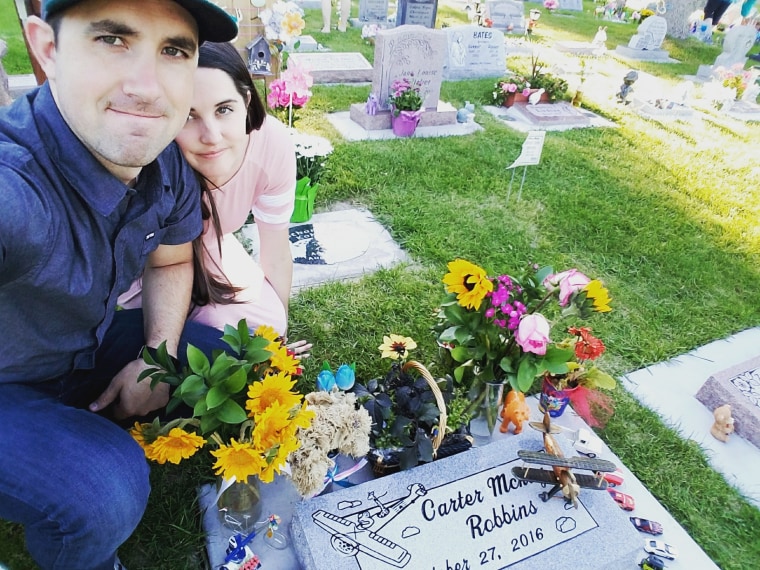 The little boy was beautiful and peaceful when he was born in October 2016, Caitlin wrote in her blog.
"Everyone grieves differently and everyone can handle that differently, but it was really nice for us to be able to hold Carter and to see him," Caitlin, 26, told TODAY. "Some people have been weirded out by the idea of wanting time with your dead baby… but it's important to have that closure and to spend time with them before they're taken away forever."
"I don't think you ever feel like you have enough time," Brandon, 29, added. "We had a couple of hours… we didn't have 80 years [with our child] like you're supposed to."
To give them the most time possible, the nurses offered to take the baby back and forth between their hospital room and a chilled room. But the grieving parents just didn't want to say goodbye more times than they had to. After a while, it was heart-wrenching to see the little boy's condition deteriorate in the warm room, Brandon said. They had to let go sooner than they wanted.
Some 24,000 babies are stillborn in the U.S. each year, or about 1 percent of all pregnancies, according to the Centers for Disease Control and Prevention. That means 24,000 devastated families who need to deal with the loss. Many find it comforting to spend time with the baby, take photos and say goodbye.
There was more heartache to come for the Robbins.
This spring, the couple lost a daughter to trisomy 13 early into Caitlin's pregnancy. As they grieved, they longed to find a way to help other parents going through the same sorrow and learned about the CuddleCot, a special pad that can be inserted into a crib or bassinet. It discreetly cools a stillborn baby in a hospital room to give parents more time with their child. It would have soothed them if they could have used one for Carter, they said.
Not every hospital has the $3,000 device, so the couple began fundraising on their website to buy one for Logan Regional Hospital in Logan, Utah, the city where they met and where Carter is buried. Similar fundraising efforts have recently been held by grieving parents in Michigan, West Virginia, Louisiana, Florida, North Carolina, Quebec and many other places.
The couple donated the CuddleCot this month and has already collected enough money to buy a second device for another hospital.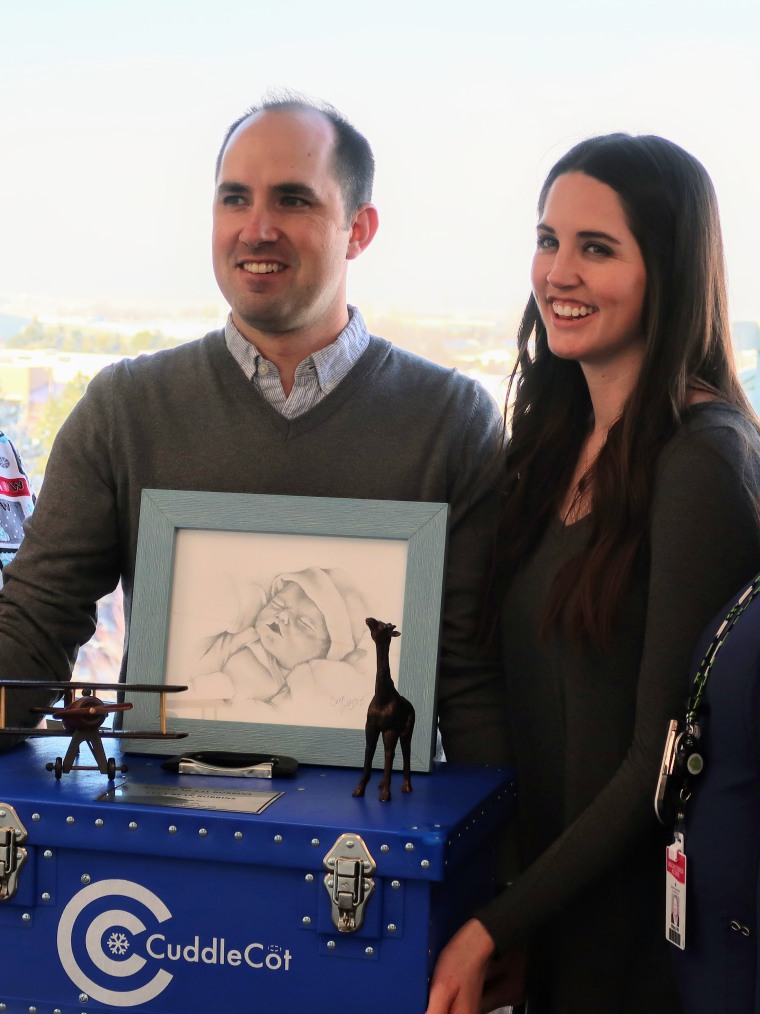 "Knowing that from here on out every family that will lose a baby at that hospital has that option — it's hard to put into words unless you're going through it," Caitlin said.
"There is never enough time, so to just give them that opportunity for a little bit more, it's something that every parent deserves. It's nice that we are able to give this opportunity to them."