Are you looking for love in the wrong state? Virginia may claim to be the state for lovers, but if you are seeking a soul mate, you may have more luck in Mississippi, according to a new relationship study.
Apparently, as with real estate, a key factors for relationships is "location, location, location," said William Chopik, an assistant professor at Michigan State University and co-author of the study.
The researchers analyzed personality surveys from more than 127,000 adults from all 50 states. Participants were asked about attachment anxiety — which can cause people to be "clingy" and constantly worried about being abandoned — and attachment avoidance — where people dislike intimacy and are more distant and cold toward their partners. The top states for what the study defines as "positive relationships" scored low on both measurements.
The states that rated positively for love, also have higher marriage rates and fewer people reported living in isolation, according to the study.
There were some surprises: New York state — a favorite locale for romantic comedies — finds itself near the bottom, at 42. Virginia, which promotes itself as the state "for lovers" was actually in the middle at 21.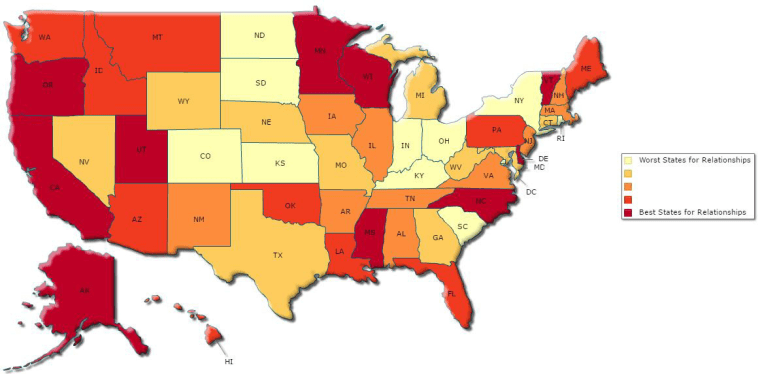 How does your state rank? The top:
1. Mississippi
2. Utah
3. Wisconsin
4. Vermont
5. Alaska
6. North Carolina
7. Delaware
8. Minnesota
9. Oregon
10, 11, 12. California, Maine, Washington (tied)
13. Pennsylvania
14. Arizona
15. Oklahoma
16. Idao
17. Florida
18. Montana
19. Hawaii
20. Louisiana
21. Virginia
22. Massachusetts
23. Illinois
24. Iowa
25. New Hampshire
And the bottom:
26. New Jersey
27. Tennessee
28. New Mexico
29. Alabama
30. Arkansas
31. West Virginia
32. Georgia
33. Michigan
34. Nevada
35. Connecticut
36. Nebraska
37. Wyoming
38. Maryland
39. Texas
40. Missouri
41. Indiana
42. New York
43. Colorado
44. South Carolina
45. Ohio
46. Rhode Island
47. South Dakota
48. Kansas
49. Kentucky
50. North Dakota
You can find love anywhere!
While the West Coast tended to be more conducive to love, the Northeast and mid-Atlantic states tended to be less relationship friendly.
That doesn't mean you can't find a good relationship in states like Kentucky (49) and North Dakota (50), just that it might be more challenging.
Chopik doesn't know if certain locales make people more anxious and avoidant or if anxious and avoidant people just tend to gravitate to those places.
"I'm sure it's a function of both," he said. "Some people think that in places like New York, all the non-anxious people left, while the anxious ones hunkered down and refused to move. That's the stuff we're working on right now."
The new findings make a lot of sense to Bela Gandhi, president of Smart Dating Academy, which provides "coaching to people to find partners that will make them happy for a lifetime."
Related: Nine warning signs you may be headed for divorce
"The conclusions seem logical. You've got higher octane states that have more anxious people," Gandhi explains. "And out in the frontier states there's a lot of open space that seems to attract more self-reliant people who may not need the depth of social networks as those people who are securely, or even anxiously, attached."
While location may impact the number of suitable suitors, "you need to understand that if you want good, healthy, happy love, you can find it in any state," Gandhi said.
Don't get the U-haul yet
Before you plan a big move, think about what you're looking for in a potential partners, Gandhi said.
Think about people in your life who make you really happy; then look for something similar in prospective mates.
"Don't get the U-Haul right away," Gandhi said. "If you're constantly meeting emotionally avoidant people, ask what's the common denominator. If you move you might be taking your biggest problem with you: you."
The Michigan State study was published in the Journal of Research in Personality.