Most Americans still strongly support the idea of spanking kids, but a new study says spanking doesn't work and can make kids aggressive later on.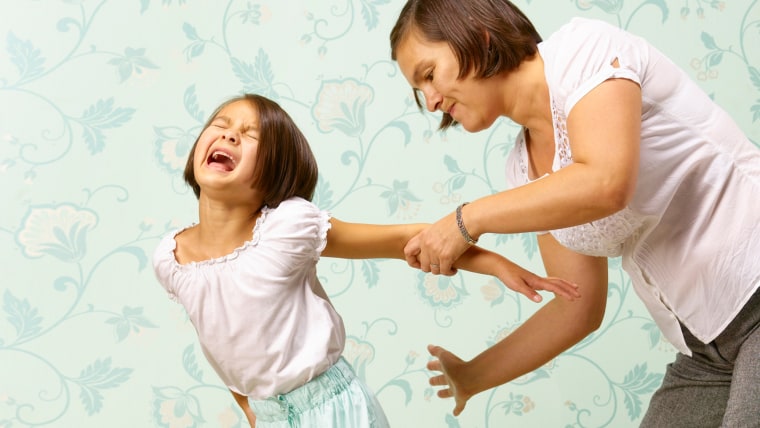 While kids may not immediately defy their parents after a spanking, they're more likely to be aggressive later, to have a worse relationship with their parents, and to grow up to have alcohol and substance abuse problems, the new study shows.
The team at the University of Texas at Austin and the University of Michigan focused on open-handed spanking — not beatings. They wanted to see if the time-honored practice really works as well as people believe it does.
It doesn't, they report in the Journal of Family Psychology.
"The upshot of the study is that spanking increases the likelihood of a wide variety of undesired outcomes for children. Spanking thus does the opposite of what parents usually want it to do," said Andrew Grogan-Kaylor of the University of Michigan School of Social Work, who worked on the study.
The team did what's called a meta-analysis, looking at hundreds of studies on spanking. They teased out very specific information about the "punishment which is known in the U.S. as spanking, and which we define as hitting a child on their buttocks or extremities using an open hand," they wrote.
RELATED: Video of Georgia Child's Paddling Horrifies Many
"Our analysis focuses on what most Americans would recognize as spanking and not on potentially abusive behaviors," said Elizabeth Gershoff of the University of Texas at Austin.
They made a list of 17 undesirable outcomes, from immediate defiance to alcohol abuse in adulthood. Kids who were spanked more often failed in 13 out of the 17, they found.
The more kids are spanked, the greater the risk
Studies have shown that spanking can damage a child's IQ or ability to learn; that it trigger aggressiveness and worsens behavior. Gershoff says the pattern is consistent when a large number of studies are put together.
"In childhood, parental use of spanking was associated with low moral internalization, aggression, antisocial behavior, externalizing behavior problems, internalizing behavior problems, mental health problems, negative parent– child relationships, impaired cognitive ability, low self-esteem, and risk of physical abuse from parents. In adulthood, prior experiences of parental use of spanking were significantly associated with adult antisocial behavior, adult mental health problems, and with positive attitudes about spanking," they wrote.
"Spanking was also significantly associated with lower moral internalization, lower cognitive ability, and lower self-esteem. The largest effect size was for physical abuse; the more children are spanked, the greater the risk that they will be physically abused by their parents."
In other words, spanking does not improve morals or behavior and it does not make children more successful, they said. Instead, regularly spanking children can make them more prone to mental health issues, makes them misbehave more often and can lead to substance abuse. And kids who were spanked grow up to spank their own kids more often, passing along the behavior and its consequences.
RELATED: Parents say spanking improved them
Areas where spanking did not have an effect: immediate defiance, self-control and alcohol abuse in childhood.
The effects are subtle and not every child who is spanked grows up to have mental health problems. But Gershoff's team said it adds up when spanking is so common.
"Although the magnitude of the observed associations may be small, when extrapolated to the population in which 80 percent of children are being spanked, such small effects can translate into large societal impacts. Parents who use spanking, practitioners who recommend it, and policymakers who allow it might reconsider doing so given that there is no evidence that spanking does any good for children and all evidence points to the risk of it doing harm," the team concluded.
The right to spank
A majority of U.S. parents say they approve of spanking kids. Most states have banned it at school, but 19 states still allow it: Alabama, Arizona, Arkansas, Colorado, Florida, Georgia, Idaho, Indiana, Kansas, Kentucky, Louisiana, Mississippi, Missouri, North Carolina, Oklahoma, South Carolina, Tennessee, Texas and Wyoming.
Courts largely uphold a parent's right to spank. A federal appeals court ruled a California woman who hit her 12-year-old daughter's backside with a wooden spoon should not have been labeled a child abuser by social workers. It said parents had a right to use "reasonable discipline" .
Child welfare advocates say corporal punishment is often applied disproportionately to students with disabilities and those who are black.
The National Child Protection Center, which advocates against spanking, wants to call April 30 "Spank Out Day."
The American Psychological Association says positive reinforcement is more effective than spanking, anyway.
"Positive reinforcement for alternative behaviors is extremely effective," it says.
"We hope that our study can help educate parents about the potential harms of spanking and prompt them to try positive and non-punitive forms of discipline," Gershoff's team wrote.