Rex Ridenoure hated the fact that pancreatic cancer forced his sister to abruptly retire from her career as a flight attendant, a job she enjoyed for more than 30 years.
As he waited to board a Southwest flight to see her, partially fearing he wouldn't make it in time to say goodbye, Ridenoure decided he would somehow turn his cross-country journey into the proper farewell celebration she deserved.
"It seemed so sad to me that she couldn't depart the airline the way she would have wanted, one with an official retirement party," he said. "So I wanted to make that flight somehow her last flight, but I was scrambling for ideas."
That's when the flight attendant he had just met — who coincidentally worked with his sister recently — and nearly 100 fellow passengers helped Ridenoure turn the trip into a tribute to his sister, LouAnn Alexander.
The passengers, perhaps very similar to the ones his sister had spent her career serving, wrote her notes on drink napkins. Ridenoure received 96 of them by the end of the flight.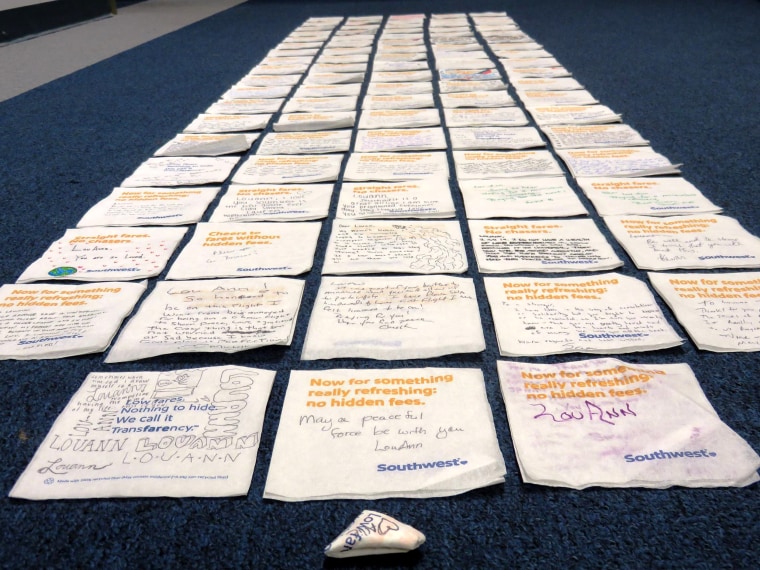 One passenger made Alexander a paper flower bouquet. Others drew her pictures. One woman crocheted a wide headband to help keep her head warm, in case she had lost her hair to chemotherapy.
"I was just amazed," Ridenoure said.
It started after he described his sister during a short speech to the cabin over the PA system. The two of them, along with an older brother, shared a tight bond from childhood. Alexander successfully fought off breast cancer, twice, only to be diagnosed in February with pancreatic cancer, the same disease that claimed both of their parents. A grandmother also had the disease but successfully treated it with surgery.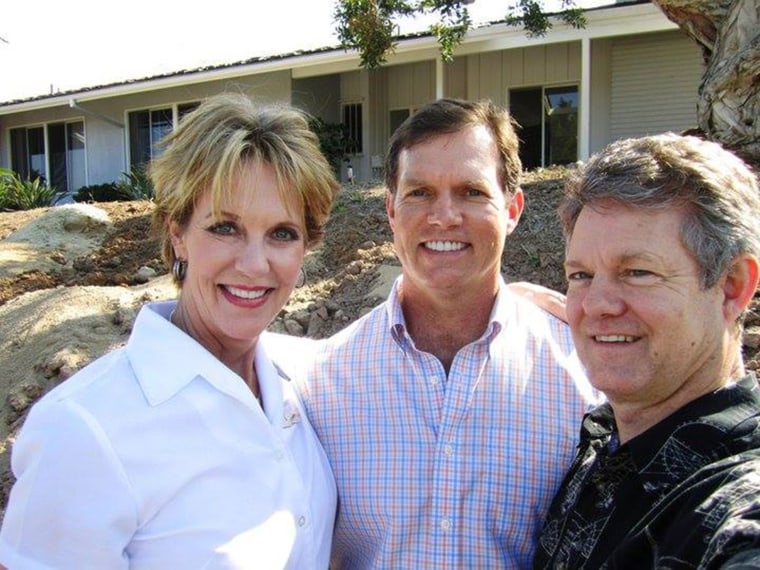 Alexander, 58 and in a hospice center in Phoenix, is just weeks away from being a first-time grandmother.
"I feel so sad for her because she just went in for back pain and all of a sudden, she was basically given a death sentence, and to me that was totally unfair," Ridenoure said.
He said his sister had just received a clean bill of health in December during a regular screening she gets twice a year because of her breast cancer.
RELATED: Woman, 90, chooses life on the road over cancer treatment
Ridenoure had left a conference in the nation's capital when he took the cross country flight from Baltimore to Los Angeles. Upon the request of his sister, he had a day to himself before he drove out to Arizona to be with her. He spent the hours until then posting pictures of the passengers, their napkin notes and photos of the three siblings on a Facebook page he titled, "Leaving LUV for LouAnn," a reference to Southwest's stock ticker symbol.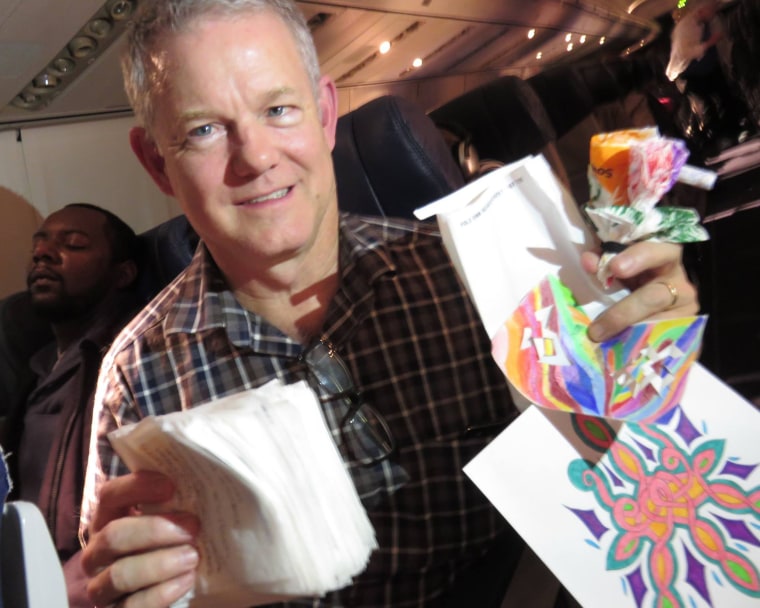 "I have made this a public album, so you and anyone else who reads this can share it with whomever they want and spread a little more LUV around the world," he wrote in his letter to her on the page. "I hope the readers will appreciate the life you have lived, the service you have shown and the love you have earned."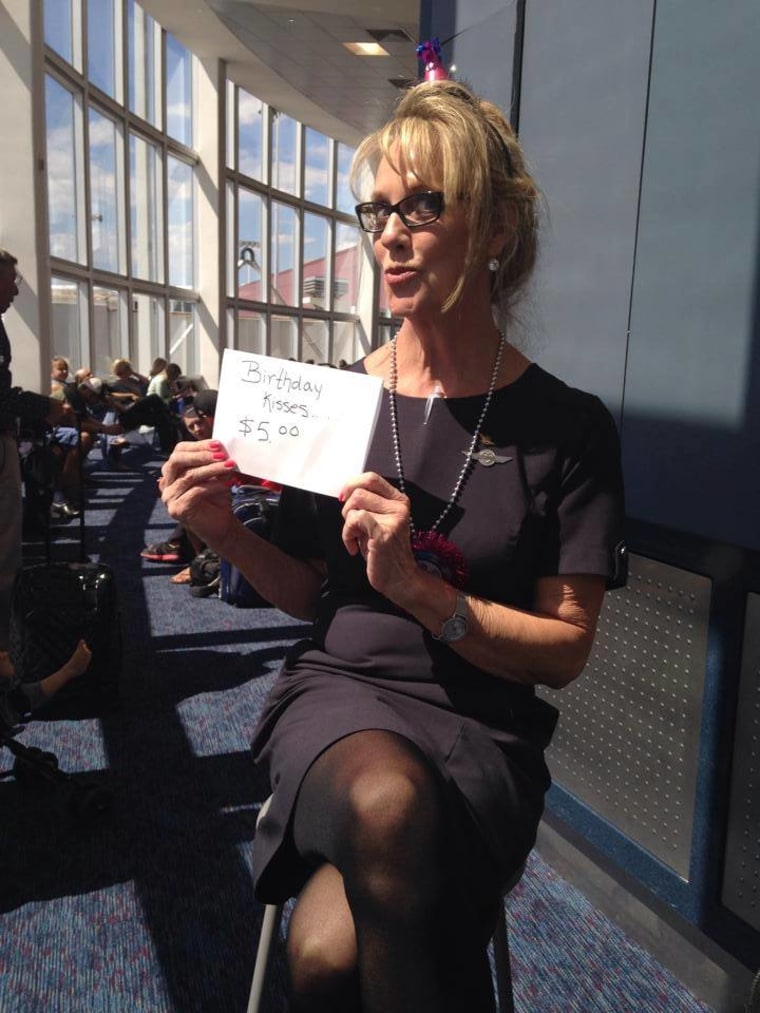 Ridenoure said his sister has been extremely touched by the overwhelming response the page has received but said she only welcomes the attention if it can raise awareness about pancreatic cancer, which often doesn't get discovered until it is in the late, terminal stages. When his sister was diagnosed in February, the cancer had already spread to other organs and was only given one to two weeks to live.
RELATED: Cleaning for a Reason gives women with cancer free housecleaning services
"My sister doesn't like sob stories," Ridenoure said. "One of the messages we're trying to get through is that, while this is all definitely a sad story, please go get yourself checked if you have a weird symptom. Don't take it for granted that it's just a crick in your back."
He said the common symptoms of pancreatic cancer — including back pain and jaundice — often don't show up until it's too late. Because of their family history of pancreatic cancer, Ridenoure's brother found a medical center affiliated with the University of California at Irvine and recently completed a screening and plans to return regularly. Ridenoure said he expects to get the same test once he can get approval through his insurance.
Despite the incredible loss he faces, Ridenoure said the passengers he has met and the strangers who have since sent him messages have helped him cope.
"It just feels like there are other people with us here," he said.
"That whole flight for me has shown me, hey, the world is not so negative if you just have the right spark. It sure seems like there's a large portion of the population that are inherently nice, and can be nice if given the opportunity."
Follow TODAY.com writer Eun Kyung Kim on Twitter.