A bad flight can unravel even the most collected adult. And for one child with a chronic illness, a recent travel experience could have been dire — if a flight attendant hadn't gone out of his way to offer comfort and care.
As a Type 1 diabetic, 9-year-old Gabby Swart had been given priority seating in the front row of a Southwest Airlines flight from Orlando, Florida, to Newark, New Jersey, on July 8. Her mother, Erika Jeorgan Swart, was seated across the aisle with Gabby's two younger siblings, ages 4 and 7. While Gabby is prone to flight-related jitters, something that can affect her blood sugar, Swart hoped that being within arm's reach would soothe Gabby while she attended to the younger children.
As the plane taxied out, Gabby immediately began showing signs of distress. "She was asking me questions, trying to hold my hand across the aisle, starting to bite her fingernails," Swart told TODAY. Luckily, their flight attendant, Jovan Riley — who goes by the name Garrick — was seated across from them. "He looked at me and mouthed, 'Is she OK?'" said Swart. "I said I didn't know if she was. He gave me a reassuring look … that was when he first started to notice."
RELATED: New York mom thanks Southwest flight attendant for calming her fussy baby
The flight took off without a hitch, and fortunately, Gabby calmed down once they were airborne. "Garrick came over and said, 'You did so good, I'm so proud of you! I'm going to let you get the first drink on the plane,'" recalled Swart. "Because of her illness, we don't do a lot of sugary drinks, but I said she could have whatever she wanted. She was so stressed out that she said she'd just have water!"
Riley continued to check in on Gabby throughout the flight; she began asking him questions about the landing — how loud it would be, if the plane would shake, how much time remained in the flight. Aware that knowledge is the antidote to panic, Riley let Gabby watch the flight tracker on his phone, letting her know roughly what time they could expect to descend.
RELATED: American Airlines flight attendant posts inspiring notes on plane windows
But bad weather required the plane to circle Baltimore, extending the length of the flight. Seeing the time go by with no changes triggered something like a panic attack in Gabby. "She was having a hard time breathing, (and) gripping the sides of her chair," said Swart. Luckily, there were empty seats on the flight, and, according to Swart, Riley came over and said, 'Do you want me to sit next to you? Would that help?'" Gabby nodded through her tears.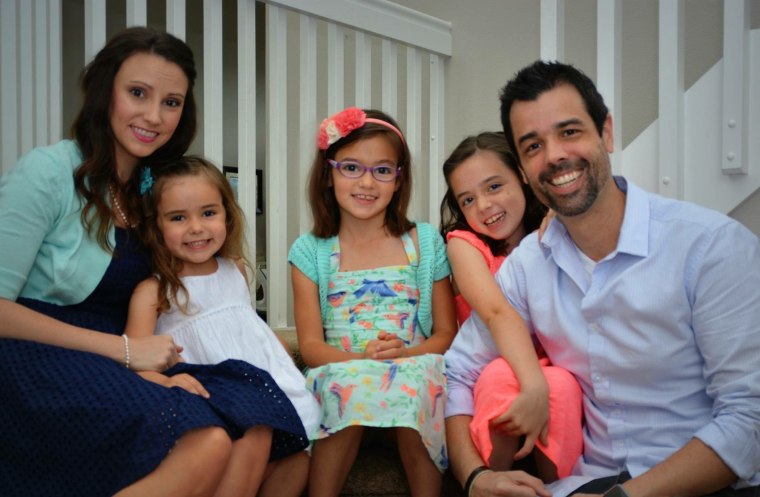 While Swart only heard bits and pieces of their conversation from across the aisle, she was touched by Riley's compassion. "He said, 'You know what helps me when I get scared, even though I fly all the time? It helps when I talk so my mind isn't focused on the flight.' He asked her what grade she was in at school, about her teacher and activities. He showed her pictures on his phone of his daughter and his dad."
The plane hit a patch of turbulence, which aggravated Gabby's condition. "I could tell she was semi-embarrassed," said Swart. "She kept trying to wipe her eyes, and then the plane would drop, and she would (shriek) and bury her face into his arm. He smiled and said, 'You can hold on as long as you want to.'"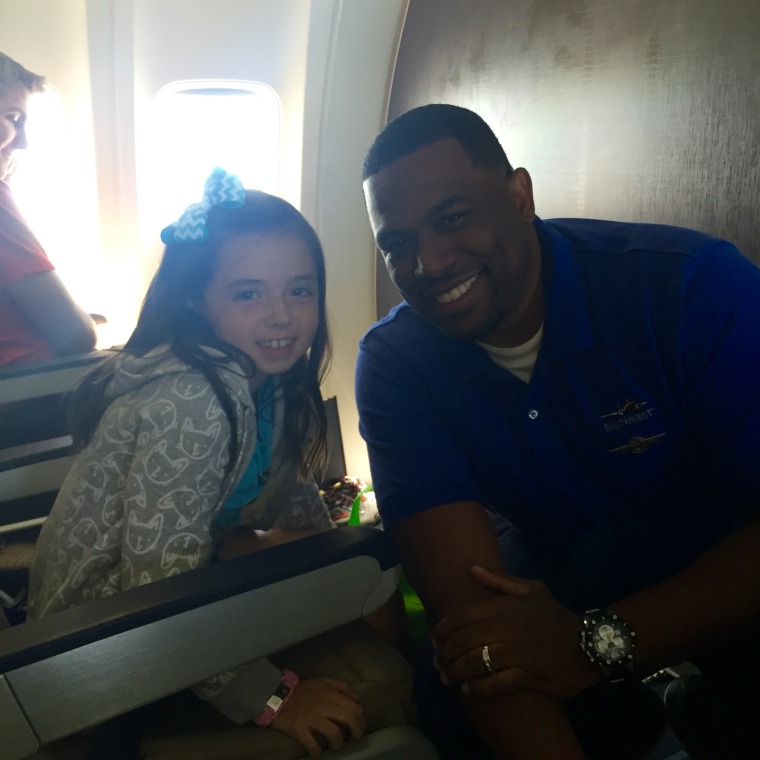 At last, it was time to land — but not before one last round of drama as Gabby's blood sugar began to crash from the stress. When the sugar tabs that Swart carried failed to bring her back into a normal range, Riley was quick to assist with a glass of juice — and another for the road, once they had landed safely.
RELATED: Female flight attendants win right to wear pants after 2-year battle
"He got on the intercom and announced that he was so proud of his friend Gabby, who overcame her fears," said Swart. "For someone to step outside of their job to such an extent … I knew I would be contacting Southwest."
She did so via the company's Facebook page, where a post explaining her experience has collected more than 41,000 reactions. "We're so quick to complain when something goes wrong, but rarely think to share positive experiences," said Swart. She hopes others who hear about their experience will feel inspired to do the same. "These are the stories that need to go viral," she added.
Swart was also moved by comments from people identifying with Gabby's fear. "When you're afraid like that, you can feel so alone," she said. "To have grown adults show compassion for a difficult moment ... we don't have to jump to be judgmental and hard on people. We all have our reasons for these things."
RELATED: Couple weds midflight so mom with stage 4 cancer can attend
While Southwest declined to arrange an interview with Riley, they provided TODAY with a statement that applauded his actions as an extension of their core values.
"Our Southwest employees are known for making decisions from the heart, and Garrick is no exception," said Cindy Hermosillo, representing the airline's communication and outreach efforts, in an email. "Our goal is for every customer to walk away with a positive experience and providing a bit of comfort during stressful situations is essential. We are thankful that Garrick was able to assist this young traveler and alleviate some of the anxiety that she and her family were feeling while onboard. We are proud of our 50,000 employees who demonstrate remarkable care and concern for customers every day and on every flight."