In a nursing career that started during World War II and spanned seven decades, Alice Graber, 93, always made sure one thing never changed.
"It's always a thrill when you can help somebody else,'' Graber told TODAY.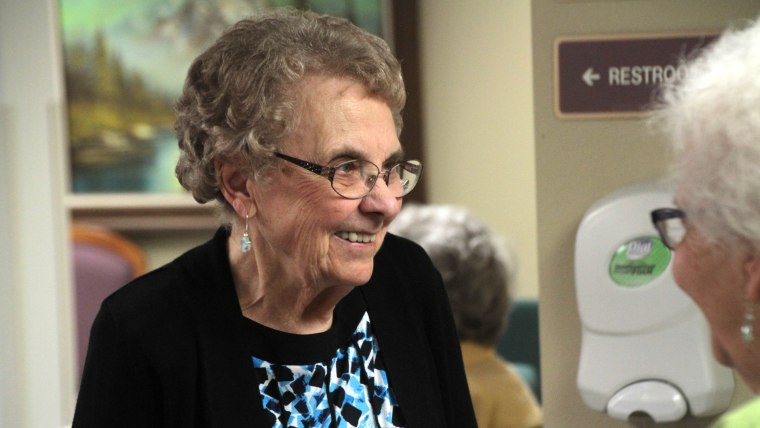 The great-grandmother from Freeman, South Dakota, found out just how many lives she touched over the years when she decided to retire from nursing after 72 years last month.
About 150 people from the town of 1,300 showed up to honor Graber in a ceremony earlier this month at the Salem Mennonite Home, an assisted living home where she was working when she retired.
RELATED: You can't knock her down! 100-year-old sets 100-meter record after taking a fall
"I didn't know what to think,'' Graber said. "I was just flabbergasted."
"She touched a lot of lives," Shirley Knodel, administrator and director of nursing at Salem Mennonite Home, told TODAY. "She smiled the whole time, even though it was overwhelming to her."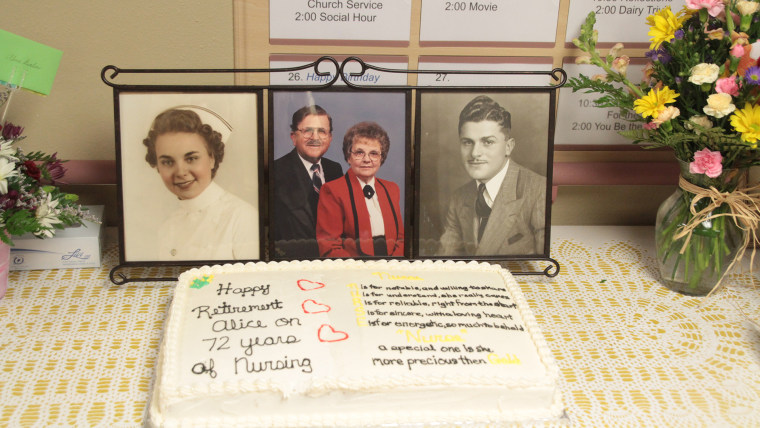 Graber was the oldest nurse in the state, according to Knodel. Everyone from people whom Graber helped deliver as babies to retired nurses who were trained by her when they began their careers showed up to celebrate her career.
"We realized one of the children she delivered was now 52, and his parents still remembered like it was yesterday,'' Graber's daughter, Sharon Waltner, 67, told TODAY.
RELATED: These are the best (and worst) cities for retirement
Graber's father died when she was 9 and her mother passed away when she was 14, leaving her and two younger siblings to be raised by an aunt and uncle.
"I didn't have a very good life growing up, but my mother always said, 'You've got to get an education,''' Graber said. "I felt that it was a gift that I got into nurse's training."
On the advice of an aunt, she moved from Colorado to Lincoln, Nebraska, where she graduated from nursing school in 1944. A year later, she moved to South Dakota with her late husband, Wilbert "Jim" Graber, who died in 2006.
The couple raised two children together, and Graber now has seven grandchildren and five great-grandchildren.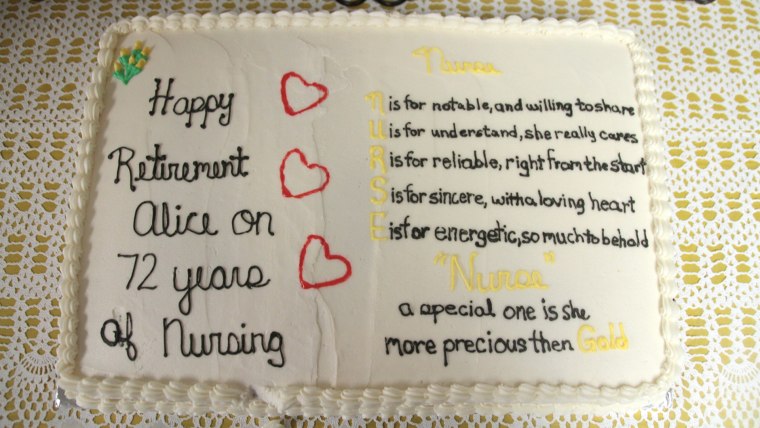 "My brother and I were always annoyed when the phone would ring and they would call her to come in and help at the hospital, but now that we're much older, we're very proud of her that she has been so persistent to pursue a career in health care,'' Waltner said. "What she does makes a difference in people's lives."
Graber worked at four different hospitals in South Dakota during her career, most recently working in assisted living and nursing homes. In recent years, she has been older than the majority of the residents.
RELATED: Firefighters surprise woman with 100th birthday celebration
"She taught us a respect in putting the patient first, which is always what you want,'' said Knodel, who was trained by Graber.
Despite retiring, Graber remains as active as ever. She still helps feed residents at Salem Mennonite Home multiple nights per week and volunteers for several organizations in town. She also walks six blocks each way from her apartment to the Salem Mennonite Home.
"As a daughter, I'm sorry I did not inherit the Energizer bunny battery she has,'' Waltner said. "I joked that if she just worked in assisted living for a few more years, perhaps she could take care of me when I was admitted."
Follow TODAY.com writer Scott Stump on Twitter.