For many parents, the results of a small study of baby's "first finger foods" may be hard to digest: Only two of nine products tested met safety guidelines set by the American Academy of Pediatrics and some could be a choking hazard.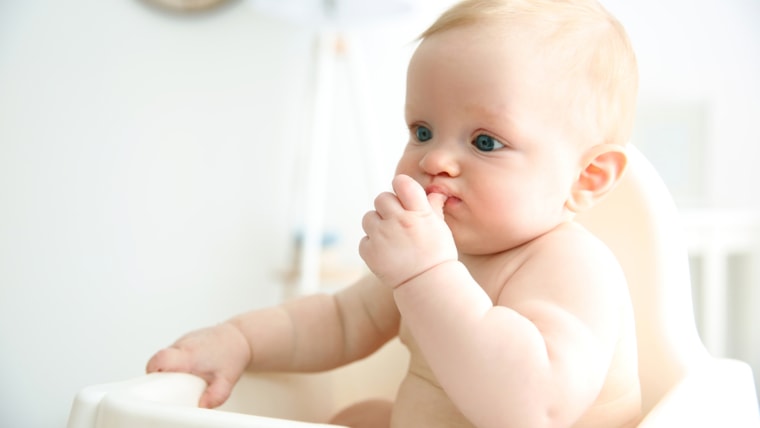 The AAP recommends that babies' first finger foods be soft, easy to swallow and cut into small pieces. Children are ready, when they can sit up without support and bring their hands or an object to their mouth.
The only foods that passed all the criteria were Gerber Graduates Fruit and Veggie Pick-ups, according to researchers at Cohen Children's Medical Center in New York who present their findings today at the Pediatric Academic Societies in Baltimore.
But grain products like Cheerios and Gerber Graduates Puffs, although hard out of the box or container, got high marks for dissolving quickly.
"We found there were significant differences among the products," said study co-author Dr. Ruth Milanaik, director of the Cohen's neonatal follow-up program. "To be honest, the best bang for the buck is Cheerios."
RELATED: Parents, tell us all the ways life changes when you have children
Milanaik and her colleagues blind-tested nine products in food groups marketed to "crawlers" — melts, cooked produce, puffed grain products, biscuits and cereals — and found most are potential choking hazards, especially if they are not eaten within an hour.
"I am not saying these are not good products, and fresh out of the box they are delicious," Milanaik told TODAY. "But we need to be more responsible and in real life, babies don't eat them fresh out of the bag."
Choking is the leading cause of injury and death among children, especially those younger than 4, according to a 2013 study sponsored by the Centers for Disease Control and Prevention. About 12,000 children a year end up in emergency rooms from choking on food.
In the Cohen study, "Chew on This: Not All Products Labeled First Finger Foods are Created Equal," 11 researchers randomly tried to dissolve each food in their mouth without using teeth. Each product was tested four times — twice when fresh and twice when left out for at least an hour.
RELATED: Goat's milk, homemade formula are bad news for babies
The food that performed the worst was Gerber Yogurt Melts, which absorb humidity when they are not eaten immediately after opening and become condensed and "marshmallowy," said Melanaik.
"They didn't hold up over time if they were left out," she said. "In the real world, kids might not eat them all. They cost $5 a package, so you put them in Tupperware and bring them out again. They could be a choking hazard."
The study also flagged Gerber Graduates Wagon Wheels, a puffed grain product that is "big and scratchy," as potentially dangerous.
"It's a very big product for a little inexperienced mouth," Milanaik said. "You give a five-month-old a humungous Wagon Wheel and it doesn't dissolve magically. There is a good possibility the baby will choke."
Other popular finger foods studied were: Gerber Fruit and Veggie Melts; Gerber Lil' Crunchies; and Gerber Arrowroot Cookies.
The study authors notified all the companies of their findings. Milanaik said they never received a reply from Gerber, but the company has since changed its labeling on Yogurt Melts from "crawler" to "toddler."
Gerber did not respond to TODAY for comment.
RELATED: New limits needed on arsenic levels in baby rice cereals
The study team said more research is needed to categorize first finger foods according to a child's stage of oral motor development.
Crawling and even the appearance of teeth are misleading milestones for readiness.
"I would really love to encourage parents and pediatricians to try the products," said Melanaik. "There is nothing wrong with trying a piece of baby food before the child does."