A small number of babies born at 22 weeks can survive and have few health problems if they receive medical care, a new study finds. However, the treatment these tiny preemies receive varies, depending on the hospital where they were born.
The study, published in Thursday's New England Journal of Medicine, comes at a time when most medical experts consider 24 weeks to be the age of viability. A full-term pregnancy is about 39 to 40 weeks.
On TODAY Thursday, NBC medical contributor Dr. Natalie Azar discussed the findings on these extreme preemies.
"The minority can have a good outcome," Azar told Natalie Morales. "The majority of the babies, unfortunately, born before 24 weeks don't do that well, but there is some hope for these kids before 24 weeks and it's sort of rethinking that cutoff."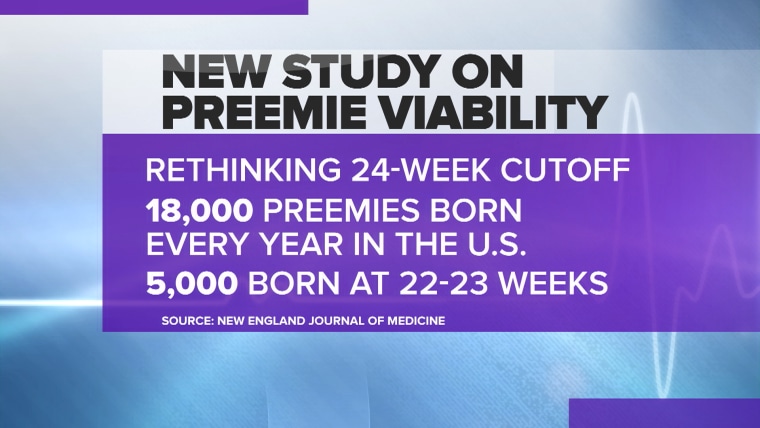 Some 18,000 premature babies are born every year in the United States, 5,000 of whom are born at 22 to 23 weeks. The study involved nearly 5,000 babies born before 27 weeks at 24 hospitals between 2006 and 2011.
It found the approach to treating 22-week-olds varied among hospitals, including a few that offered no active, potentially lifesaving medical treatment, and some that used ventilation and intubation in most cases, The New York Times noted.
Babies born at 22 weeks who did not receive medication intervention did not survive, the Times noted. But in 78 cases in which lifesaving treatment was given, 18 survived and seven of those were free of moderate to severe impairments by the time they were toddlers, the paper said. Six had serious health problems.
The study showed that of the 755 children born at 23 weeks, 542 received treatment, the paper reported. While about one-third survived, half of them were free of significant health problems.
The study was large and well designed, Azar said, and shows that the treatment "varies very widely based on the hospital you're in."
"It also reaffirms that children, babies that are born before 24 weeks, don't have a very high chance of survival, but that a small number can make it," she said.
Some doctors say the efforts to help an extreme preemie survive could just prolong dying, according to the Associated Press. Survival, even with advanced medical care, depends on many factors, such as gender — girls tend to fare better — or whether a baby is a twin.
Azar urged parents to be as informed as possible.
"They should know regionally what their hospitals are capable of doing," Azar said, urging them to talk to their doctor and ask: "What is their belief system? What expertise do they have and experience in this area."
-- The Associated Press contributed to this report