Although social media and sobriety haven't always gone hand in hand, a new study from Recovery.org is looking into times when they do.
Researchers from Recovery.org pulled over 79,000 posts on Instagram to track nine hashtags related to getting sober and obtained some surprising results, shared exclusively with TODAY. For example, the state that posts the most about recovering from addiction doesn't actually have the highest number of addicts in treatment.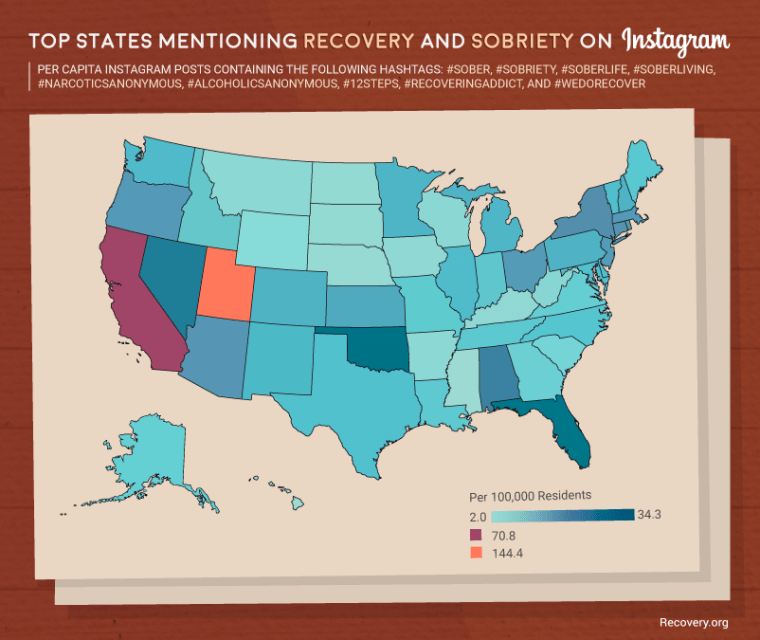 Utah, which is No. 1 for sobriety and recovery hashtags on Instagram, has the fifth most meetings of Alcoholics and Narcotics Anonymous per capita in the U.S., according to Recovery.org.
However, the second most #sober state, California, had nine times as many people in rehab as Utah, a Department of Health and Human Services survey revealed in 2013.
Perhaps Utah's Mormon values lead to a "reactionary level of substance abuse … and therefore recovery from addiction," speculated a project manager from Recovery.org, who asked not to be named.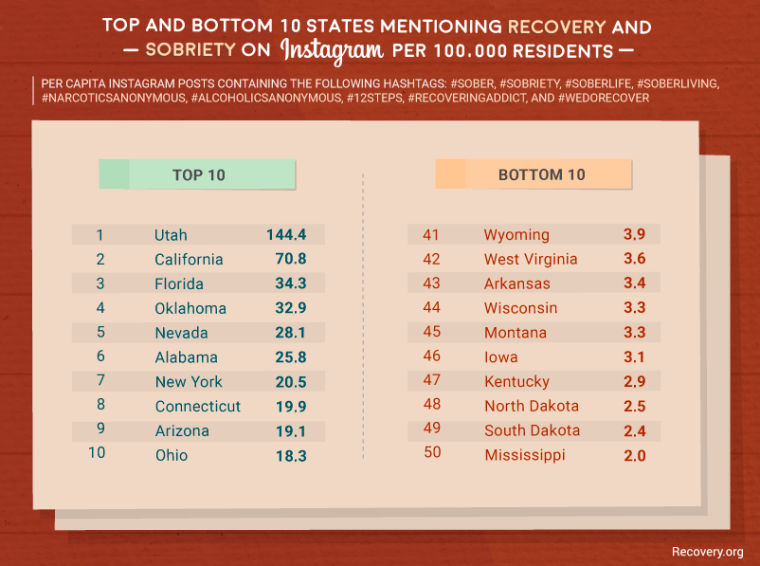 Yet less than 7 percent of the Salt Lake State's population actually used illicit drugs in 2012-2013. So why the zeal for recovery on social media?
Unfortunately, because research on social media and sobriety is fairly new, Recovery.org's most recent study may offer more questions than answers.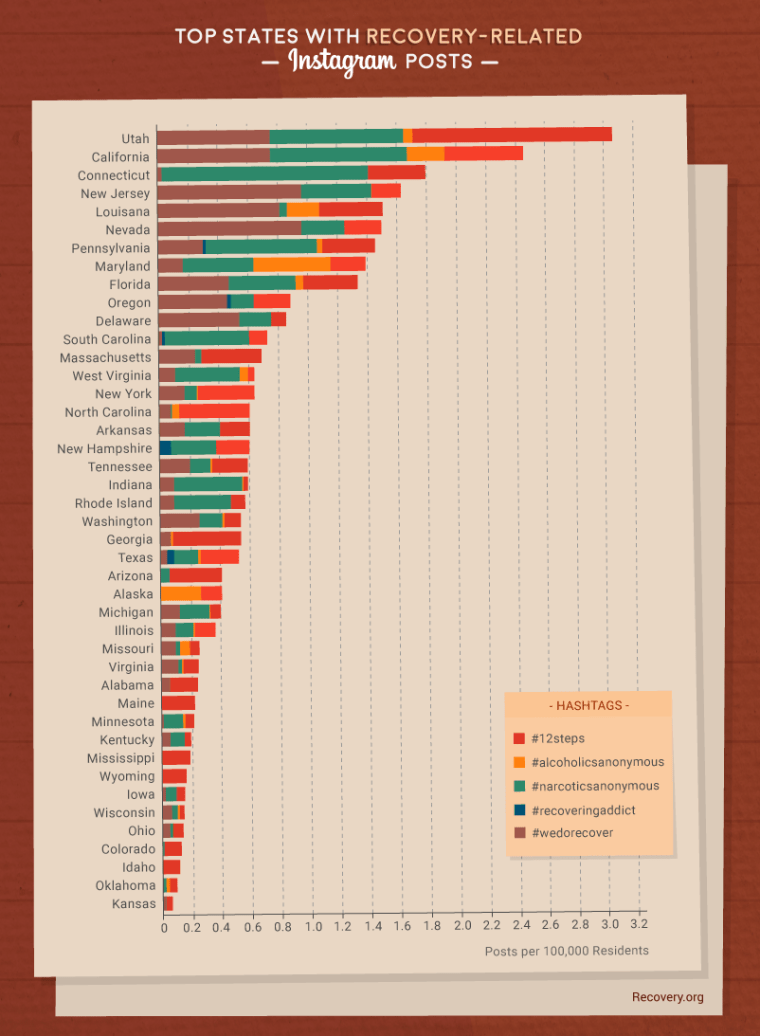 "In terms of science, we're at the very beginning of it," explained Dr. Warren Bickel, director of the Addiction Recovery Research Center at the Virginia Tech Carilion Research Institute and founder of the International Quit and Recover Registry. "One of the amazing things about the field of addiction is that we don't rigorously study people in recovery… and we can learn a lot from them."
RELATED: Take a look at these emoji-filled anti-drug ads
Bickel's team has created a social network for recovering addicts and will be launching a study of their own in September.
"We're hoping social media will facilitate recovery at lower cost," Bickel said.
One of the benefits of Instagram — and Bickel's platform as well — is the relative anonymity it provides. On Instagram, recovering addicts stand less chance of being identified by a co-worker or family member than they do on more public social networks such as Facebook.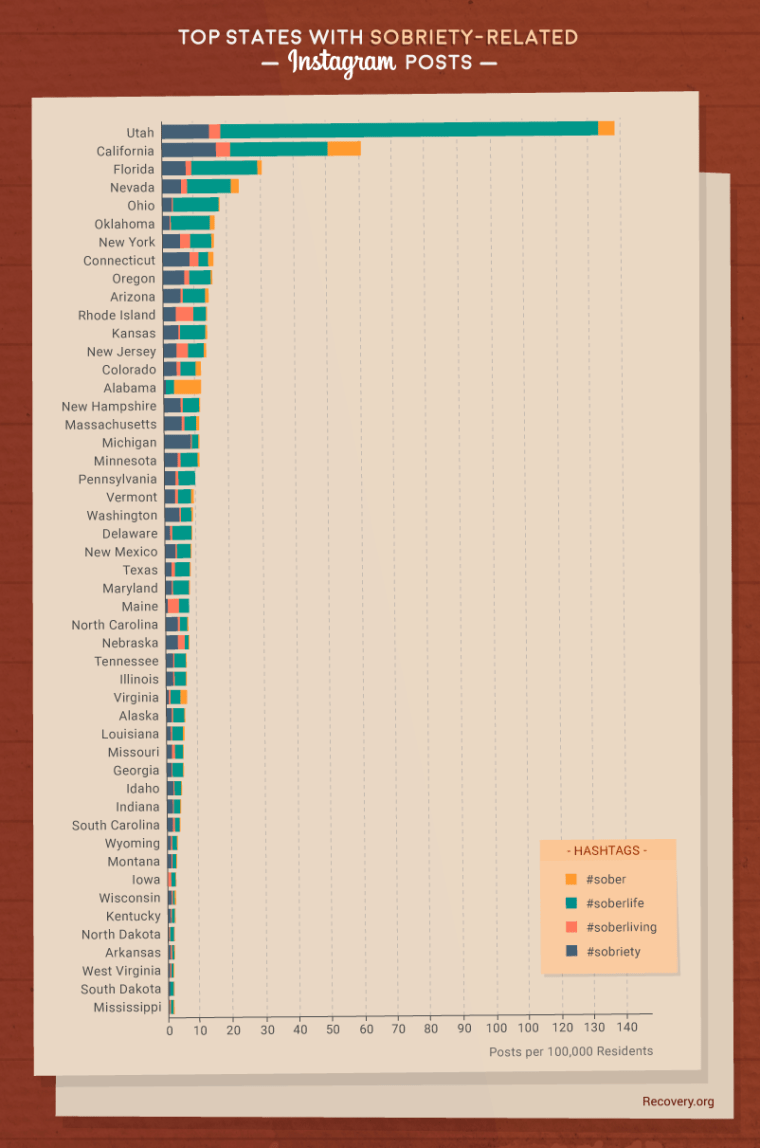 Other companies are already providing ways to stay sober and social online, including Sober Grid and Clean Fun Network. Some applications, such as the Tinder-inspired Sober, also give users access to substance-free dates.
RELATED: Sober social networks spark connections, minus the booze
But whichever sites former addicts use during their recovery, the key is to find people with similar goals, Bickel says.
"People on the Web tend to seek out people like themselves," Bickel pointed out. If they're "still interested in chasing their addiction, they're going to find people like that. But if they're interested in changing, they're going to find people like that as well."
And if you're looking for a way to make a difference in someone's recovery, try showing support over Facebook or Instagram, suggested the Recovery.org project manager.
"Just a simple 'like' would probably go a long way," he told TODAY.