An outbreak of hepatitis A linked to smoothies made with frozen strawberries from Egypt has sickened 70 people in seven states.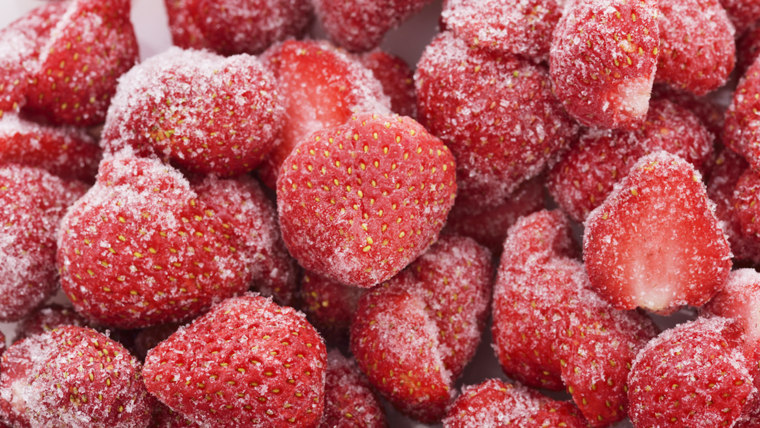 In interviews, almost all of those sickened in the outbreak reported drinking smoothies at Tropical Smoothie Cafe locations in a limited geographical area, according to the Centers for Disease Control and Prevention. The states affected are: Maryland (6 cases), New York (1), North Carolina (1), Oregon (1), Virginia (55), West Virginia (5), and Wisconsin (1).
No deaths have been reported, but 32 people have been hospitalized. More cases are expected since symptoms can take as long as 50 days to appear. Tropical Smoothie Café removed Egyptian frozen strawberries from their restaurants on August 8 and switched to another supplier, the CDC reported Thursday.
RELATED: You can't judge meat by its color and 4 other common food handling mistakes
The smoothie-related outbreak isn't the first case of contaminated frozen foods. In May, Washington state-based CRF Frozen Foods issued a massive recall of frozen fruits and vegetables due to listeria in products packaged by the company. And in 2013, frozen berry mixes sold by Townsend Farms of Fairview, Oregon, were recalled after almost 50 people contracted hepatitis.
RELATED: When should you eat that frozen food... or toss it?
The outbreak is reminder that freezing doesn't necessarily make foods safe to eat.
Does freezing kill pathogens?
Consumers need to understand that frozen fruits and veggies are just as likely as fresh produce to be contaminated with bacteria and viruses, experts said.
The CDC doesn't keep track of whether produce involved in outbreaks is fresh or frozen, said Kate Fowlie, a spokeswoman for the CDC. "It would be more accurate to differentiate food categories [from our data] rather than frozen vs. fresh," Fowlie said.
It isn't just viruses that can lay in wait in a package of frozen fruit or veggies.
"Freezing preserves foods so they will keep for a longer period of time, but the cold, cold temperatures aren't doing anything to bacteria," said Leslie Bonci, a registered dietician and owner of Active Eating Advice. "It just puts them in a holding pattern. Once they're at room temperature, they can flourish and multiply again."
The same goes for viruses, said Dr. Sammy Saab, a professor of medicine and surgery and head of outcomes research in hepatology at the David Geffen School of Medicine at the University of California, Los Angeles.
What is hepatitis A?
It's a viral liver disease caused by contaminated food or water. For most people, hepatitis A is an unpleasant, though transient disease.
"Some people may develop flu-like symptoms, nausea, vomiting, joint pain and muscle pain," Saab said. "They may even turn yellow. The treatment is supportive, giving Tylenol for fever, and making sure the patient gets plenty of fluids."
The good news: The vaccine against the hepatitis A virus has become part of the standard series given to children in the United States for those born after 2006. So younger kids who have received their vaccines should be protected, Saab said.
However, the disease can be fatal for a small subset of people — the elderly, people with underlying liver disease, or infection with hepatitis C or B.
It's recommended that people with those conditions get vaccinated against hepatitis A, Saab said.
"After someone becomes infected, it's important to make sure that all close personal contacts get vaccinated," Saab said.
Can you tell if frozen foods are safe?
Ultimately, there's no way to know if frozen fruits or veggies have been contaminated with a virus or bacteria prior to freezing, experts said.
For frozen veggies, the safest approach is to serve them cooked.
Also, organic doesn't mean cleaner.
"I think people don't realize that just because it says 'non-GMO' or 'organic,' that doesn't guarantee it's completely safe," Bonci said.