/ Source: TODAY Contributor
Sunday night insomnia is real. We get almost a half hour of extra sleep on Saturday. And, overall, many of us may not be as sleep deprived as we think we are, according to Sleep Cycle.
The popular $0.99 app, which uses a movement-tracking meter in a smartphone placed underneath a pillow to monitor sleep habits, collected data from almost one million users worldwide, including more than 326,000 in the U.S.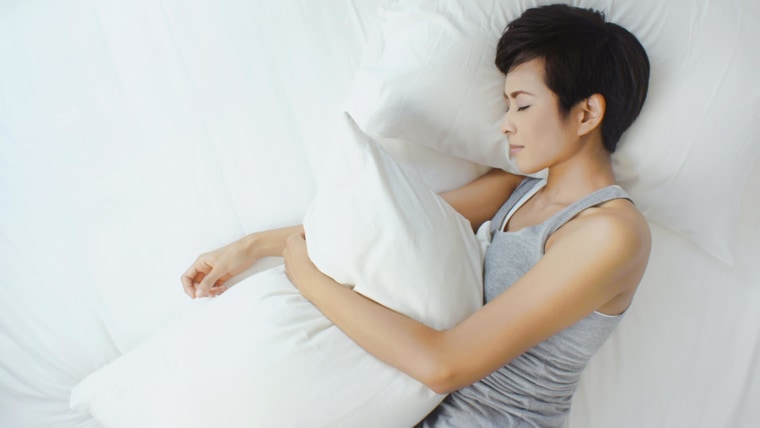 While the data shows everyone sleeps more on Saturdays -- Americans get an extra 28 minutes of sleep, while the Swiss snooze an extra 41 minutes – the real surprise was how many hours of shuteye Sleep Cycle claims we get on an average weeknight.
Americans are snoozing at least seven hours nightly, according to the data.
"I thought that was a really good thing," says W. Chris Winter, a sleep medicine expert at Charlottesville Neurology & Sleep Medicine in Virginia, who is not associated with Sleep Cycle. "A lot of people have eight hours in their head as the ideal level of sleep … seven hours is a pretty normal amount."
Seven hours is normal? That would seem to contradict TODAY's recent "Snooze or Lose" survey, which found that 46 percent of adults say they don't get enough sleep.
But Winter suspects app users feel more motivated.
"These devices … are really having a positive impact on people's sleep," he says, adding that users might think "I want to make sure I got my seven hours of sleep just like I got my 10,000 steps."
It also turns out Wednesday is when Americans sleep the best. There's no scientific reason why slumber quality might improve then, but Winter believes people might sleep sounder for a few reasons.
"You got in enough of the work week. You worked hard; it makes you sleepy. Wednesday night, you are half-way through the week, which is a good feeling," he says.
Worldwide, most people feel miserable on Sundays. The app determines mood by asking people to pick a smiling, frowning, or neutral face.
It's also the day that people have trouble turning in. Sleep Cycle found 66 percent of the countries, including the United States, spend the least time in bed on Sunday nights. The reason? Social jetlag, says sleep expert Christopher S. Colwell. On Friday and Saturday nights people stay up later because they can sleep in. But that shifts the circadian clock, the internal system that governs sleeps. When Sunday night rolls around, no one is ready for bed.
"It's really like jetlag because you can't get to sleep," says Colwell. "It makes Monday morning hell."
He says apps are a good way to track the sleep habits of a large group of people, but is skeptical about the findings. Colwell, a professor of psychiatry at the UCLA Semel Institute and director of Laboratory for Circadian and Sleep Medicine, has tested several sleep apps and found they're great at tracking how much sleep people get, but aren't very accurate at assessing different stages of sleep, which can be important for determining the quality of sleep.