Women who go up a skirt size every decade between their 20s and their 60s may be at increased risk of postmenopausal breast cancer, a new study suggests.
Researchers found that an increase of one size every 10 years led to a 33 percent rise in the risk of postmenopausal breast cancer, while an increase of two sizes per decade let to a 77 percent rise in risk, according to the study in the journal BMJ Open.
Although other studies have looked at the impact of weight on breast cancer risk this is the first study to look at weight gain — and with a measure that is easily assessed by women and their doctors.

"We were pleased to find an association between skirt size change, which is easy to recall, and breast cancer risk in postmenopausal women," said study coauthor Dr. Usha Menon, head of the Gynaecological Cancer Research Center at University College London.

The advantage of scrutinizing skirt size is that it gives a window on the issue of abdominal fat, said Dr. Kandace McGuire, an expert unaffiliated with the new study, and an assistant professor of surgery at the University of Pittsburgh and director of the premenopausal breast cancer program at the University of Pittsburgh Medical Center.
Menon and her colleagues followed 92,834 postmenopausal women for more than three years. At the study's outset, the women were asked for their heights and weights as well as lifestyle and reproductive histories. To get a better sense of the change in the women's weight with time, the researchers asked what skirt size each currently wore and what they wore when they were in their 20s.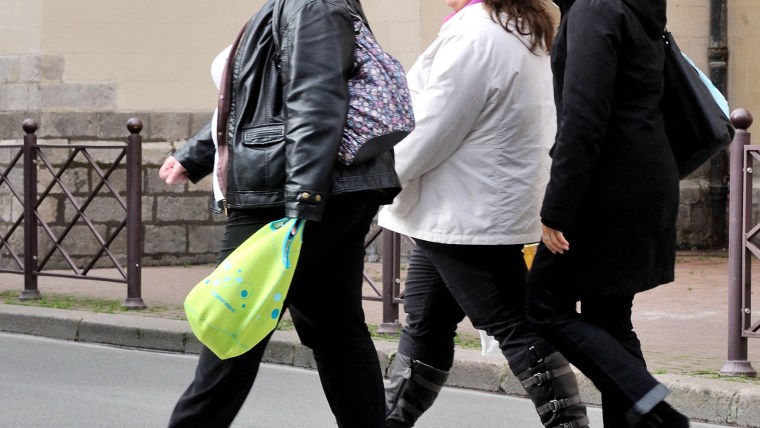 In their final tally of the impact of increasing waist size, the researchers accounted for such factors as a family history of breast and ovarian cancer, pregnancies, smoking and drinking habits, and use of hormone replacement therapy.
During the course of the study 1,090 women, or 1.2 percent, developed breast cancer.
"A nice aspect of this study is that it looked at skirt size, which hasn't been looked at before," said Dr. Kala Visvanathan, an associate professor of cancer epidemiology and medical oncology at the Johns Hopkins Bloomberg School of Public Health and director of the cancer genetics and prevention service at Hopkins' Sidney Kimmel Comprehensive Cancer Center. "It's a nice measure for women, something they can easily relate to."
Further, the study puts an emphasis on weight change, Visvanathan said. "Women sometimes think they are overweight and there's no point in trying to lose at this point," she added. "But this may mean that a decrease in weight could be protective."
Although a correlation has been made between weight gain and increased cancer risk, no one knows exactly how fat might be contributing.
"The mechanism between increased abdominal fat and increased breast cancer risk needs to be better understood," Menon said. "Mechanisms put forward include sex steroid hormones, insulin resistance and chronic inflammation. Previous studies suggest that body fat around the waist is metabolically more active than fat tissue elsewhere in the body."
Experts said that older women may not need to get all the way back to the weight they were in their 20s.
"I think it's almost too much to ask women in their 60s to be the same weight they were in their 20s," McGuire said. "We've gotten to the point where we just ask them to try to maintain the weight they were at at menopause.
"But for younger women, they need to look at trying to maintain the same weight fairly steadily throughout their lives. And if they are heavy now, they should try to lose the weight before menopause, when it is so much more difficult to lose weight."
Linda Carroll is a regular contributor to NBCNews.com and TODAY.com. She is co-author of "The Concussion Crisis: Anatomy of a Silent Epidemic" and the recently released "Duel for the Crown: Affirmed, Alydar, and Racing's Greatest Rivalry"