American singer Sophie B. Hawkins is joining a swelling group of women who are pushing the boundaries of fertility and having a babies after the age of 50.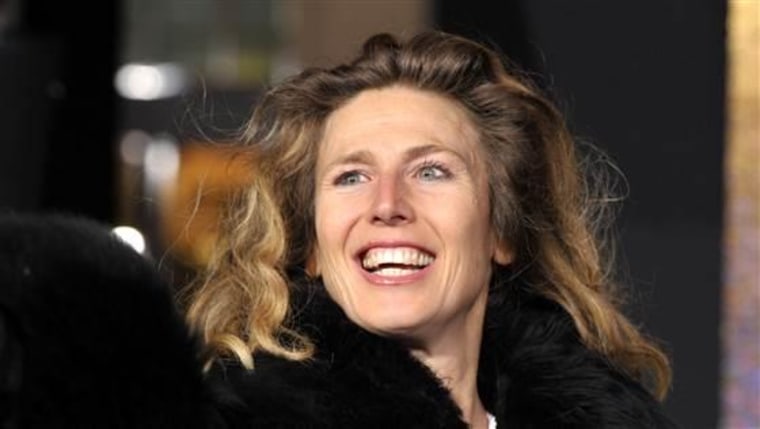 The singer, whose hits include "Damn I Wish I Was Your Lover" and "As I Lay Me Down," is expecting a girl in July, after undergoing in vitro fertilization with donor sperm and her own eggs, which she froze at 31.
And many doctors ask: Why not?
"We see this a lot," said Dr. Joanne Stone, director of fetal medicine at Mount Sinai Hospital in New York City. "Women are delaying child-rearing, reproductive technology has improved, and donor eggs are more acceptable. There's a whole community of older moms."
Births by women ages 50 to 54 is still a small number, but it rose by more than 165 percent from 255 such births in 2000 to 677 in 2013, most through IVF, according to the Centers for Disease Control and Prevention.
Hawkins said at first she worried about her advanced age.
"I went through waking up crying and saying, 'Am I too old? Will I suddenly at 51 have my knees give out?" she told PEOPLE magazine. "Now I don't have any of those fears because I feel healthy and strong. I'm also setting up a good net of support, and that's the key to anybody having a child."
Single, Hawkins has a 6-year-old son, Dashiell.
"For me, the main decision was emotional," she said. "I've been wanting to have a child since Dashiell was 1, but I was working too much and there was a lot going on in my relationship."
Other celebrities who have had later-in-life babies include Halle Berry, at 47, Laura Linney, at 49, and Kelly Preston, at 48.
Egg freezing has become so mainstream that Apple and Facebook announced last year that they would help cover the cost of its female employees to freeze their eggs — a procedure than can cost up to $20,000.
Having that option is "crucial for women's reproductive flexibility," said Grifo, adding, "there are a lot of good things about older, smarter people who have kids."
The trend was recently recognized by the baby boomer bible, AARP magazine, which interviewed mothers as old as 60 who were thrilled with being parents. Several had already had children, but wanted to please younger husbands who wanted a family.
Reproductive specialists say the uterus never ages so, with careful medical intervention, women can have children in their post-menopausal years.
Dr. Jacques Moritz, director of gynecology at Mount Sinai Roosevelt Hospital in New York City, said about 25 percent of his practice is older women.
"I have three of them now in their 50s," he told TODAY. "Everything has changed because reproductive technology has really been figured out and is pretty straight-forward."
Most women at that age use donor eggs, but egg-freezing is more sophisticated than it used to be, yielding successful results.
"In the next 15 years, we are going to see a boost in these women who are thawing their eggs and using them," Moritz said.
There are no differences in pregnancy rates of frozen versus fresh eggs used in IVF, and studies show no more chromosomal abnormalities, according to Dr. Jamie Grifo, program director of the New York University Fertility Center.
Also there is no limit to how long eggs can be frozen, "as long as conditions are maintained properly," he told TODAY.
Studies show that older women can have safe pregnancies, but there can be big medical risks — diabetes, preeclampsia and still birth.
Moritz said older women considering pregnancy need to be carefully screened. A potential mom needs to be healthy enough to sustain the stresses of pregnancy.
"They need to go through the ringer — have an EKG, a stress test for the heart, and their blood pressure and weight must be perfect," he said. "They need a colonoscopy and a mammogram. The last thing you want is have an undetected cancer and leave an orphan behind."
Stone said agrees that many older women are "good candidates" for motherhood.
"Things have changed," she said. "I had a conversation with a patient today, and she asked if I ever felt like it was unethical. Life expectancy has changed for women and you never know what's going to happen. You could have a baby at 30 and be diagnosed with cancer.
"But if you are healthy and have a good life expectancy, you can raise a child to a good age."