When Blair Chapin was little, her dad would sing to her in the hospital. Since Blair, now 12, was diagnosed at age 6 with Sanfilippo syndrome, a neurological disease that kills its young victims usually in their early teens, her family is hoping that love of music between the brave little girl and her father might someday help find a cure for the devastating disease. 
The Chapins have launched Sing for Blair, a GoFundMe project asking people to record songs for Blair and donate to the Sanfilippo Research Foundation. The fundraising campaign, which started in May, has raised more than $62,000 toward its $100,000 goal and caught the attention of music celebs such as Jimmy Buffet and Christina Perri — as well as hundreds of other contributors, including a young boy with autism —a friend of Blair's — who sings a sweet version of "Let it Go" from "Frozen."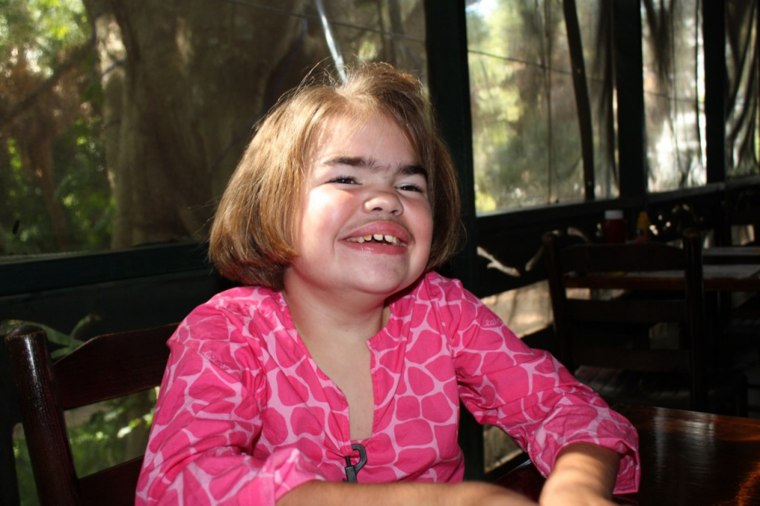 Blair's father Roger Chapin acknowledges there is little hope his daughter will benefit from new research that has produced a cure for Sanfilippo syndrome in mice. The treatment is working its way through the FDA approval process before a clinical trial can be conducted with people.
"Unfortunately, I don't think any cure is going to come in time for Blair," said Chapin, a public affairs executive in Orlando. "We're not that optimistic, because Blair is so far along and has already lost so many skills and abilities. But it doesn't stop us. Someday there is a going to be a cure, and we are going to find great satisfaction when that happens."
If Sanfilippo syndrome, a fairly rare genetic condition, sounds familiar, that's because it's the same deadly disease affecting Eliza O'Neill, a bubbly, 4-year-old girl whose viral video #SavingEliza has raised more than $1 million for a clinical trial at Nationwide Children's Hospital early next year. 
Sanfilippo gradually robs children's cognitive and motor skills, until they lose the ability to speak, walk or feed themselves. 

Eliza's father, Glenn O'Neill, of Columbia, S.C., is familiar with the challenges related to being a parent of a child with Sanfilippo syndrome. The story of #SavingEliza was chronicled on TODAY earlier this year. 
Last month, O'Neill and the non-profit Cure Sanfilippo Foundation decided to try to reinvigorate the GoFundMe fundraiser with a musical tie-in, similar to Sing for Blair. Like Blair, 4-year-old Eliza O'Neill loves music, too.

Following the popularity of the ALS Ice Bucket Challenge, O'Neill started the "#sing2lines challenge, where people share a short verse of a song on video and challenge five friends to do the same. Since launching the challenge six weeks ago, the O'Neill family has raised an additional $75,000. The campaign still needs more than $600,000 to reach the $1.8 million goal.
Actor Andie McDowell responded to the #SavingEliza challenge by recording and sharing on her Facebook page a charming version of the "pie song" that her character sang in the 1996 film, Michael.
"It's a brutal disease, and obviously we're just trying to scrape and crawl and think of any way we can get [awareness] out there," O'Neill said. "We sing two lines to give these kids a voice and give them a chance for life."
Although the O'Neill and Chapin families are acquainted, the two musical fundraisers are not connected. All the money for both GoFundMe campaigns is earmarked for research into Sanfilippo syndrome.

In the absence of hope, Blair's father Chapin says there is courage. There is also music, which Blair so loves.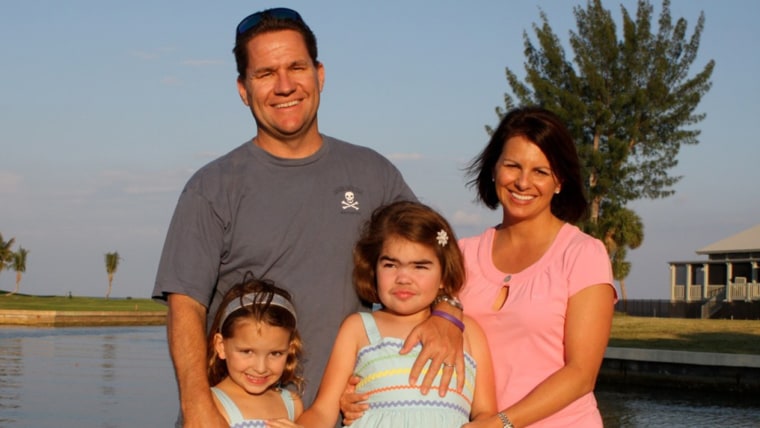 Twelve-year-old Jonathan Mages' rendition of "Let it Go" from the movie Frozen is one of the most poignant entries to date. Mages attended preschool with Blair in Orlando and was diagnosed at that time with autism.

Jonathan's mother, Meg Mages of Winter Park, Fla., said her son struggles with spoken communication, but singing — and music, in general — has been a revelation. Jonathan is a musical perfectionist, she said, and he communicates by writing his own songs.

They chose "Let it Go" after Jonathan had spent the drive to North Carolina from Florida for a family vacation singing every song from the Frozen soundtrack multiple times.
"We said to him, 'Hey, would you do that again for us?'" Mages said. "We thought it was a good thing we could share for Blair."
Mages empathizes with the Chapins. "When your kid is sick and there's nothing you can do about it, it's just hard."
Meanwhile, Roger Chapin plays the songs for his daughter as they are shared.

And much like he did in those early days in the hospital, Chapin still sings to his daughter, gentle songs like John Denver's "Annie's Song," and James Taylor ballads. In fact, Chapin said, if Blair could pick one artist to sing for her, it would be Taylor.
Every song helps, no matter who sings.
"Every time somebody sings for Blair, it just fills our heart and makes us so grateful that other people are thinking about Blair and our situation," Chapin said. "It's mostly difficult. But in those times when we're listening to the music, we're happy."