Six-year-old Brady Treu and his 4-year-old sister Charlee have each undergone chemotherapy and bone marrow transplants. Yet neither has ever had cancer.
The Florida siblings have spent countless months in the hospital, treating a rare blood disorder that often develops into an aggressive form of leukemia.
Brady and Charlee were both born with myelodysplastic syndrome. The often-fatal condition stems from a genetic defect known as Monosomy 7, in which half of an individual's pair of 7th chromosome is missing.
RELATED: 'Thanks and Giving' celebrates 10 years of St. Jude Hospital fighting child cancer
The condition is so unusual that published medical journals have recorded only 14 other families in the world with children with the blood disorder.
The Treu family's youngest child, 2-year-old Bentley, also has it.
RELATED: Country newcomer gives teen fighting cancer a night to remember at the CMAs
"The doctors told us that it would be easier for us to win the Powerball than to have three kids with this killer disease," said mom Danni Treu.
"I think it was the Powerball twice," corrected her husband, Brent.
Because patients with myelodysplastic syndrome have a high chance of developing acute myeloid leukemia, an aggressive form of cancer, doctors at St. Jude Children's Research Hospital provided preemptive treatment.
Brady and Charlee underwent chemotherapy and then received bone marrow transplants from anonymous donors, hoping to ward off the leukemia before it had a chance to develop.
The treatment plan proved to be difficult on everyone in the family.
All three children, including the youngest, Bentley, were isolated from their parents for more than four months. Brady and Charlee stayed in separate St. Jude housing units after the bone marrow transplants, when their immune systems were most vulnerable.
"It's unimaginable, really," an emotional Danni recalled about the period when she couldn't touch her children. "They didn't even want me hold Bentley, and then handling the big kids, so that was hard."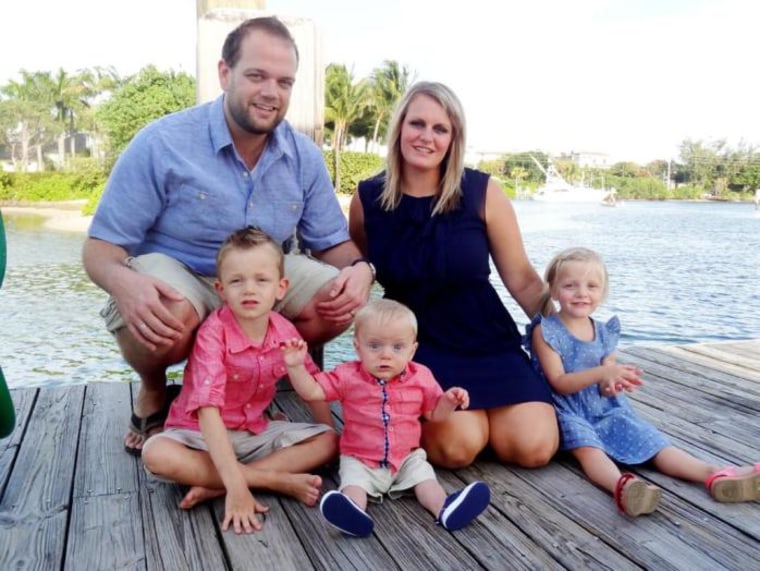 But the treatments appear to have worked.
Brady, who had AB-positive blood, now has O-positive blood. Charlee's blood type has changed from B-positive to B-negative.
Their new blood types are a result of bone marrow transplants that included the missing Chromosome 7, making it improbable that either child with develop acute myeloid leukemia.
Today, both children are like other rambunctious kids their age.
Brady builds things with Legos and likes anything related to the Teenage Mutant Ninja Turtles, while Charlee loves arts and craft projects and looks forward to starting school in the fall.
Doctors, meanwhile, are monitoring Bentley and will decide early next year whether he will go through a similar treatment as his siblings.
While the procedure is fraught with danger, the doctors have high expectations for success because of the triumphs of his big brother and sister.