Do you ban your dog from the bed in the hopes of getting a better night's sleep? It may be time to beg your pooch's forgiveness and invite him in. But only one — and not ON the bed.
According to a new study, people with a single dog in their bedroom slept just fine. But when the dog was actually on the bed, sleep was more likely to be disturbed, according to a new report by Mayo Clinic researchers.
In the study, 40 adults, mostly women with an average age of 44, and their dogs wore motion sensor devices for seven nights. Researchers found human "sleep efficiency" was better if the dog was in the room, but not on the bed.
For anyone who can't seem to get the dog OUT of the bed, it's worth keeping in mind the dogs didn't seem to care whether they slept on the bed or not, according to the FitBark sleep devices they wore.
The new research backs up an earlier study from Mayo researchers, which found that, for some people, sleeping with pets actually helps them sleep better because it gives them a sense of security.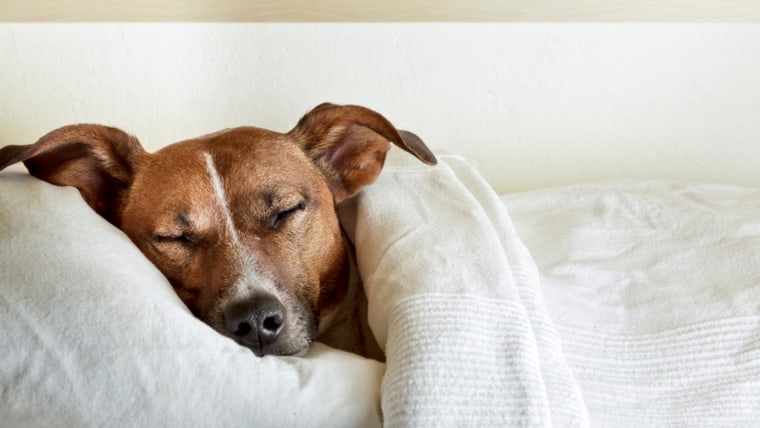 The study's findings should help us sleep better. Half of American households own pets and half of those pets sleep either right in the bed or somewhere in the bedroom.
"Some people find that sleeping with their animal actually helps them feel cozy. One woman said her two small dogs kind of warmed her bed. Another person felt her cat who was touching her during the night was comforting and soothing," Dr. Lois Krahn, a sleep medicine specialist at Mayo Clinic Center for Sleep Medicine in Arizona, told TODAY in an an interview about the previous study.
The new report tracked people with only one dog; it's unclear whether more than one pet on the bed would cause sleep disruptions. In 2013, an estimated 10 percent of people who visited the Center for Sleep Medicine reported that their pets disturbed their sleep, a 1 percent increase from 2001. However, that study found that most people with complaints lived with more than one pet.
"I think from a sleep standpoint, multiple pets…increase the risk [of bad sleep]," said Krahn, who was one of the authors of the new report.
What about bigger dogs compared to smaller dogs? Or cats?
A smaller dog probably creates less of a disturbance than a Great Dane, but the new study couldn't confirm that.
Nocturnal cats may wander around the house or play with toys during the night, while dogs cuddle up in bed.
"If the owner is quiet, the dog is quiet," Krahn said. "I wouldn't be at all surprised if dogs follow their humans, and cats do what they want."
While many sleep experts say never to sleep with pets, others say it depends on the person and pet.
"I don't have a problem sleeping with your dog until you complain that sleeping with your dog is problematic," says W. Christopher Winter, a sleep medicine expert at Charlottesville Neurology & Sleep Medicine in Virginia.
If your pet is a bad bed mate, Winter suggests having the animal sleep in a crate or a pet bed in the room with you — just not on the bed. That could still boost the emotional connection without all the tossing and turning.
Dr. Charles Bae, a sleep medicine expert at Cleveland Clinic, agrees that people need to evaluate whether sleeping with pets makes sense for them.
"Pet owners can do a personal inventory," Bae says. If they sleep better without their pets, for example, then it might be time to boot the pets from bed. But if sleep quality seems the same no matter who is in bed, he sees sleeping with pets as having real advantages.
"Pets can help people with anxiety and help people relax," he says. "I can imagine some human bed partners that are more disruptive than smaller pets."
An earlier version of this story originally published in 2016. It has been updated with the new research.